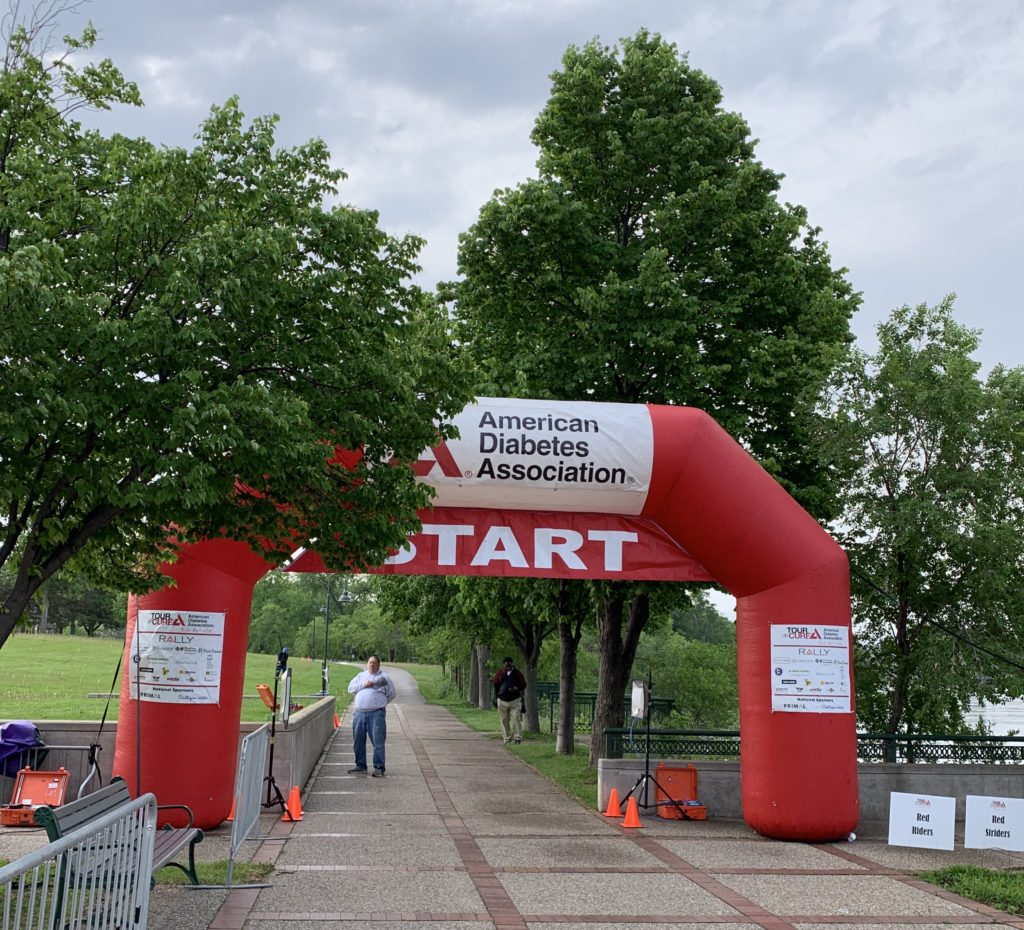 Last Saturday, June 1st, 2019, I rode 46 miles on my bike as part of the Tour de Cure Twin Cities. It was a beautiful, sunny, perfect weather sort of day. Doing the ride was a bit of an athletic stretch for me because I really haven't done much training this spring. The longest I had ridden this spring previous to the Tour de Cure, was a 36 mile ride that was led by Lyle, who is 86 years young!! I was a bit nervous, but I was ready to take on the challenge. I was counting on my walking fitness and my previous years of biking fitness! Thank goodness it paid off.
This year was interesting in another way. My dear friend Tammy, who has type 2 diabetes and who most years does ride the Tour, didn't do the ride this year. I didn't have anyone designated to ride with, which meant I risked riding alone, and as luck would have it, that's what happened.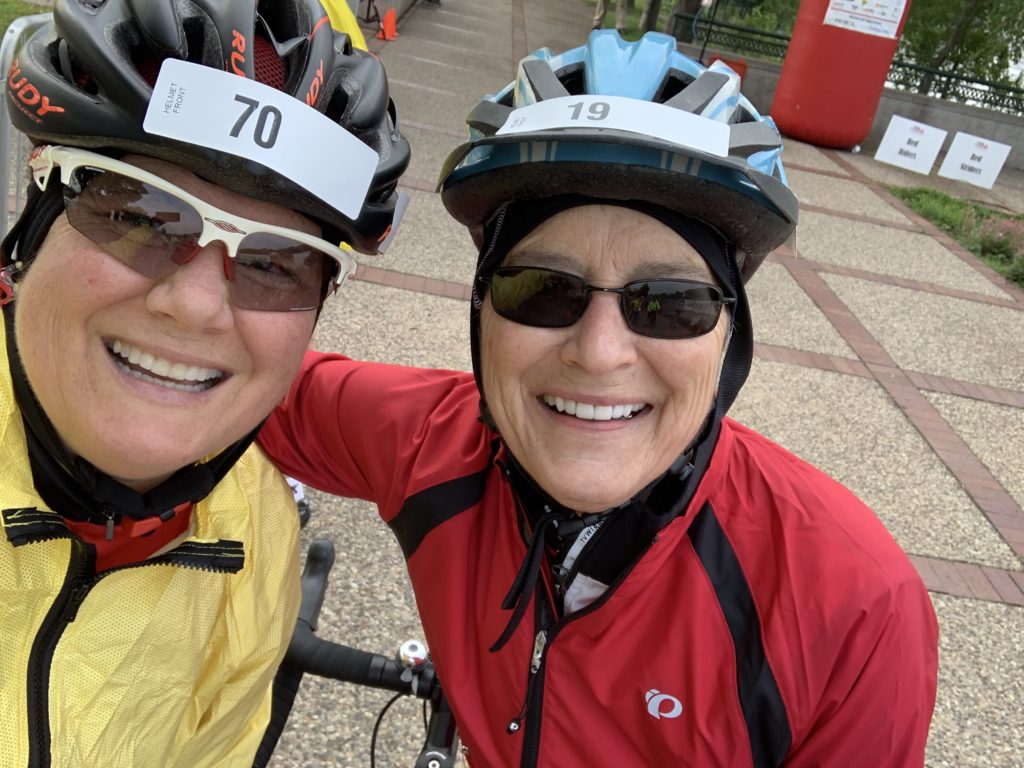 I did start the ride with the few other Red Riders, cyclists with diabetes, including Barbara Evans, who is here in this photo with me! Barbara has had diabetes for a LONG time! Then, very quickly, I was riding alone. That continued for almost the entire ride. It just happened.
Thankfully, it gave me lots of time to use the ride as a moving meditation. I also had time to think about what it's like to live every single file day with the challenge of type 1 diabetes. In fact, along the way as I was riding alone, I thought about how so much of the time in everyday life, living with diabetes is a very solitary activity.
The fact that I think about my blood sugar, about how much movement I am doing, about how much food is or isn't in my system, if my pump is working, if my continuous glucose monitor is working, if I have enough emergency glucose with me… and on and on, ALL DAY LONG EVERY DAY, is also a very solitary activity.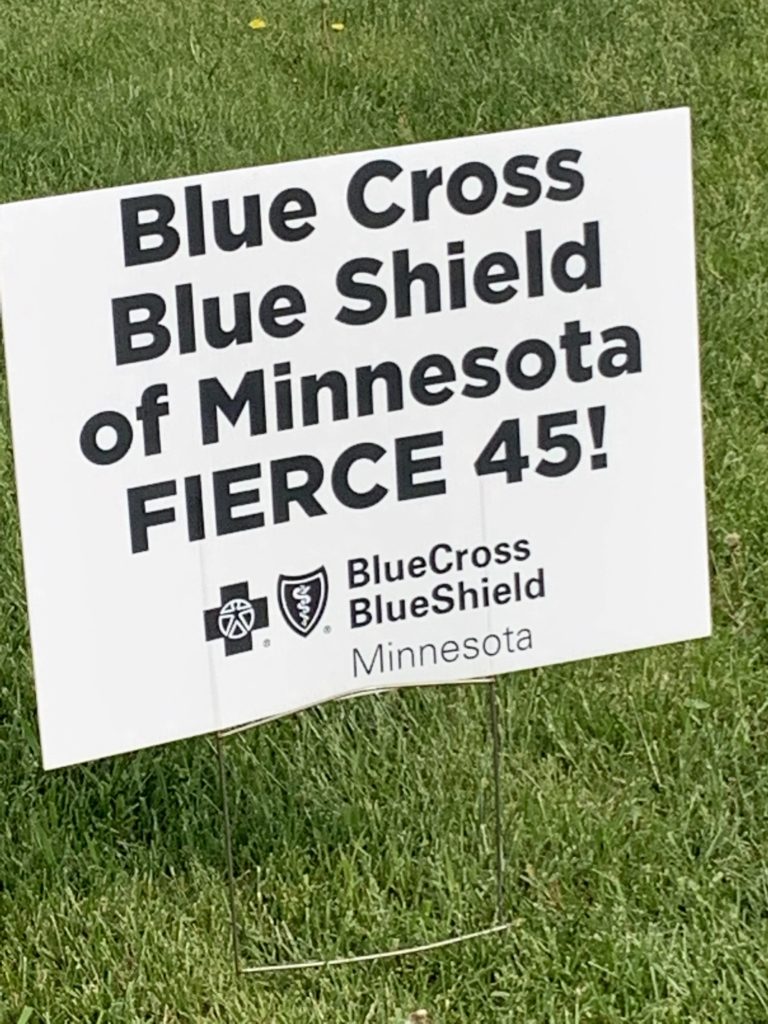 A few times as I was riding on lovely Minneapolis bike paths alone, I laughed out loud as I was riding! I threw back my head and had a few fantastic belly laughs. It struck me as hilarious that riding my bike alone reminded me of navigating diabetes alone. Essentially, both require lots of awareness. Lots of preparation. Lots of mental clarity. Lots of gear.
I was also grateful that I love biking SO much! I confess, I don't love diabetes. I don't hate it either. Hate would be giving diabetes way too much energy. Managing diabetes is simply something I do. Luckily riding my bike is something I choose to do because I love the feel of the road under the bike. I love seeing the world from the perspective of a bicycle. It is freedom and joy all wrapped up together.
I want to thank the very kind and generous people who donated to my Tour de Cure Twin Cities fund raising campaign. You all allowed me to be a Champion once again! MASSIVE THANK YOU!!! The donors this year (so far) are:
Brenda Peick
Brooks Benson
Eric Sandholm
Francesca Painter
Anne Parker
Elizabeth Stuck
Mary Buschette
Laddie Lindahl
Plus, I donated to myself!
If you are inclined, I would be very grateful if you'd still like to donate! I have until June 30th to gather donations! Here's the link!
I also give a few big shout outs of love and celebration to a few key people who were there on ride day and their hard work paid off greatly:
Mari, Lisa and Paul in the team tent at the end of the ride!

Leah, Stephanie, Paul and Mari at the end of the ride!
Paul Thorsgaard – Paul has had type 1 diabetes for a LONG, LONG time, like more than 40 years. And he is an amazing athlete and he is an outstanding captain of the team I was on this year at the Tour de Cure Twin Cities. Paul's Pedalers.
Our team has so far raised $24,568.00, and we are the #4 team of the Family/Friends category of teams for the Tour de Cure Twin Cities. That's amazing! And in large part it's because of the many uplifting, very inspirational emails that Paul sends to all of us on the team. THANK YOU PAUL!!
Janeece Oatman – Janeece built the Tour de Cure Twin Cities over the past 10 years. Janeece has a super caring heart and she works super hard to make her vision a reality. Thank you so much for the incredible contribution you've made over these past 10 years. The Angel Foundation is lucky to have you! And as a diabetes survivor AND a cancer survivor, thank you for choosing to work with two organizations that help people with my challenges. YOU ARE THE BEST!!! And you can count on me being at your new Angel Foundation ride on June 22nd!
Everyone, please help me meet my Hope in Motion, cancer fundraising goal of $200! Here's the link to donate!! THANKS!
Joni Marie Pohl – Joni is a tireless volunteer who has worked with the Tour de Cure Twin Cities event for nearly as long if not as long as Janeece. Joni this year coordinated all the volunteers and did so with grace, kindness and excellent good cheer. Thank you SO much Joni for all your behind the scenes love and care. And, while you're at it you manage your diabetes like a champ!!
Thanks for reading my recap of the awesome ride I did last week. Now I'm gearing up for my move from one house to another house here in Minneapolis!
With love always, Mari