Today, 34 years ago, June 26, 1981, I came home from a lunchtime birthday party and I was dying of thirst. And I'd already peed about 10 times that day. I'd lost about 20 pounds in the previous month, and I was eating non-stop. When my dad got home from work, my mom and he talked, and they asked me to pee on one of my dad's strips to see if I had glucose in my urine. My dad had type 1 diabetes, which he had since I was one year old, that's why we had test strips in our house.
Sure enough, when I peed on that strip, it immediately turned as dark green as it could. That meant I had sugar in my urine. My heart broke. I knew what was ahead, since I was 16 years old and I had watched what diabetes was like for my dad. My family had even gone to Family Diabetes Camp.
Here I am, 34 years later. I've tested my blood sugar with a finger stick more than 120,000 times. I've changed my insulin pump site more than 2200 times. And the number of shots I've given myself, I can't even imagine!!
I don't have any complications. My eyes are in great shape. I have no neuropathy. My heart is working fabulously. My kidneys are functioning perfectly. I feel very fortunate that things are going so well. Granted, I work hard at my diabetes management.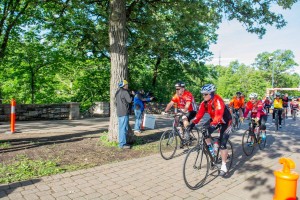 One of the things that has made the biggest difference in my diabetes self care is endurance exercise. I discovered the value of long exercise sessions when I was 35, 15 years ago. Long bike rides, long walks, long runs, these are simply amazing for how I feel in my body. By doing endurance exercise, I tap into another way for my body to process glucose.
An interesting thing has come to my attention. I realized early on that how I manage my diabetes depends on me. The doctors work for me. I'm the one who deals every moment of every day with my condition. So early on I became an expert in diabetes. In MY diabetes. There are many positive results from this approach. A less desirable side effect of this approach is that I have isolated myself, without realizing it.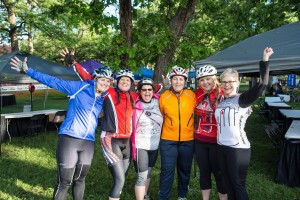 I set as one of my goals for 2015, To Make Local Friends. And at this year's Tour de Cure Twin Cities, it was the FIRST Tour de Cure that I have ridden in that I rode with a group of friends!! There were 5 of us who rode together! Since my insulin pump site came off while I was riding, it was super cool to have one of my pals ride with me back to the headquarters where I had a backup infusion site. At the end of the Tour ride, my blood sugar, which had gone up to 356, was back down to 120!! Big success!!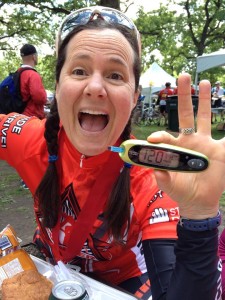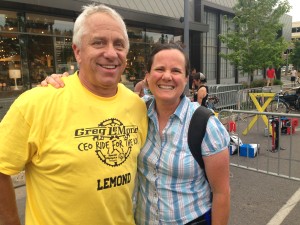 Another crazy thing about having diabetes, it allowed me to meet Greg LeMond. And wouldn't you know, today, June 26th, is Greg's birthday!! I talked with Greg a week ago about writing the foreword to my book, and he's interested!!
I want to give a big shout out of THANKS to the folks who have sponsored my Tour de Cure ride this year!! It means the world to me to be supported. Diabetes is a lonely disease.
GRACIAS to Mudge, Amy A., Marianne, Toni & Shane, Mary B., Dr. Anh, Mike B., Francesca, Joe, Alex & Rita, David, Laddie, Sean, Kate, Marvin, Saralina and Sheila!!! You are a big reminder that I am NOT alone!!!
I am close to reaching my goal of raising $1000 this year. I've been a Champion since I started the Red Riders in 2007. (Champion's raise at least $1000!) I would like to be a Champion this year!! If you'd like to donate, on the anniversary of my having type 1 diabetes for 34 years, click here. AND, thank you!!! You have until June 30th to make your donation!!!
I'm not holding my breath waiting for a cure for diabetes, but, it would be amazing if they could figure one out. And that's one of the things that your tax-deductible donation contributes to making happen.
Here's to a good life for all of us!!
In gratitude & appreciation,
Mari