In the summer of 1970, I was five years old and my little brother Marty had just been born. I decided I was ready to learn to ride the bike my parents had gotten for me. It was a Schwinn blue bike. My dad had cut and strapped on wooden blocks to the pedals so my feet could touch the pedals and make the bike go. Training wheels weren't an option in those days, at least no one we knew had used them to learn to ride.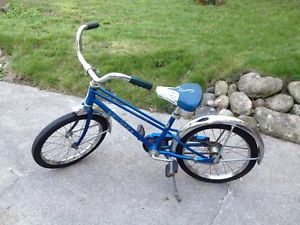 I remember my dad holding the bike by the seat of the bike and walking alongside the bike as I pedaled. Slowly but surely, as my confidence increased, my dad would let go of the seat a few minutes at a time. Soon, he had to run, crouched over, my dad was tall, as I pedaled faster and faster. He talked to me the whole time, encouraging me. Telling me I could do it. It took a bunch of times of us out there together. I don't remember falling, but I have no doubt that I did!
By the end of the summer, I had gained enough skill to ride alone. The bike meant freedom!! I rode that bike every moment that I could. All the kids on the street rode bikes and we rode together. My lifelong love affair with biking was off to an excellent start.
Yesterday, July 6th, I went to the hospice nursing home to say goodbye to my father. Sitting with him, I retold him the story of learning to ride when I was five and he was twenty nine. I thanked him for his encouragement and his support. I told him that I still love riding my bicycle. Life with my father has not been easy. He made some harmful mistakes along the way. He also did a lot of good, kind things. Teaching me to love the bike was one beautiful gift he gave me.
Dad, where you will go next is a place filled with love, healing and connection. There is no Hell. You can let go of your body. Your Soul doesn't die. This is simply a transition. You were there when I was born into this life. You welcomed me and my sister and brother with love.
I know that the transition to the next place is one that all of us make alone. And all the same, we are with you, holding peace and calm for you as you let go. Many blessings as you make this journey. Gratitude for all that I have learned from you and as a result of being your daughter. Thank you for being my father. Blessings and love as you let go.