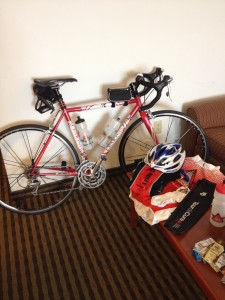 Yesterday was my 33rd Diaversary. Meaning that on June 26, 1981, I was diagnosed with type 1 diabetes. And yesterday, I was here in Coralville, Iowa at the Corridor Classic Tour de Cure Champions Dinner. I was speaking to the amazing group gathered at the Riverside Casino and Golf Resort about how I started the Red Rider Program that is now used at all 85 Tour de Cure cycling events of the American Diabetes Association. This year there will be more than 8,000 Red Riders! 
But perhaps a bigger deal, I'm here because tomorrow, June 28th, I will ride 100 miles!!! This will be the longest ride I've done since 2008! Since my bike crash a little over a month ago, I've been training and riding my 14 year old steel LeMond bicycle. My butt is again used to that saddle, that I've ridden many hundreds of miles on!! And I cleaned it up and had the mechanics check it all out. From a technical standpoint, I'm ready!!
From a training perspective I'm ready. I know I have it in me to ride 100 miles. I remember what it was like to ride that far! And I've stuck to my 18 week training plan. I'm very thankful for all I've learned from Coach Nicole Freedman over the many years I've known her. I've written my Race Plan and I've got all the details dialed in. (see below if you want to see my Race Plan!)
Now, if only the weather will hold! The forecast now says a 40% chance of thunderstorms and rain! The Ride Director, Stephanie Hamilton, told me last night that it's rained pretty much every year they've held the ride. But she also said that since the 100 milers start at 6 AM, they get hit the least by the rain!!! I'm crossing my fingers! Luckily, I've trained in the rain and riding in the rain isn't so bad. And the temperature is expected to stay in the mid 70's. And of course, there will be a high humidity!!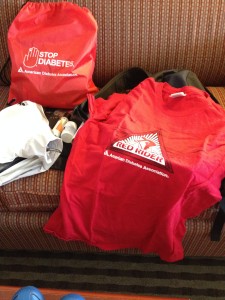 I was having some trouble with heat exhaustion due to the humidity, so I asked my coaches what they thought I ought to do, and they suggested I be sure to drink two full water bottles every hour, and to take salt tabs. So I dug out my Nuun tablets, and I've got them ready for tomorrow. I tried them out on a long ride and I did much better! In addition, one coach told me about the importance of keeping my core temperature low. So, I have extra plastic bags with me to fill up with ice that I can throw down my jersey!! I'm not very good at sweating when I get too hot, so having a few extra strategies up my sleeve is wise. Thanks coaches!!!
I'm taking super good care to keep my blood sugars above 100 today. I don't want any lows today cutting into my glycogen stores. I need a full tank for tomorrow! So far I've been doing very well today. And nothing higher than 220. I will eat about 200 grams of carbs today. Plenty of protein too! I'm also making sure I stay well hydrated today. I remember early in my triathlon training learning the importance of drinking plenty of water the days before a race. I am so thankful I've had such excellent athletic training!!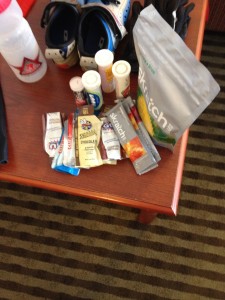 I've got all my nutrition planned and ready for tomorrow. I will eat about 45 to 50 grams of carbs every hour, about 200 calories, starting as soon as I get on the bike at 6 AM!! And my insulin strategy is to lower my basal rate at 4:30 AM to -20%. I may need to  move it to -10% about half way through. Now that I'm much more fit than I was when I started training, I don't need to lower the basal rate so much. I use the basal to cover the carbs I'm eating as I ride.
And finally, I've got my mantras ready. The mental mindset is as important as anything else. In fact, it's likely the most important part of a big athletic undertaking. My mantras are:
I am strong.
I can do this. I will ride all 100 miles.
I ride for Riley.
                                    I ride for me.
I ride for all who have diabetes.
Thanks everyone for all of your incredible support. It means the world to me. If you would like to help me get a new bike this fall, please CLICK HERE. My crashed bike has to be retired.
I will let you all know how it goes after the ride!!
Go RED RIDER! GO TOUR!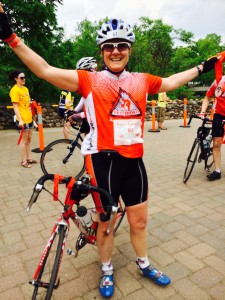 And here is my Race Plan, for those that are interested!
Race Plan for Mari Ruddy
Tour de Cure, Coralville, Iowa
100 mile bike ride
Saturday, June 28, 2014
Friday, June 27, Details:
Make sure water bottles are ready
Number pinned on jersey
Bike clothes, helmet, gloves, shoes, sunglasses laid out
Food ready, Skratch in baggies (make pb&j with gluten free bread)
Put on extra infusion set for insulin pump
Charge phone battery & extra battery
Make sure I have enough test strips & glucose tabs
Visualize success, keeping a 14 to 16 mph pace, breathing well
In bed by 9 PM!!
Saturday, June 28 Details
4:15 AM                     Wake up, take insulin for breakfast 45 grams of carbs, but only take for 30 grams. Take 3 units
Eat: oatmeal, walnuts, berries, almond milk, 2 eggs, tea, apple
4:30 AM                     Turn down basal rate, -20% for 8.5 hours
4:45 AM                     Pack up bike, clothes, flip flops, in back pack
food & water
check tools in back pouch
Bring device to charge my phone
Put on sunscreen
5:00 AM                     Depart hotel
5:10 AM                     Arrive at Ride Start, find place to store my backpack
***Check BG – bring extra juice!! Drink if I need it!!! Calibrate Dexcom
6:00 AM                     Start the ride!!!
MANTRA: I am strong. I can do this. I ride for Riley. I ride for me.
I ride for all who have diabetes.
Every hour: eat 45 to 50 grams of carbs: Gu & Skratch
Test blood sugar at every rest stop!