I did it! I drove down to Iowa and spoke at their Champion's Dinner on my 33rd Diaversary and then I got enough sleep and got all my nutrition and gear ready and I woke up nice and early, and all of my 18 weeks of training paid off!! I rode 98 miles on Saturday, June 28th, at the Corridor Classic Tour de Cure in Coralville, Iowa!!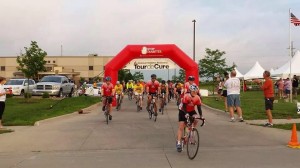 It was supposed to be a 100 mile ride, but the ride organizers didn't do all the correct route calculations so the marked route was only 98 miles. And at the end of the ride, when it was VERY hot and humid, I just didn't have any more energy to ride 2 miles around in the parking lots. So, my long ride was a fabulous 98 miles.
This was my longest ride in more than 6 years! I used to ride lots of long rides. I've done over 10, 100 mile rides back in the day. But then I got into triathlons and doing shorter, like no more than 60 mile, rides became my norm. I wasn't sure I had it in me. But I do!!
Through the entire ride, I smiled. I had very happy thoughts.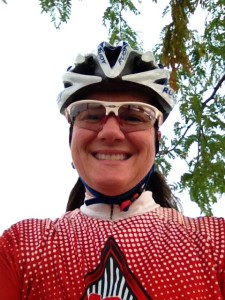 Much of the ride I was alone. At times I rode with some of the other 100 milers, but mostly it was me and my thoughts doing the ride. Luckily I like my inner world, I always have. I've never gotten bored hanging out with myself. And, there were endless fields of corn to contemplate!!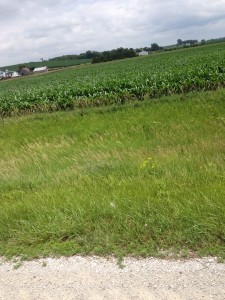 Iowa is one of the biggest producer states of corn and soy. And now I understand just how much corn Iowa produces. I wondered all day about genetically modified corn and soy, and I thought about how Michael Pollen has called the United States one big nacho.
And for the record, Iowa is not even remotely flat!!! I couldn't believe how often I went up and down. I ended up being grateful that I was on my old steel LeMond bike, which has a third gear up in the front. I used it quite a bit going up all those rolling hills. I also kept thinking how my cycling coach Nicole Freedman told me that there are no hills and there is no wind. And when the mind starts thinking about the hills and the wind, that instead to turn your focus to a place on the side of the road and to count your pedal strokes. And when you get to the place on the side of the road that you pedaled to, to say to yourself, "Success!" I did a lot of counting! And I had hundreds of successes!!
It was a very windy day!! In fact, the conversation all day long was how windy it was. I didn't know it was possible on a circular route to have a strong headwind the ENTIRE time! I knew I was capable of keeping a 15 to 16 mile per hour pace, but due to all those rolling hills and the relentless wind, at the end of the ride, Strava said my average miles per hour was only 13.
That meant that it took me 7.5 hours of pedaling to go 98 miles. I was out on the course for 9 hours. I guess stopping at every single rest stop to pee, fill up my water bottles, chat with other riders and the awesome rest stop organizers, ended up taking quite a bit of time! In all, it was not my fastest 100 mile (almost 100 mile) ride!! But I did have a good time!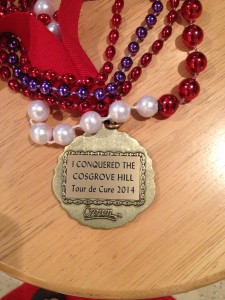 One highlight was riding up Cosgrove Hill. It was a 5% grade hill, and it was .3 miles long. Okay, you do need to remember that I have done most of my riding in Colorado. And a 5% hill that is only .3 miles long is not that big of a deal!! But in Iowa, it is!! And as we got to the top of the hill, there were people cheering and ringing cow bells and they even handed us a medal!!! That was fun! Despite the fact that we had a whole lot of rollers yet to climb and quite a bit of wind to plow our way through!
In fact, according to Strava, I did 4,652 feet of climbing! I earned that beautiful red rose they handed me as I crossed the finish line!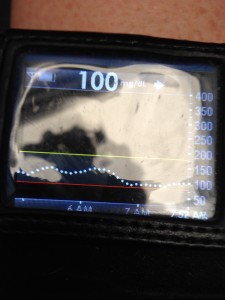 I wore a continuous glucose monitor for the entire ride and it was calibrated perfectly. My blood sugars stayed between 89 and 170 the whole ride. And I ate quite a few carbs. In fact, during the day of June 28, I ate 485 grams of carbs, and I took a grand total of 25.31 units of insulin. I did skyrocket high later in the day, after the ride, and that was due to a low and then eating a lot of carbs in recovery food!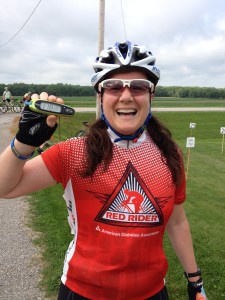 I loved the road marking they did for the Tour. The stencils they used were awesome. I encourage other rides to use these type of markings. I just wished they had done as good of a job marking the route at the end as they did for most of it. I actually got lost the last 4 miles coming in to the end. It might have in part been the heat exhaustion I had, I got pretty dizzy at the end, which happens when I have heat exhaustion.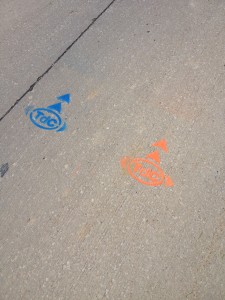 Stephanie, the Tour Director, had three bags of ice left over, and she gave them to me for the ice bath I wanted to take when I got back to my hotel. Ice baths help the muscles recover from the expenditure. It was a very cold bath, but it made a world of difference on Sunday and Monday! It was delightful to chat with some of the riders at the very end. Tina, a first time Red Rider, told me how inspired she is to keep riding and keep taking excellent care of her diabetes and her health. GO TINA!!
I loved hearing all the "GO RED RIDER!" cheers throughout the day. It kept me going and all along the ride, I kept remembering how powerful and wonderful it is to have support and encouragement to live the long road of diabetes.
Here are my Diabetes Notes from Ride Day:
Time               BG                  Insulin/Carbs/Notes
1:43 AM          286                 Took 2.65 units
4:15 AM          158                 Took 3.0 units/Ate 45 grams of carbs
4:30 AM                                  Lowered basal rate by 20% for 5 hours
5:26 AM          89                   Ate 62 grams of carbs (banana, juice, coffee)
6:00 AM                                  Start riding!
7:40 AM          118                 Ate 62 grams of carbs (Skratch, banana, gu)
8:39 AM          152                 Ate 20 grams of carbs (gu)
9:30 AM                                 Basal rate returns to normal rate, kept it there
10:23 AM       158                 Ate 62 grams of carbs
11:53 AM       169                 Ate 30 grams of carbs (banana)
12:02 PM                               Ate 50 grams of carbs (rice cake, rice chex mix) Took 1 unit of insulin
1:23 PM         122                 Ate 62 grams of carbs (Skratch, gu)
3:00 PM         125                 End ride! 98 miles done!
4:39 PM         61                   Ate 92 grams of carbs! Recovery food &glucose tabs
4:40 PM                                Took 3.55 units
6:03 PM         247
7:04 PM         352                 Took 2.45 units
9:11 PM         227                 Took .5 units
10:01 PM       162                 Lowered basal rate 10% for 7 hours (to avoid lows)
12:01 AM       73                   Ate 25 grams of carbs
If you liked this post, please sign up to be on my email list! I will only send you good stuff!