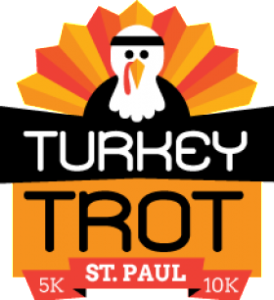 Happy Thanksgiving Everyone! Since I don't eat meat, dairy or gluten, this holiday isn't as thrilling for me as it is for most Americans. So, I look for other things to make it a fun holiday. My friend Tammy, who has type 2 diabetes, told me about the St. Paul Turkey Trot, a 10K run held on Thanksgiving morning. She had signed up for the run and she easily convinced me to join her!
I did a quick 6 week training program for the race, and my fabulous dog Echo loved every moment of our training! At the end of every run, he would have liked us to run double what we did!! He's an athlete dog for sure!
Finally, today Race Morning arrived!
My alarm went off at 5 AM. I had gotten all my clothing and food ready last night, so all I had to do was put everything on and cook breakfast. My blood sugar was 139.
Breakfast. I took 4 units of insulin and ate 60 grams of carbs. I had a bowl of oatmeal with walnuts. Two eggs scrambled with spinach with two corn tortillas. I also had a small glass of lemonade and a big glass of Earl Grey tea with a bit of almond milk.
I then took Echo for a 25 minute walk. The walk confirmed that it was COLD outside!!! NPR said this year would be the coldest Thanksgiving in Minnesota in 29 years!!! It was ZERO degrees!!! And it "felt like" -16!!!! I was hoping I got my clothing right for the run coming up!!
What I wore. I had on a lightweight pair of long underwear under my Craft biking pants, two pairs of Smart Wool socks, my 2014 Tour de Cure tech shirt, a long sleeve biking jersey, my TeamWILD biking jacket, and over the top a GORE cycling jacket. I had on a neck warmer, an ear muff and a hat, and to finish it off, a pair of lightweight mittens. My hands tend to sweat!! On my feet I wore my Brooks GTS running shoes that have orange Yankz so no need to tie my shoes or worry about them coming untied as I run!
Start of the Race. I got to the parking ramp at 7 AM. Tested my blood sugar in the car. It was 160 mg/dL. A good number considering I still had 2 units of acting insulin. I tend to go low at the start of a race. Most people go high from the adrenaline. Not me, I go low. Took me a long time of trial and error to figure this out, but I trust it and often eat as a race starts!
What I carried with me: I took my blood glucose meter with me. Along with a bottle of warm water, a full tube of 10 glucose tabs, one Chocolate Outrage Gu energy gel, and one Peter Rabbit Organics baby food packet. I felt confident I was ready. I also took two hits off my inhaler as I knew my asthma might be a challenge with the weather so cold. I brought the inhaler with me just in case. I had my iPhone fully charged and I planned to use Strava to keep track of my time and pace.
And We Are Off! I saw Doug Scalia, another type 1 who lives in the Twin Cities, at the start of the race! He runs lots of marathons, which is quite impressive! Here's a fun Start of Race selfie of us!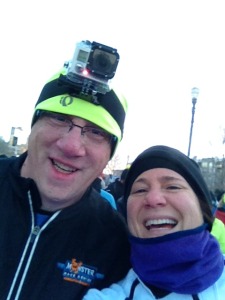 Pretty quickly, I realized the extreme cold was wreaking havoc with my devices. My iPhone shut off. And my Dexcom G4 Continuous Glucose Monitor had a double arrow down. It was perfectly calibrated when I woke up. I didn't want to subject my hands to the cold by taking off my gloves, so I ate 3 glucose tabs.
And I kept on running! My asthma was causing me to breathe with some difficulty, so I visualized air coming in and out of my lungs easily. I smiled at the sunshine and the beautiful blue sky! And I picked up the pace a bit.
Then the Dexcom beeped at me, saying my blood glucose level was 55 and going lower. Since I was so cold still and breathing wasn't smooth, I just couldn't tell what was going on with my blood sugar. So, I decided to err on the side of too many carbs. I ate a few more glucose tabs and I ate the baby food, which was 21 grams of carbs.
At mile 3, I realized I was holding an 11 minute a mile pace. This made me incredibly happy! I've worked hard at loving running and I've never been a fast runner. But my pace has almost always been a 12 minute mile. This was a whole minute faster!!! There's hope for me yet!! I'm almost 50 years old and I'm getting faster! I like this progress!
At mile 4, I ate a few more glucose tabs and the Gu. I was glad I had the bottle of water with me, since eating glucose tabs is a whole lot easier with water to wash them down.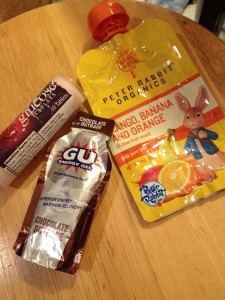 Then, a little bit before hitting mile 6, my pump beeped really loudly at me. I took a look at it and it said it had stopped delivering insulin. I was not on a reduced basal rate, and I wanted to be getting insulin!!! I pressed a few buttons and thought I had fixed the issue. I hoped that was the case.
Crossing the Finish Line!!! I was super excited to cross the finish line and see the clock, it said 1 hour, 10 minutes!! That meant I was right around an 11 minute pace for the whole race!! A bit later I got this text: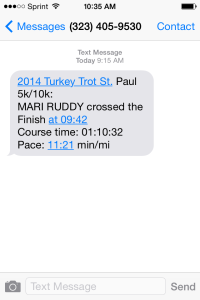 I love the medal!! Tammy insisted on doing this particular Turkey Trot because there was a medal! Not all of them happening in the Twin Cities today give out a medal. I too like medals!! I'm glad Tammy picked a race with a medal!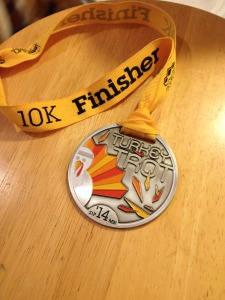 Back at my car: I realized that I hadn't gotten insulin for a while, as the pump kept saying No Delivery. I turned on the car and warmed up the pump and my glucose meters, since neither of them would work. My One Touch Ping glucose meter actually told me there was a Temperature issue! Smart meter!
I realized I had eaten 78 grams of carbs while running. I figured there was a good chance my blood sugar was high. And once I got the meter warmed up, sure enough, my blood sugar reading said 260 mg/dL. That's high.
And since my pump was still not working, I couldn't take any insulin. I forgot I actually did have insulin and a needle in my purse. I think I was still too cold to think clearly!
I tried calling the pump company, using the phone number on the back of the pump. The technical assistance line is supposed to be open 24/7. But no one answered. I called 3 times and no answer. By the third attempt, my pump had apparently warmed up enough to start functioning again! I was able to give myself 2 units of insulin!! YES!!
Blood Sugar Once Home Again: I tested when I got home and it was 197 mg/dL. On the way back to normal! Plus, despite some shivering, I felt fantastic! I ate the chips I got at the finish line. Echo was very happy to see me! And now I'm getting ready to go have a Thanksgiving meal with my aunt and cousins! I wish you all a very Happy Day of Thanks! I am grateful that I can run and manage my diabetes despite crazy cold weather!
Thanks especially to Tammy and Doug for being out there with me today!! Diabetes doesn't stop any of us!! And a very special thank-you to Lauren and Andrew for letting Echo come live with me. He's a wonderful dog and I am grateful he is in my life!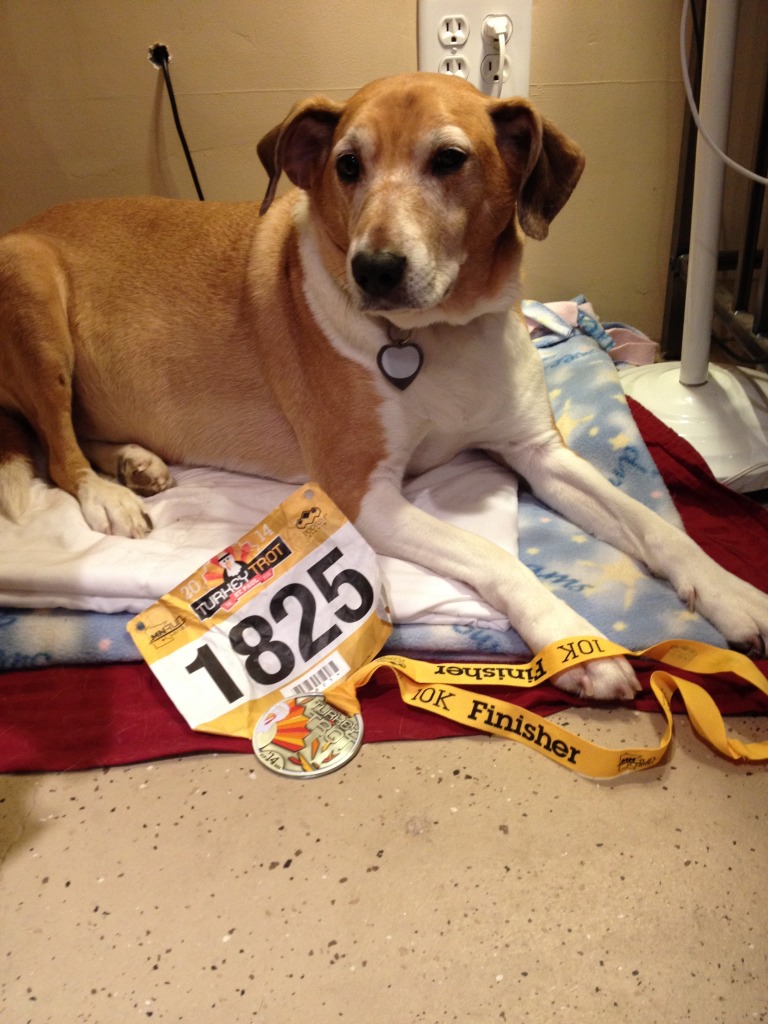 Please follow and like us: