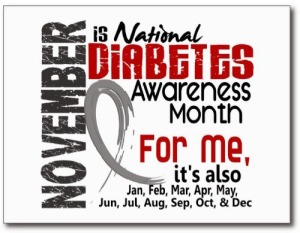 There's a lot going on in November, in addition to Thanksgiving and Voting Day, the entire month is Diabetes Awareness Month. Living with a chronic health condition like diabetes, every month for me is Diabetes Month. In fact, every single day is Diabetes Day. Yes, there are no, absolutely ZERO vacations when you have diabetes, especially when you take insulin. Not burning out from the effort it takes to live well with a chronic health condition is a big challenge. I keep taking deep breaths and finding the courage and the fortitude to keep trucking along.
How does November make diabetes fun? How does advocacy increase? These are questions I ask myself every year. There are a few things I especially like this month, and here they are. I share them with you all because if you have diabetes, please jump in and help yourself prevent diabetes burnout. If you don't have diabetes, please learn something more about diabetes.
I did a blog post a few days ago about The Big Blue Test. All you do is exercise for 14 minutes or more. If you have diabetes, you test before and after you exercise and you log those numbers and the exercise you did. You don't have to have diabetes to do the Big Blue Test!!! We need lots of people to help!!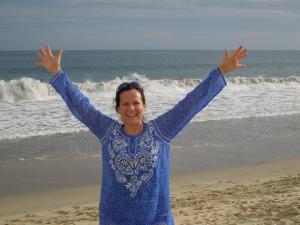 In 2014, every Big Blue Test results that get logged, Diabetes Hands Foundation grants $1 in support of people with diabetes in need around the world. Big Blue Test grants awarded this year will benefit two US-based initiatives (each will receive US$10,000) and an additional US$15,000 will support a project in the Dominican Republic. To do this, we're seeking to reach 35,000 Big Blue Test entries by November 19th. Help yourself and help others. Get active, #jointhemovement: do the #BigBlueTest every day!
World Diabetes Post Card Exchange http://wddpe.com
Lee Ann Thill, an art therapist and professor, who lives with type 1 diabetes, started the Post Card Exchange in 2011 and it's been going strong ever since.
You have until Wednesday, November 12th, to get signed up for 2014. The World Diabetes Day Postcard Exchange is an initiative to connect people affected by diabetes from around the world with each other during the month of November in celebration of World Diabetes Day and Diabetes Awareness Month. Participants in the Postcard Exchange send and receive handmade postcards with assigned Postcard Buddies. They create postcards using the blue circle, the international symbol of diabetes, in their design. The Postcard Exchange was created to promote healing through Creativity, Connection, and Activism.
I'm excited to make my postcards this year! Go to the website and sign up! It's fun!!!
World Diabetes Day is this coming Friday, November 14  http://worlddiabetesday.org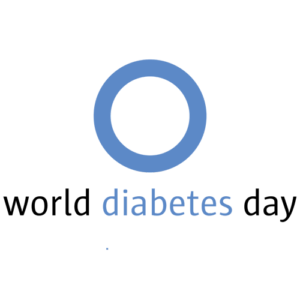 World Diabetes Day takes place on the 14th of November every year. World Diabetes Day was introduced by the International Diabetes Federation (IDF) and the World Health Organization (WHO) in 1991. On December 20th, 2006, the UN General Assembly passed resolution 61/225, which designated the existing World Diabetes Day as an official world day beginning in 2007.
World Diabetes Day unites the global diabetes community to produce a powerful voice for diabetes awareness and advocacy, engaging individuals and communities to bring the diabetes epidemic into the public spotlight.
Healthy Living and Diabetes is the World Diabetes Day theme for 2014 – 2016. The 2014 activities and materials focus on the importance of starting the day with a healthy breakfast to help prevent the onset of type 2 diabetes and effectively manage all types of diabetes to avoid complications. Special focus will be placed on the importance of starting the day with a healthy breakfast.
I eat eggs with spinach and kale on two corn tortillas and a small glass of juice for breakfast most days. Other days, I eat oatmeal with walnuts, chia seeds and raisins. I have always loved eating breakfast! I hope you do too!! What do you eat for breakfast?
Access the World Diabetes Day Guide 2014 here. www.idf.org/sites/default/files/wdd-guidebook-2014-en.pdf
I will be in Washington, DC this coming World Diabetes Day attending a health conference. I told the organizers about World Diabetes Day and they told all the people coming to the conference about World Diabetes Day and encouraged everyone to wear blue!! I will be tweeting all week about the event. Lots of photos to come!!
Here's my link on Twitter: http://twitter.com/mariruddy
Free Fitness Trackers!
diaTribe is a a program of The diaTribe Foundation, a non-profit organization committed to improving the lives of people living with diabetes and prediabetes and advocating for action. At diaTribe, they are passionate about diabetes – understanding it, writing about it, not to mention managing it. Many of those at diaTribe have diabetes, some since they were children. They are giving away fitness trackers! You need to sign up by December 15th to enter to win!! To sign up to win a free fitness tracker, a Fitbit or UP by Jawbone, go here: http://diatribe.org/r/ocfa592a
Thanks for reading about the fun things I like about Diabetes Awareness Month! Please leave a comment and sign up for my newsletter. I love staying in touch with you!!
– Mari