How are you doing maintaining your fitness now that the gyms are closed, races have been cancelled and we are still in quarantine??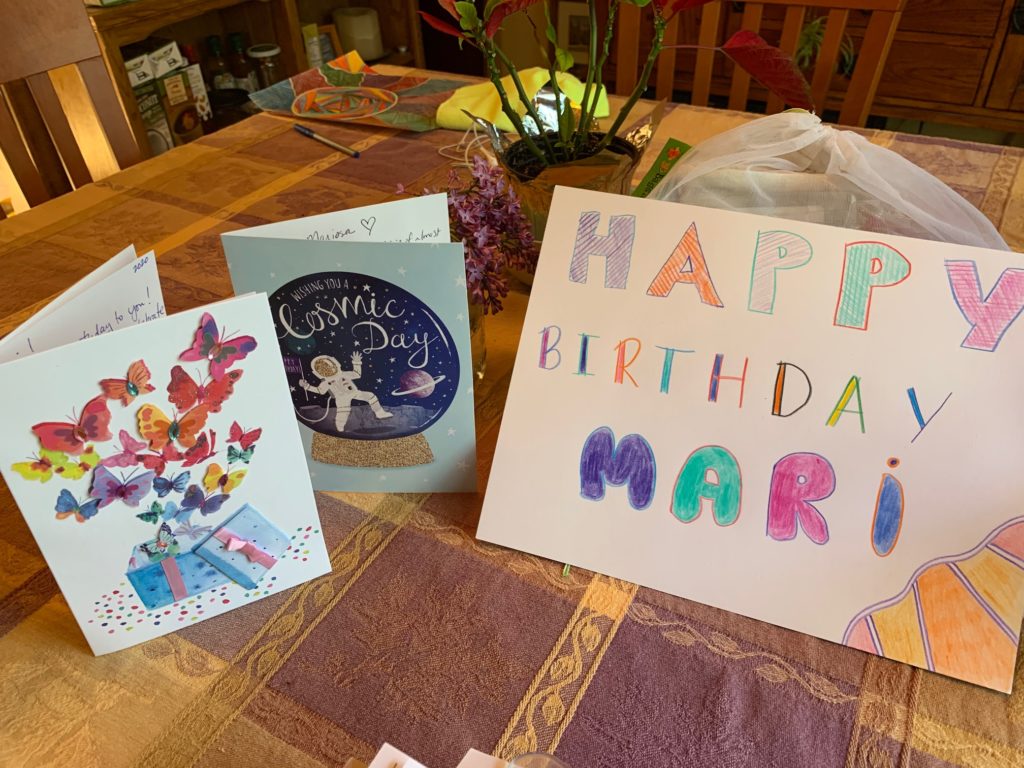 Before we dive into a few things I'm doing to keep my fitness happening, a BIG thank you for all the turning 55 love! It was a great birthday. I am still feeling the good vibes and well wishes!
Races cancelled 🙁
I found out this past week that the two triathlons I planned to do this summer, the Timberman in July and the YWCA Women's Tri in August, are both officially cancelled. It wasn't a surprise, but getting the official email made it real. The sadness and grief hit me like a ton of bricks. Grief has a way of attacking me. Does this happen to you?
In the grief attack, I find I need to intentionally breathe and allow myself to just feel the emotions. Grief swirls with anger and profound heart sadness. It cracks open my heart and crumbles me to the floor. Giving these emotions space is a skill I'm grateful to have learned in all the therapy and healing practices I have been a part of.
Navigating a grief attack
When grief strikes, I stop and breathe and notice what I'm feeling. I allow tears and anger to move through my body, remembering that allowing these emotions is so much better than putting the brakes on them. Feeling profound sadness and anger isn't easy to do, but stuffing them down causes terrible troubles later on.
When I got those two emails one after the other, I breathed into the whirling grief and sense of loss. I was grateful that my dear friend Tammy and I had scheduled a social distance bike ride in the northern suburbs of Minneapolis to celebrate our birthdays. Mine is the 12th and Tammy's is the 14th.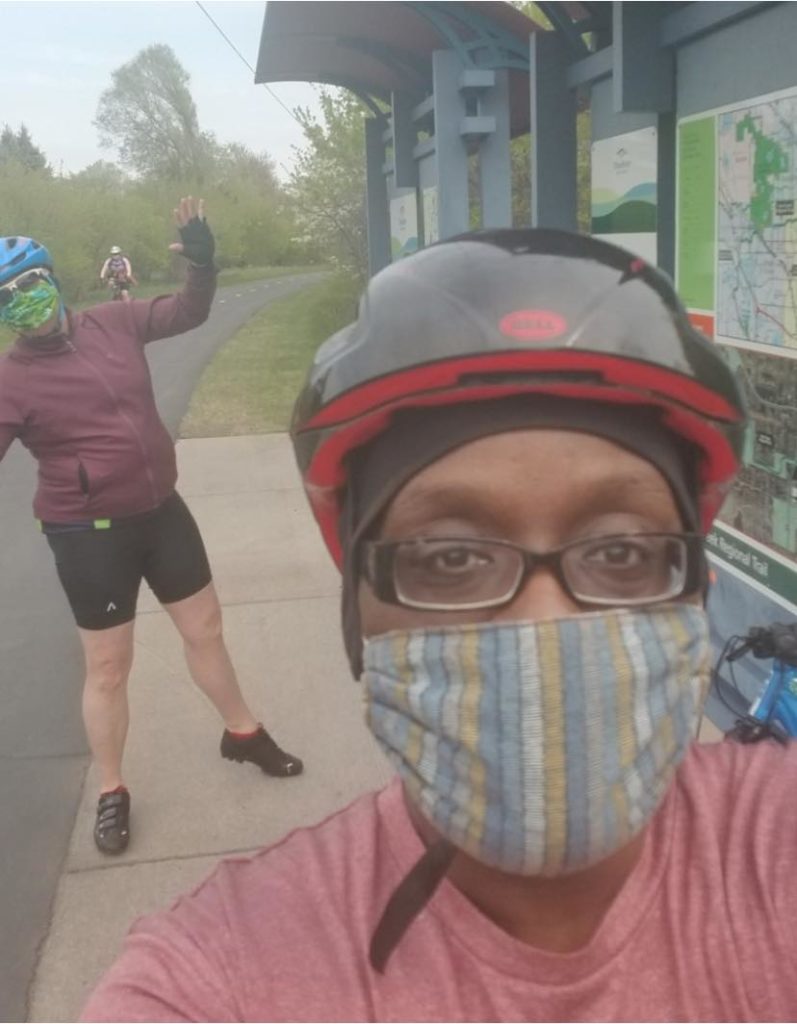 Bike ride for fun, fitness as a side benefit
That slow, fun, laughter-filled 20 mile bike ride helped remind me of my profound love of biking and endurance athletics. A huge part of my love for endurance athletics is the community that is formed in connection with the fellow athletes. Seeing Tammy with our face masks on and maintaining a consistent 6 foot distance felt good. It renewed my sense of purpose and it reminded me that riding bikes for fun is as valuable as riding for fitness.
In coronavirus times, our sense of community is distanced and dramatically disrupted. It requires more effort to connect. Zoom calls are good, but it's not as simple or easy as meeting up for a bike ride, a run or a swim.
Nature time is healing
The day before my birthday, May 11th, I had the day off, and I drove myself to a nearby Regional Park and took myself on an hour long hike/run in the woods. I listened to the birds and the wind rustling the leaves in the fresh green trees. I smelled the pine trees and I saw a number of turtles on branches in the little lakes. I used my time as a walking, healing, running meditation. While I was there I logged more than 7,000 steps! That felt like a victory!!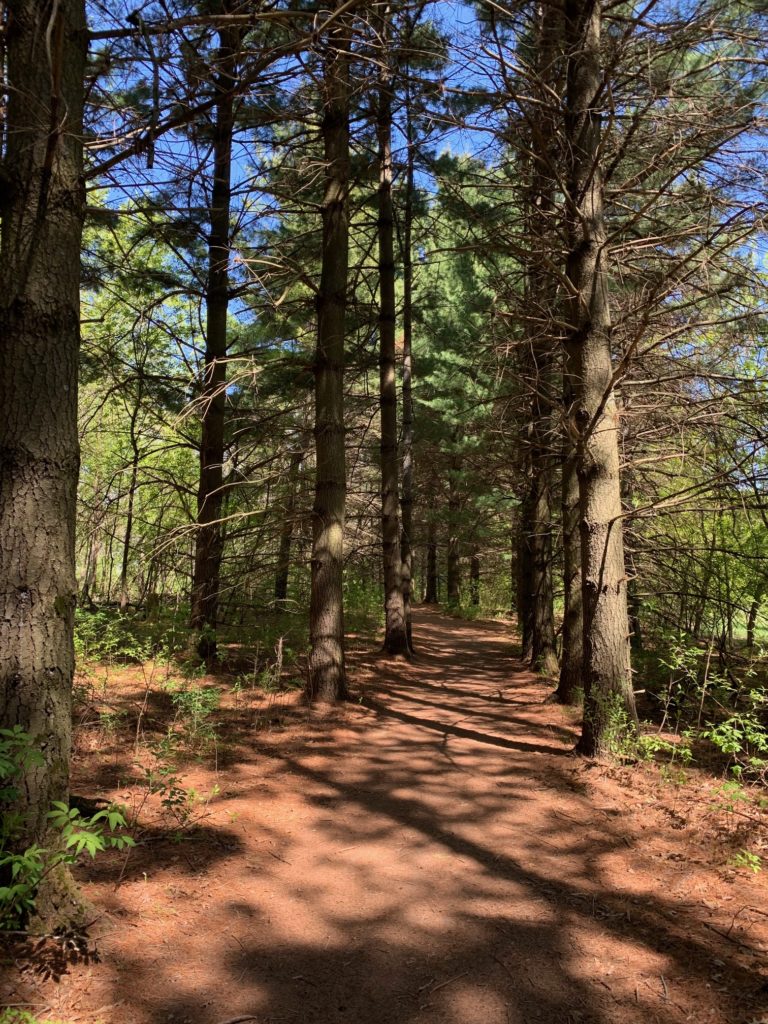 Then, on my actual birthday, I pulled out my bike again and planned to ride for about 15 miles. Instead, once I was out there, I just kept following the detour path I was on and I ended up logging 29.33 miles in the sunshine!! A second ride that was for fun AND fitness.
Workout Women, free app for fitness fun – no equipment needed!
Another thing I've discovered that is helping me stay motivated to keep moving my body is a workout app that's totally free and very cool! It has animated people that perform all the no equipment needed exercises, so I can easily follow along. The app is called Workout Women. The logo is a white W inside a pink square. Many of the exercises are 7 minutes long, a few are shorter and a few are longer. It plays music as you do the various exercises! I've been using this app for almost 2 weeks and I LOVE it! Go ahead, give it a try!! Here it is for your review.
What are you doing to keep yourself moving and fit during this wild unusual time? I love hearing from you!!
If you aren't on my email list, please sign up today!!