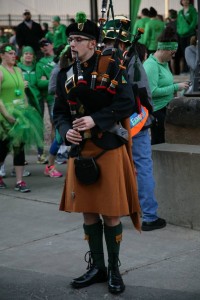 I'm more than half Irish, as my father and mother are both more than half Irish. Yup, I've had lots of relatives long past take a big boat across the ocean and make their way to the new land of America. I've never yet traveled back to the island where they all came from, but one day, I sure hope to make it to the rolling hills of Ireland. I feel the pull every year at St. Patrick's Day.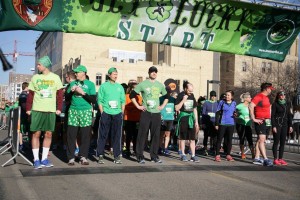 This year, my friend Tammy suggested we run the Get Lucky 7K race. My other friends, Rhea and Dana agreed with me, and all four of us signed up and did the race! It was held on a Saturday morning and as luck would have it, the day dawned sunny and bright. No small feat for March 12th in Minneapolis, Minnesota.
Dana and I met at the light rail stop that was midway between our two houses and for $1.75, we and many others headed to the race via the fuel-efficient light rail. When we got downtown, we slowly and surely found Tammy and Rhea. We also found the porta-johns! The lines for them always temporarily psyche me out. We chose to line up with the 12-minute milers, as none of us were feeling particularly speedy. I've been nurturing some serious heel pain. It appears that I have plantar fasciitis, which sucks big time.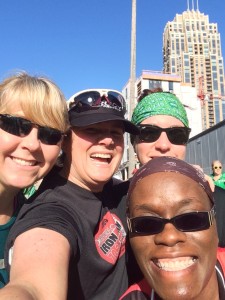 I loved looking around and seeing all the green costumes! Green tights, green hats, green shoes, green tutus, clover leafs everywhere. I loved the official green sweatshirts we got for signing up for the race. To start, I had mine on then, I got too warm. The sunshine was incredible. We smiled and laughed for almost the entire 7K! We especially laughed and danced the two times we ran into the hordes of cheerleaders that were out cheering all of us on!
I am happy to report that my diabetes did quite well for the entire run!
Doing a race event with friends is simply the best. I had a great time! At the end of the run, we got photos taken by a photographer. He had a pile of costumes we could put on for the photos. I put on a great green leprechaun hat! We then started walking toward the light rail, to head back home again. I forgot I had the green hat on my head. In fact, it wasn't until we were more than three blocks away when I reached up to see what was on my head that I remembered! We all started laughing again! I will keep it all year and bring it back next year.