It's been a few years since I'd been up to Duluth, Minnesota and going with three friends made it extra fun this year. Originally there were five of us who planned to race the Garry Bjorklund Half Marathon on June 18th. One of us got COVID and she hasn't recovered enough to run 13.1 miles. One of us broke her arm a few weeks ago and while it is healing well, not quite quick enough to allow her to run 13.1 miles. Another one of us broke her ankle over a year ago and the healing journey for ankle recovery has been slow, slow, slow, so much so that she too couldn't run 13.1 miles.
That left Nadine and me who had time and the physical wellness to race on June 18th. As you know, I had quite the Race Plan mapped out for the week before the race. I followed it to a T. Not lifting weights, doing very little running, not doing much physical exercise – I forgot how difficult it is to taper!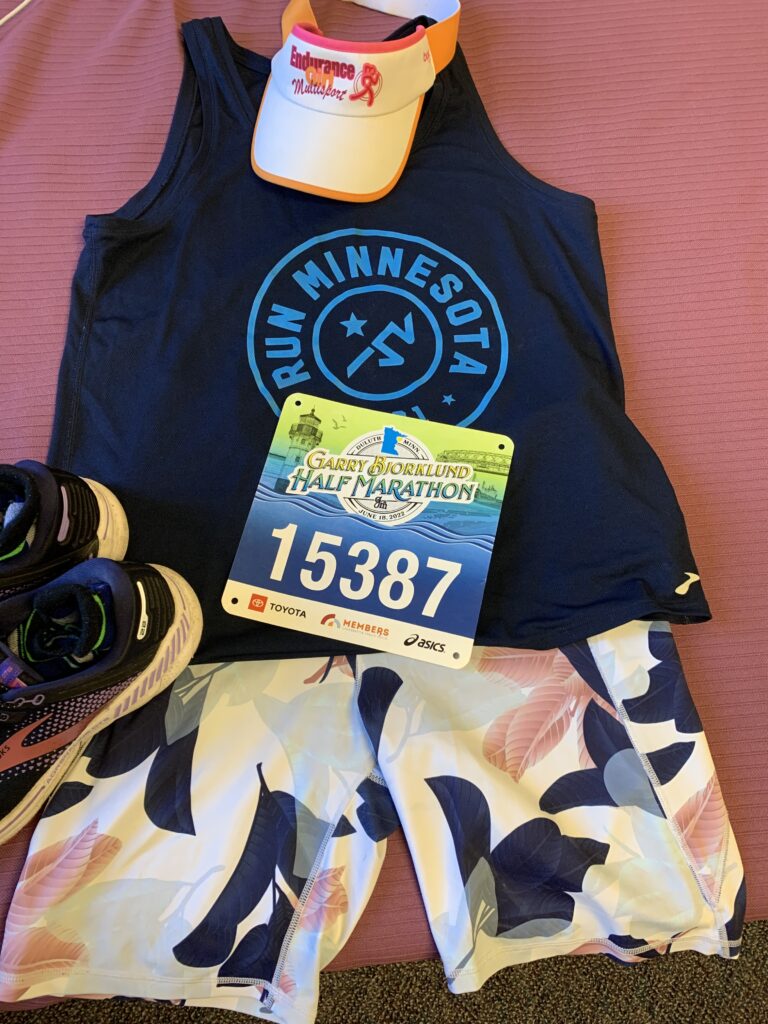 Taper jitters
Like many athlete friends doing a taper, I felt a bit jittery all week. My acupuncturist Sara Erdman, L.Ac., said runners in particular have a hard time having to stop running as they are used to moving their chi by running consistently. I could tell the energy in my body was having a hard time moving around. Thank goodness for my daily walks with Sam.
I successfully kept my stress to a minimum and I did really well getting enough sleep every night. My extended daily meditations helped me stay focused and in-tune with my goals.
Race Expo
Nadine and I drove up to Duluth the day before the race, making sure that we stopped a few times to stretch and move our legs. We went first to the Race Expo to get our race packets and see the running goodies. Both of us kept our purchasing to a minimum, as really what else do either of us need at this point, that's what we told each other anyway! Nadine did get a wonderful new visor that served her well during the race.
Then we went over to the University of Minnesota Duluth where we had reserved an apartment for two nights. We got our keys and went up to the hospitality room to check out the welcoming treats they had for us. I did take a few packets of popcorn, yum!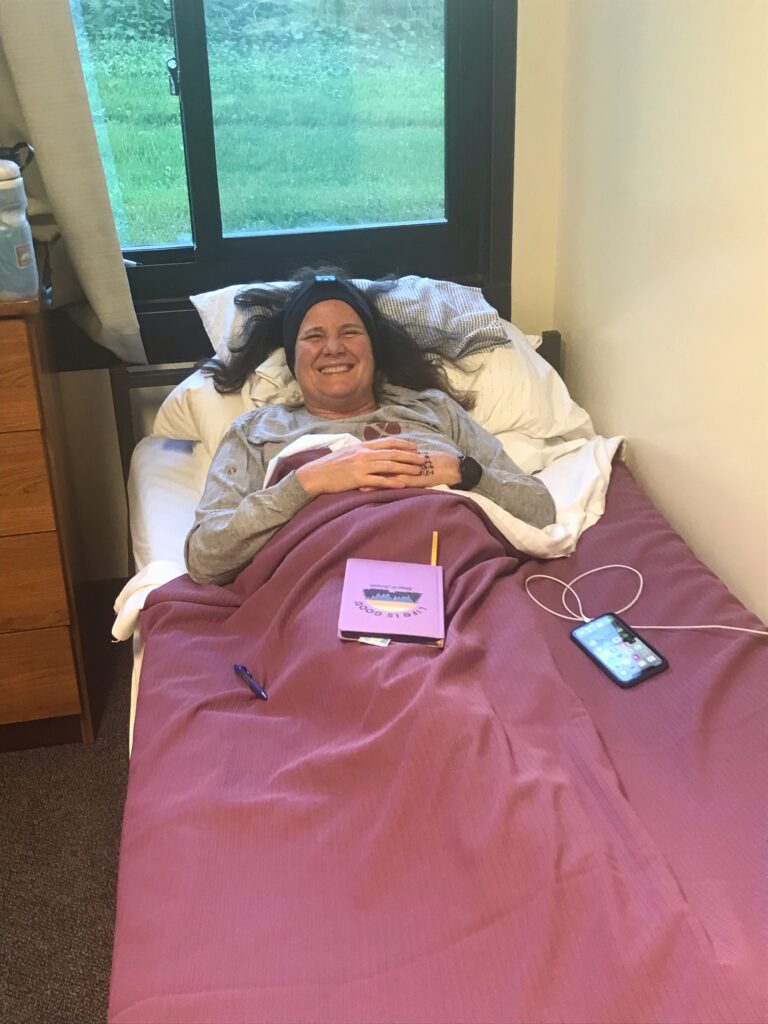 Low blood sugar distress
Sadly, I did have two low blood sugars on Friday. Not terrible ones, but I miscalculated and mistimed my insulin and eating and as a result had two blood sugars slightly lower than 60 mg/dl. Not ideal for a day before a big athletic event, but that's the nature of life. I treated the lows and reminded my body that despite slightly tapped out glycogen stores, I would be okay the next day.
Spectator delight
Jenny and Brooke drove up in a different car and they went and got their race packets and they went out to dinner, since they wouldn't be racing the next day. They planned to cheer the racers! Which is an endurance sport in and of itself.
Food control
Nadine and I brought food and we ate that in our UMD apartment. I then spent time getting my After Bag ready and organizing my clothes for the race. The lows and the drive up made me very happy to be laying down early to read and visualize. I fell asleep early which was good since my alarm went off at 3:45am on Saturday morning.
Race morning – bright and early
I had my chia breakfast, got dressed and headed out to the buses. Nadine took a bit of time to do some yoga, so we hugged and said we'd see each other at the finish. Nadine is a much faster runner, so she would and did, finish sooner than me.
The bus ride to the race start was smooth and uneventful. I was grateful to have my well-sealed-to-my-face face mask on, as I was one of about three people to have on a face mask on the no-windows-open thirty minute bus ride. I'm still working to make sure I don't get COVID.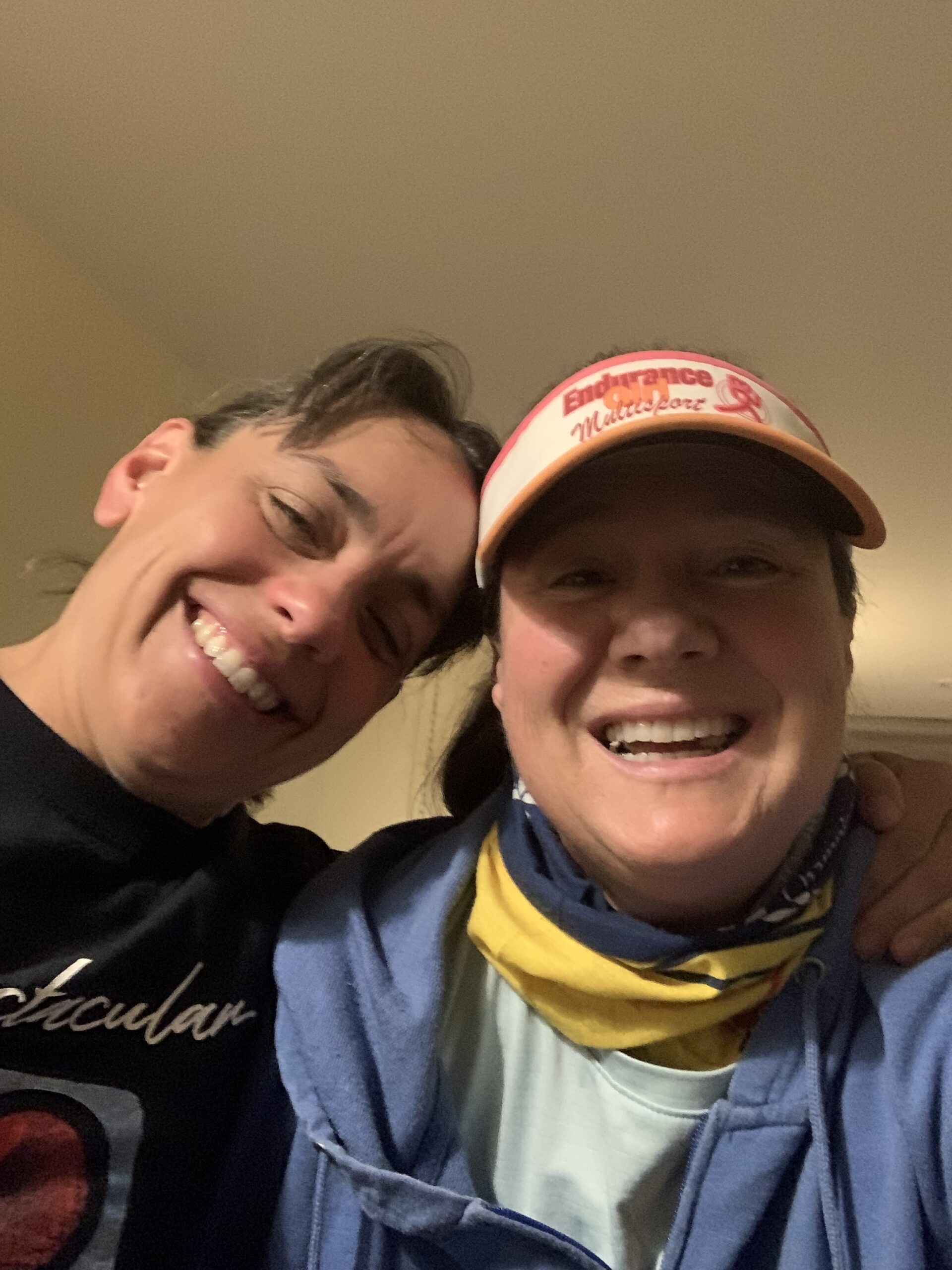 Lake Superior Magic
Right away when we got off the bus I felt my whole being smile. Lake Superior is AMAZING. I found Jenny Owens, a fellow member of Run Minnesota, and she was an official pacer for this race. Her sign said 2:45 – meaning her pace would finish the half marathon in 2 hours 45 minutes. My big goal was to be a little ahead of that time.
I met a few other runners who are also part of Run Minnesota and before we knew it, off we went!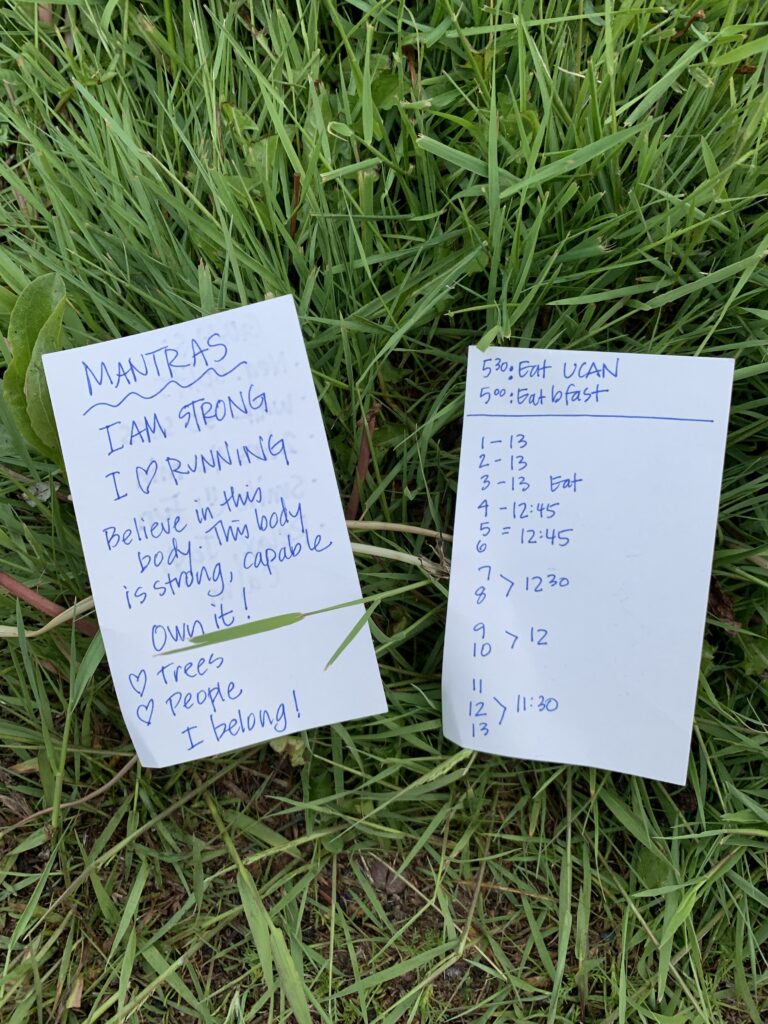 Goal Report
My goals for this race were:
Have negative splits

This did not happen. Instead I was steady. My average pace was about 12:21 per mile. I was impressed with how steady I ran. I was by myself most of the run and I kept reciting my mantras. I enjoyed communing with the lake and the trees. I kept feeling my body and noticing the strength and steadiness I possessed.

Walk fast for 30 seconds every mile

I did this nearly every mile and I believe it helped me stay steady.

Smile and have fun

This happened! And it was fun! The route is beautiful and the city of Duluth comes out in force along the course with friendly people nearly the entire route. Jenny and Brooke got to two different spots and both of them cheered like crazy both times!! SO fun to see them and feel their support. My friend Jaime and her sister also came out to cheer and that too was awesome. I felt loved, seen and supported for this effort I was making.

Feel relaxed, calm and joyful

Another success! I felt confident and relaxed. I had done 16 weeks of focused training. I realized I 100% trusted Coach Danny Docherty and all the work I had put in with Run Minnesota. I kept reciting my mantras, I even carried my index card with them written down the whole race. This helped me stay calm and as a result joy kept exuding.

Finish the race in 2 hours 40 – 45 minutes, that's an average pace of 12:30

YEEE HA! This happened. My official race time on my Garmin was 2 hours 43 seconds and 4 seconds. My official race time from the chip on my race number was 2 hours 43 minutes and 1 second.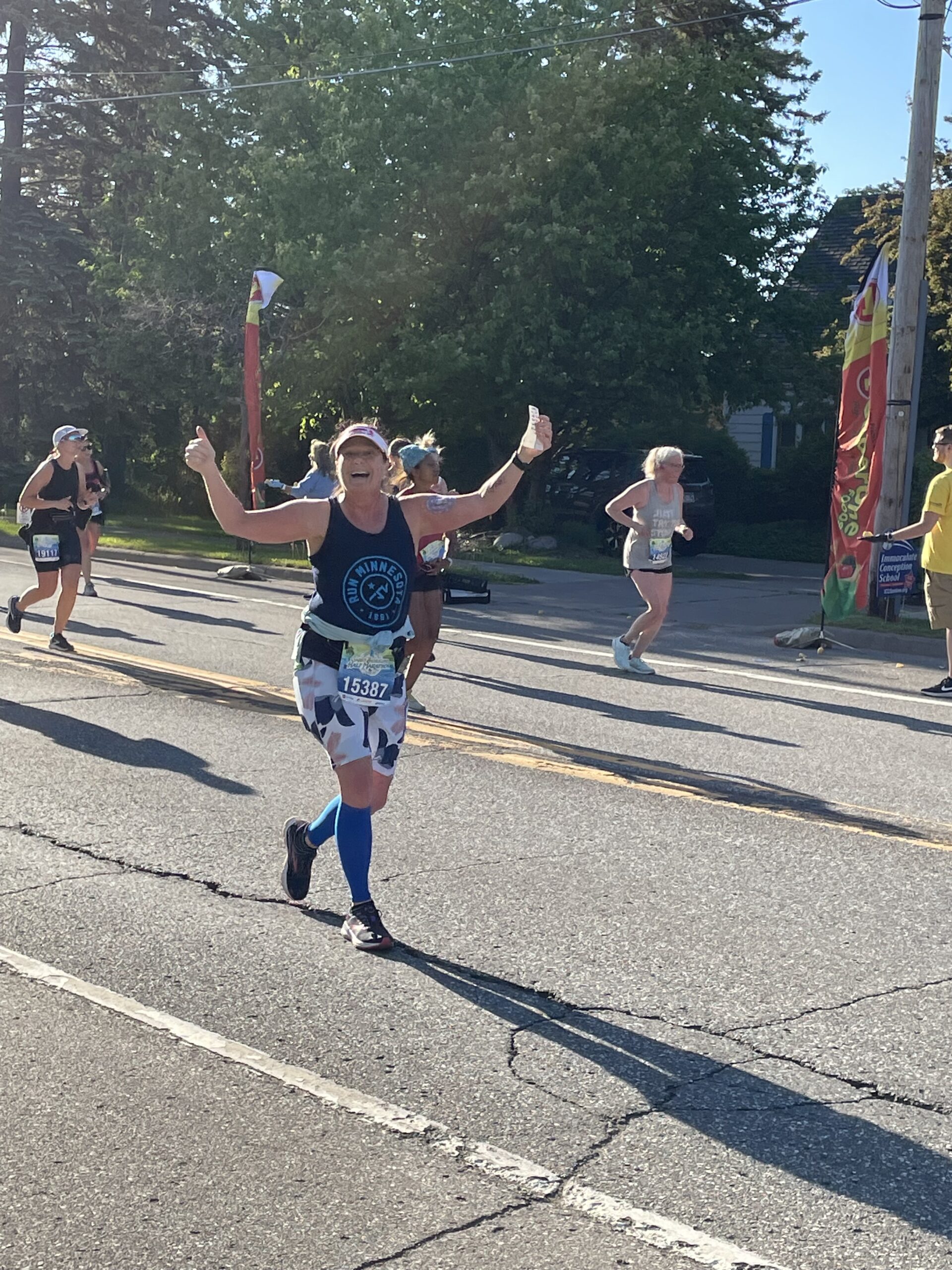 Coming across that finish line was pure joy and delight! I got my medal and my finisher shirt and slowly made my way to where Jenny, Brooke and Nadine were watching the race. They were at Mile 26 of the marathon finish. Grandma's Marathon and the Garry Bjorklund Half Marathon use the same route. The half marathoners start earlier and at the halfway point on the marathon route, with the goal being that most of the half marathoners are done before the fastest marathoners finish. Thank goodness I was off the course before those marathon speed demons got to the end.
Finishing emotions
Right away I noticed how strong and well trained I felt. I rarely let myself dwell in feelings of accomplishment. I tend to be forward-focused and staying present with accomplishment is not a skill I've honed. In part because I quickly met up with Jenny, Brooke and Nadine and our collective plan was to cheer on our marathon completing friends and all other runners, I didn't have anything I needed to do. This allowed me to eat the recovery food I had brought with me and revel a bit in the successful accomplishment of meeting my time goal and improving my time by 12 minutes from the Get In Gear half marathon race I had done on April 30th.
I felt good!
I realized my weight lifting and consistent interval workouts and all those long runs I had done had combined to pay off. I felt happy, solid, delighted, and accomplished. I let myself breathe into the magic of these good feelings.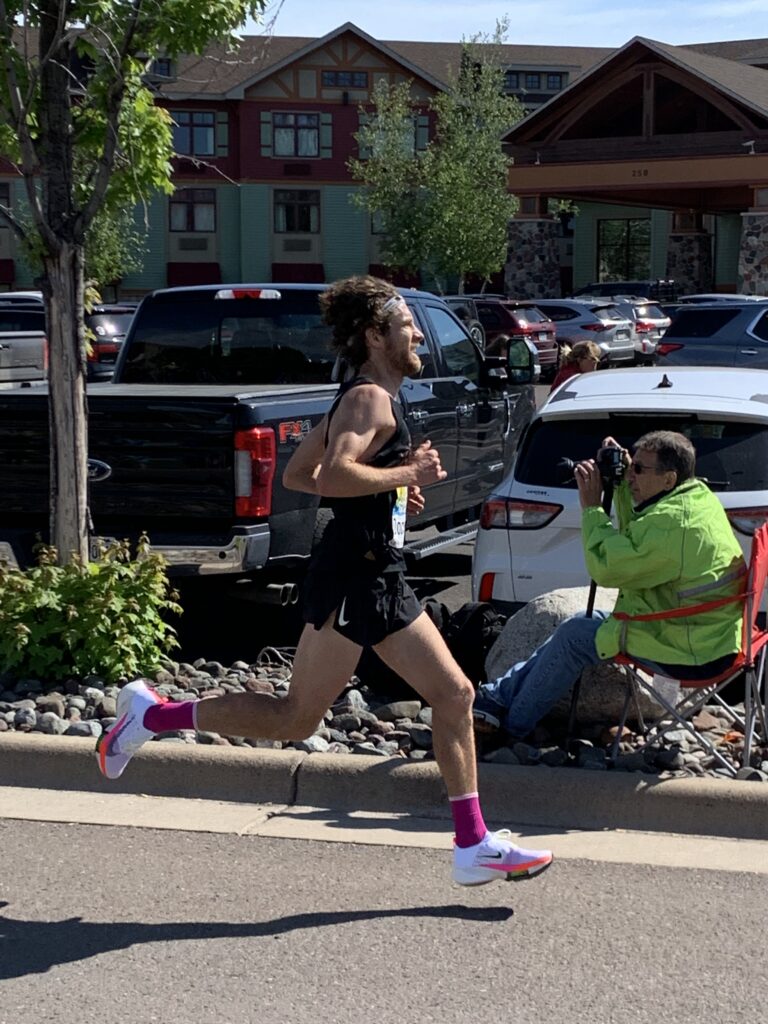 Celebrating the marathoners
First of the people I knew to come to mile 26 was Coach Danny Docherty. As you can see in this photo, Danny flies! His feet barely touch the ground. He ran 26.2 miles in 2 hours 17 minutes and 7 seconds. Yup, he ran 26.2 miles faster than I ran 13.1 miles. And as I've said before and often remind myself, Danny and I are different people and comparison doesn't do either of us any good. Instead, I simply cheered with my whole heart when I saw Danny come flying by. I managed to quickly snap this photo as my smile stretched ear to ear. GO DANNY!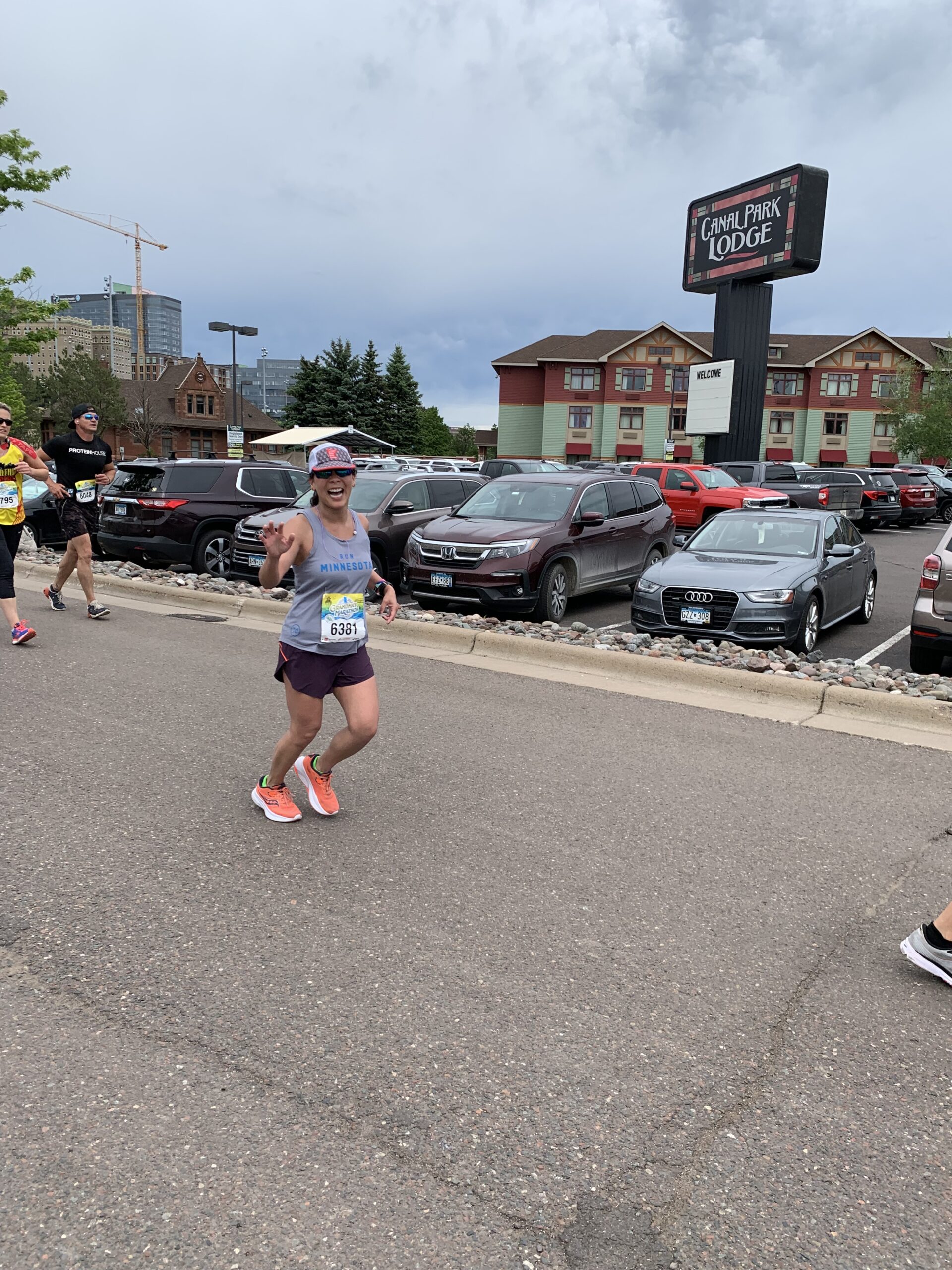 Then I saw Howard, Linda, Tanya, Tanya, and Kathryn sail past the 26 mile mark. I trained week after week all spring with all of them and it felt so good to ring my cowbell, snap a few photos and scream at the top of my lungs when I saw each of them nearing the finish line of this major accomplishment. Tanya L and Kathryn – this was their first ever marathon. A MAJOR BIG DEAL.
As each of them passed by, as I stood alongside my dear friends, it hit me again that I am finally part of a strong community. I belong. I matter. I contribute. I am seen.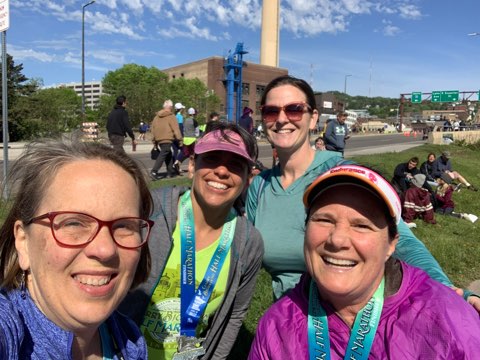 This realization hit me with a force so strong I sat down and cried. It's been a long time coming.
What's next
As the day progressed, of course I started thinking about what's next. I'm doing the Minneapolis YWCA Women's Sprint Triathlon on August 14th so triathlon training has kicked into high gear. I'm part of the Run Minnesota Fall Training Program and I will run the City of Lakes Half Marathon on September 11th. Let's see if I can improve my time even more!
Thanks for reading and for being a part of this community. As always, I love your comments and contributions. Tell me about a recent athletic success you've had. Sharing motivates me and like all of us, I need to keep myself motivated!
Keep on moving, you are worth it!
Are you part of my email list yet? If not, please sign up right here.