Two weeks ago today, on June 3rd, I successfully rode 107 miles on my bicycle at the Tour de Cure Twin Cities!! Because of the 80 mile ride I successfully did on my birthday on May 12th, I had excellent confidence that I could do the ride.
Much of endurance exercise is mental confidence and mental toughness. It's taken me years to understand that. Grateful that I finally get it!
Here's a digital story I did to thank the many generous sponsors to my ride. I offer it to all of you as well! I had a good time creating the story. Enjoy!
I can fundraise until June 30th. I'm $98 short of an even $3000! Here's the link to donate if you are so inclined: http://main.diabetes.org/goto/mariruddy36
Diabetes Recap
I'm always amazed at how good my diabetes is when I do long athletic events. On the day of the ride, I didn't lower my basal rate and in general I ate about 40 grams of carbs per hour as I rode. The only diabetes challenge I had was late afternoon, around 2:15 PM, my blood sugar dropped from 160 mg/dl to 65 mg/dl in about 10 minutes. That is a fast, steep drop and it caused my body to start shaking and I got really disoriented. My Inner Healer cautioned me and I listened. I stopped riding and ate some glucose tabs and sat on a bench overlooking the Mississippi River. I set my phone timer for 15 minutes.
That was a LONG 15 minutes of waiting! I knew I was likely to be the last person in, and taking a 15 minute rest stop was not helping!! I breathed into it and let the natural beauty around me calm my anxiety. I realized I would cross that finish line just fine!
I was indeed the only woman this year that rode 100 miles at the Tour de Cure Twin Cities. I hope that next year other women with diabetes join me!
Let me know your thoughts! I love to hear from you!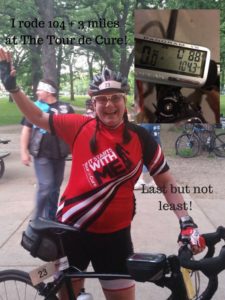 Go Red Rider!