I saw a Facebook post by diabetes maven Michelle Pflueger Shaw and in it she and her family were on their way to a Disney vacation and Michelle posted a picture of herself with Bright Spots & Landmines: The Diabetes Guide I Wish Someone Had Handed Me, by Adam Brown. The book caught my eye.
Then a few days later I got an email that talked about the book. Then a few hours after that, I saw a Tweet about the book. That was the tipping point, I went online and read a few reviews of the book, and then I ordered 4 copies of the book from Amazon. I do very little halfway. I figured I would have 3 people to give the book to. My endocrinologist being one of them!
As soon as I got the book, I immediately started reading it. And within a few pages I had tears in my eyes. This young man is an excellent writer and he has a good way with telling stories about diabetes. I had a pen in hand and found myself making all kinds of notes in the margins. I often make stars at parts I want to remember. My copy is filled with stars!
For the first time EVER, I found myself understanding why there is so much low-carb talk in the diabetes community. Also for the first time, I felt willing to give a lower-carb meal plan a try. My last A1c was higher than I like them to be. Time to try some new strategies.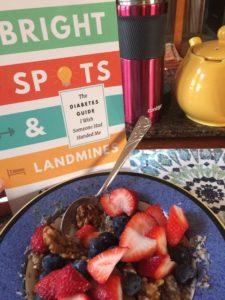 On page 32 of the book, Adam describes a chia pudding recipe for breakfast. I have been a fan of chia seeds for years, I just had never considered basing my entire breakfast on that. Within a few days I was a chia pudding for breakfast convert! I add 1 tablespoon of coconut oil, coconut flakes, flax seeds, lots of cinnamon and cardamom, plus walnuts, blueberries and strawberries to the mix. BIG YUM!! It's about 20 grams of carbs! I usually take 1.3 units of insulin (not much!) for this breakfast and my post meal cgm tracing is flat as can be!!! YEE HA!!!
Then when I hit page 100, which is in the Mindset section of the book, Adam talks about support within the diabetes community. In a boxed section that he titles "In-Person Events," he talks about diabetes charity bike rides. He has a picture of a Red Rider cycling jersey back that says, "I ride with diabetes!" And he talks about how he was cheered for having on that jersey!!
Since I'm the one who created that jersey and the Red Rider Program, I know that they yelled to him, "Go Red Rider!!" Which means, "I love you for your bravery living well with the big challenge of diabetes!" That takes too long to say, so we suffice with "Go Red Rider!"
That Adam had that blurb about the Red Riders on page 100 was one item that brought tears to my eyes. The first year we created the Red Riders, my goal was to have at least 100 people with diabetes willing to wear the jersey. We ended up with 111 people who wore the jersey that first year in 2007. It's 10 years later, and now more than 15,000 people wore the Red Rider jersey this year.
I gave one of the copies of the book to my brother Marty who also has type 1 diabetes. A few days later he sent me this text: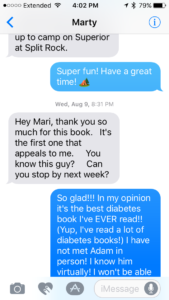 Now that is a vote of confidence in Adam's book! Yes, I've given my brother a few diabetes books over the years! So far I've recommended the book to 3 additional people. Two of them have gotten the book for themselves. One, Christin, was just recently diagnosed with type 2 diabetes. So far she likes it!!! Thanks goodness. As many of you know, a diabetes diagnosis is overwhelming to say the least. The other person who just got the book is my pal Dana, who's had type 1 since she was 8 years old.
I recommend the book to YOU!!!
Let me know what you think of it!
And Adam, if you read this blog, THANK YOU!!! And, "Go Red Rider!"