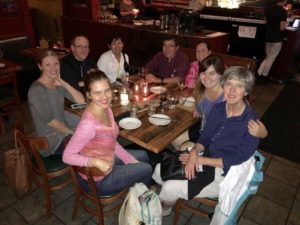 It's a few days before Thanksgiving and I am thinking about what I'm thankful for, maybe you can relate. Are you considering what you are thankful for?
There's lots I am thankful for: my amazing circle of friends, my snuggly loving dog Echo, my overall good health, to name the top items. I'm also profoundly thankful for the amount of work I have. Work that pays! I did a Money Mentoring program this year and I did so well, I got asked to become a coach. Being a Money Mentor isn't a paying gig, which is a-okay.
One thing I am profoundly thankful for is the good self-care I continually manage to do in regard to my type 1 diabetes. Since starting my three-month weight loss journey, I've lost a few pounds (YEE HA!) and I've managed to do at least 7 hours of working out every week.
It's easy to get burned out by the 24/7ness of type 1 diabetes. So much so, my colleague Ginger Vieira wrote a book about it. I've read the book and Ginger has lots of great insights. If you've got type 1, I highly recommend it.
In the more than 3 weeks of my weight loss fitness journey, the one KEY thing I've done that has resulted in major positive change is I have dramatically reduced my basal rate on my Animas insulin pump. I reduced the amount of basal I take AND I have simplified the patterns. Now I take .5 units every hour, 24 hours a day. Yup, I even did some basal testing! Since passing the menopause gate, I don't need an increased amount of insulin for "that time of month," like I did for many years.
I got the idea of reducing my basal rate and simplifying the pattern, after attending a lecture and reading Sugar Surfing: How to manage type 1 diabetes in a modern world, by Stephen W. Ponder, MD, FAAP, CDE and Kevin L. McMahon. AMAZING BOOK!!! I highly recommend it to ALL my type 1 readers and friends!
Dr. Ponder has himself lived with type 1 for just over 50 years! He became an endocrinologist and he's the director of a children's diabetes summer camp. For sure Dr. Ponder GETS IT!!! I really enjoyed the lecture he gave here in Minneapolis and I loved going out to dinner and hanging out with a small group after with him. Big shout out of thanks to Allison Nimlos for organizing the event.
Tonight I am going to my first TRX class at the YWCA. I'm super nervous and super excited. I figure it's a great way to celebrate Diabetes Awareness Month, which in 8 days wraps up. Until there is a cure, I will keep living with this chronic health condition, every day all day.
Wish me luck!
Love to all you fabulous readers. I sure appreciate all of you too!!