I ran my third half marathon race of 2022 last Sunday, September 11th, the Jeff Winters City of Lakes Half Marathon, put on by Run Minnesota.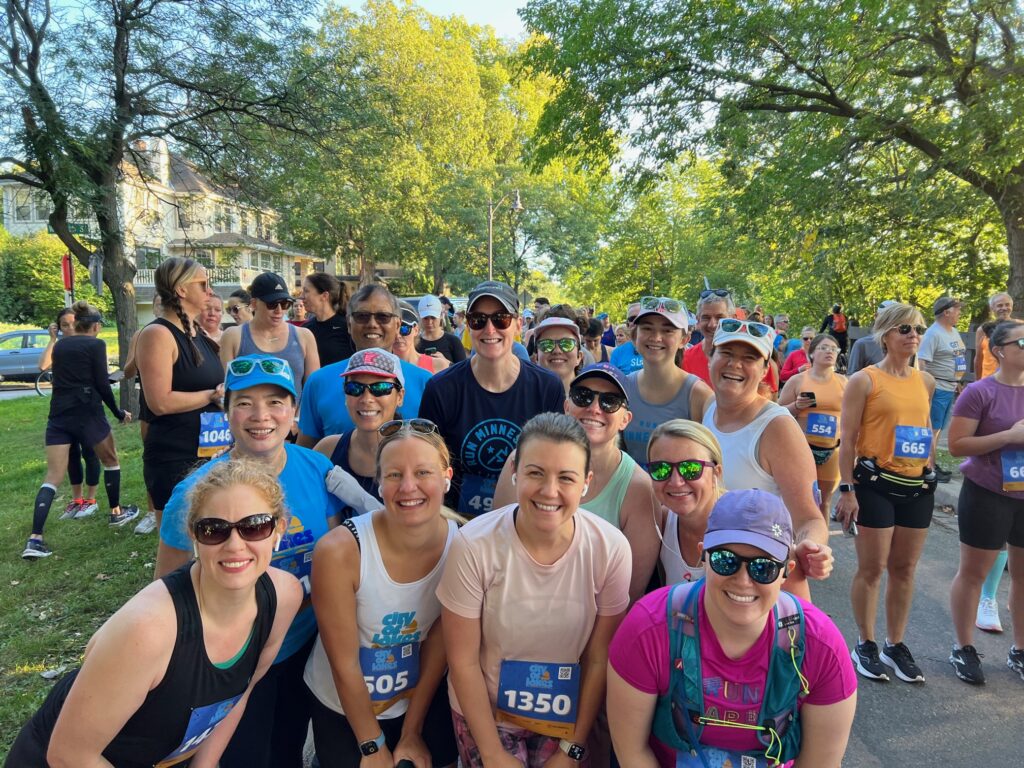 Time goal not met
Much to my chagrin, I did not meet my time goal. In fact, starting at mile 7 all the way through until the end of the race, my pace slowed down quite a bit. That's because I started having some distressing dizziness. Three different moments I nearly blacked out and almost fainted. Quite scary. Fainting on pavement is not ideal.
I managed to keep moving my body forward, just had to walk and do some focused deep breathing. I was careful as I navigated the dizziness.
Frustration increase
As I needed to walk, my frustration and disappointment grew. I made an effort to enjoy the beauty of the race route. Running, or in my case walking, around Lake Harriet and Bde Maka Ska lake with all the trees and blue sky was only momentarily distracting. I felt myself falling into a deep well of despair and hopelessness. This doesn't happen to me very often, and when it does it catches me off guard.
One of my dear Looking Sharp triathlon team friends, Nadine, rode her bike to catch up to me to cheer me on. As she approached, she asked how I was feeling. It was about mile 9 and my reply was, "I don't want to talk about it right now." I was gruff and not very appreciative, not how I like to show up in the world.
Looking strong, despite the dizzy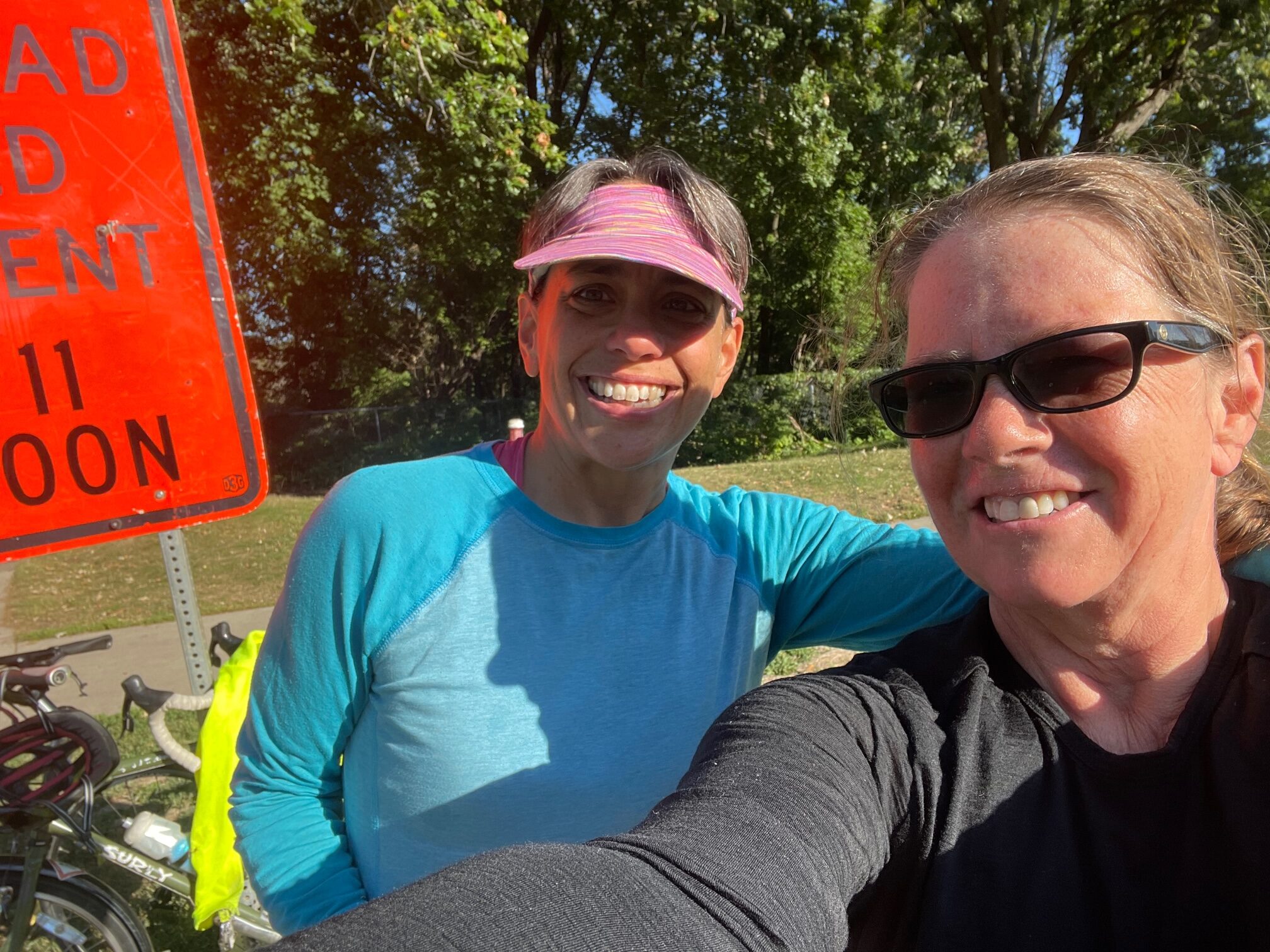 Nadine told me I looked strong and she wished me well. I did manage to thank her for showing up to cheer. Her support and encouragement did help later when I got home after the race and thought about the whole of the race. As did running past my other triathlon team friends Marie and Monica who even made a sign and had their cowbells out. Tanya, Jeremy and Marcy also were there cheering and seeing them was good early on in the race, before the dizziness hit me.
Give up running all together
While in the deep of the despair, I told myself I might need to give up running entirely. I wondered how I would ever train for and do the Grandma's Marathon in June 2023. Despair creates massive giving up. Another state that is uncommon for me to find myself in.
The pattern of dizziness
As I ran and walked, I thought about what I know about the pattern of the dizziness I experience. It seems to happen with an increased level of exertion, on hills. I'm not sure of the connection to my heart rate, I haven't tracked that very well. It also seems to mostly happen on runs longer than 6 miles, again, somewhat connected to exertion. It's been happening for about the past two years, since I upped my running game. A few times it's happened on long bike rides, but not very often.
Not blood sugars and not electrolyte shortage
I've made sure the dizziness isn't connected to my blood sugars – high blood sugar or low blood sugar – and it doesn't seem to be. In fact, on Sunday, my blood sugars were practically perfect the entire 13.1 miles. That's always a relief.
Early on we thought it might be connected to electrolyte levels and as a result I am extremely attentive to consuming Nuun tablets a few days before a big event or long run, and taking salt tabs during the event. I had done that for this race, so very unlikely that I was short on electrolytes. I also am careful to be sure to drink enough water, so I am doubtful that I was dehydrated.
Tears at the finish line
When I crossed the finish line, 9 minutes slower than my intended goal time of 2:40, I considered breaking down in tears. I was so disappointed that I was 9 minutes off from my goal time. I had trained really well. I felt physically strong the entire race. As I finished the race, I actually felt like I could keep running. I wasn't exhausted, just tearfully disappointed and scared. Wondering what is wrong with me.
What to do about the recurrent dizzy
I went to pick up my finisher pint glass and one of the other Run Minnesota team leads, Jenny Owens, saw me and she spontaneously suggested that I consider consulting with a concussion specialist physical therapist. That was something I've never thought of. I asked a few of my friends if they knew of any such resources and my friend Marie suggested The National Dizzy and Balance Center.
Thus began my quest to find professional/medical help to figure out why I get dizzy.
First I drove myself home from the race and took a nap, not because I was tired from running/walking 13.1 miles, but because I was emotionally drained and sad. I needed a rest from the confusion.
Taking action helps
I had an intake phone call with the National Dizzy and Balance Center on Tuesday, and after describing my situation, the many layers of it, the physical therapist intake specialist suggested that to her it sounded like my situation was unlikely vestibular. She encouraged me to consult first with a cardiologist.
Whoa.
Ask fellow athletes for help
Tuesday evening I met up with my Run Minnesota group for a 4 mile run. Several of the runners who showed up are over 65 years old and often older people have a cardiologist on their health team. These are all dedicated runners, so I asked around who had a cardiologist they liked. I'd also sent an email to my endocrinologist to see if she had a recommendation for a cardiologist who knows about dizziness and exercise and is themselves an active athlete.
My persistent question of "Do you know a good cardiologist?" got lots of chuckles! Not a common question that gets asked while out on a run!!
Cardiologist good for runners
I got some awesome recommendations. The one that caught my ears was Dr. Charles X. Kim. Minnesota Mike who is over 74 years old and he's darn speedy as a runner, told me Dr. Kim was recommended to him by other runner friends. Dr. Kim is himself a runner and he supports running as a fitness activity.
I went home and verified that my health insurance would cover going to see Dr. Kim. I also emailed my endocrinologist to see if she'd heard anything about Dr. Kim. Dr. Mattison, my endocrinologist, had heard of Dr. Kim and she said, "Yes, go see him!" Bonus, my insurance doesn't require a referral and it will cover a visit to see him.
On Wednesday, I called and got an appointment with Dr. Kim for October 4th, two days after the Twin Cities 10 mile race that is held on the same day as the Twin Cities Marathon, the 40th one. The 10 miler is my last BIG run race of the year. Grandma's Marathon doesn't sell out too quickly, so I should have enough time to decide if I will sign up for the 2023 marathon.
Social media time-out
All week I've noticed that I don't feel as optimistic and upbeat as I usually do. In fact, as I continually checked in with my emotions, I allowed myself to feel the sad and grief of not having perfect health. I cried hard almost every day. Over time I've learned it's best to feel the emotions and not try to stuff or change them. The only way out is through.
One of my coping strategies was to not go on Facebook or Instagram. I needed a moment to just focus on me and my experience and not get overwhelmed with what others were doing. I didn't post anything about my activities, just a bit of radio silence.
Comfort of friends
Thankfully, I do have a group of four friends that we text each other everyday with fitness and life updates and encouragement. This group helped me hold my race disappointment and grief. They gently and with great kindness reminded me that I had more than a time goal for the City of Lakes Half Marathon.

OH YEAH! I did indeed have 3 goals. They were:
Feel relaxed, calm and joyful
Finish the race in 2:40 or less if I'm feeling it
Pay attention to the feeling of connection and belonging. I will know many, many people doing this run!! Major advantage of training spring and fall season with Run Minnesota.
Recap of race goals
For much of the race I did feel relaxed and calm. Even joyful until the dizziness started. And the last goal, to feel connected and belonging – I did have that happen throughout the entire race.
As I breathed into and allowed myself to feel the disappointment of not meeting my time goal, I noticed that I still had space within myself to feel the delight of meeting the other two goals.
Noticing the good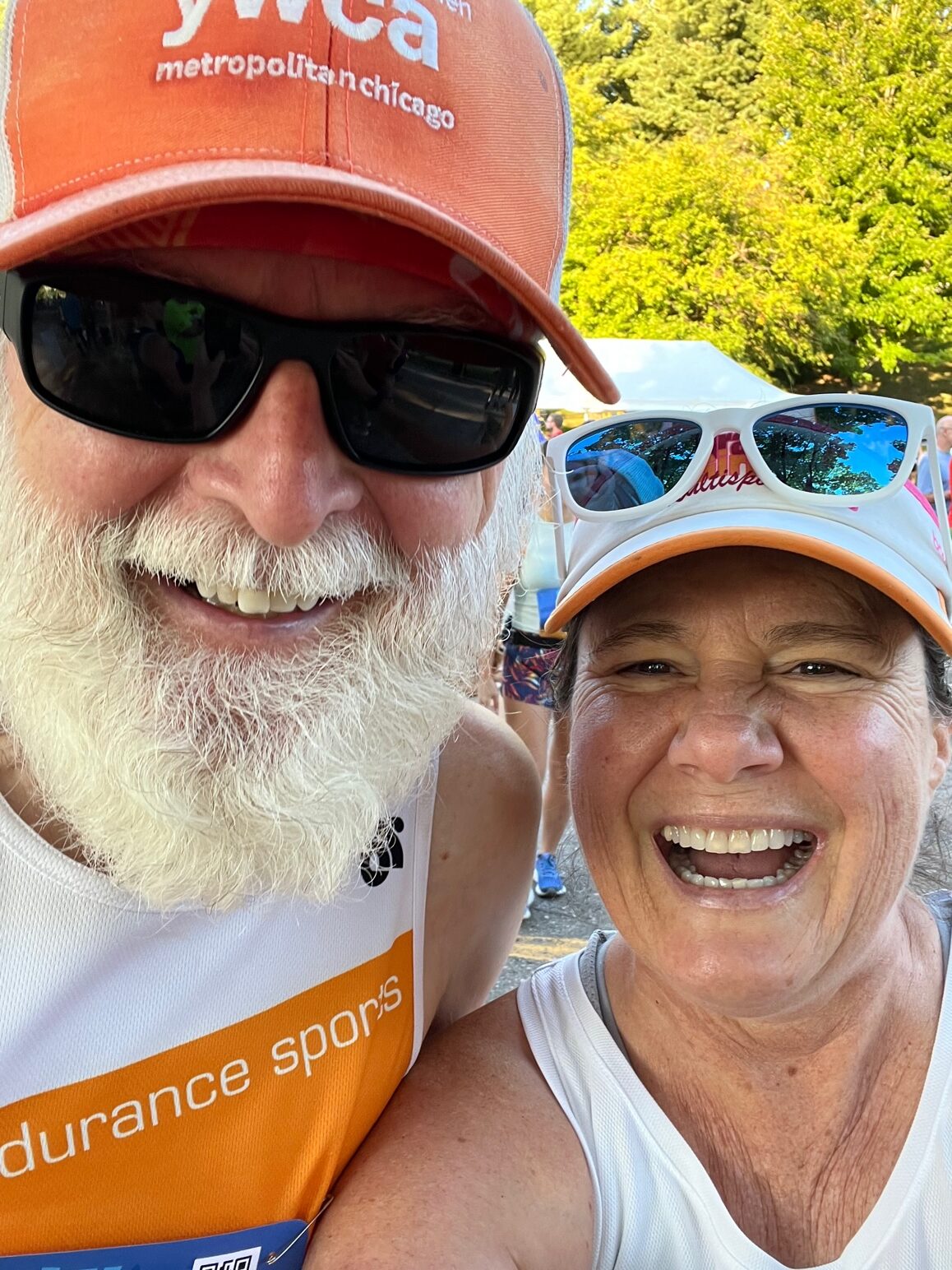 I noticed that I did feel really strong the entire race. I have worked hard to get to the fitness that I have right now. I am a strong runner. I eat well. I generally sleep well. I have a strong deep network of friends who care about me and who I care about.
There might be something not good going on with my heart. And there might not be.
Options: Run-Walk-Run
Once I relaxed and did lots of meditation, I remembered that the Jeff Galloway run-walk-run method allows the heart rate to come down. That method works for me. Ironically,and with perfect timing, the Jeff Galloway team just this week updated their app after years of neglect. Since I own several of their training program apps the update was easy to make on my phone. (It only works on iPhone's – sorry Android users)
Tomorrow, Saturday, September 17th, I'm doing an 8 mile run with my Run Minnesota people and I'm going to be consistent and do a 4 minutes run, 30 seconds walk pattern. Giving my heart a chance to rest a bit every four minutes.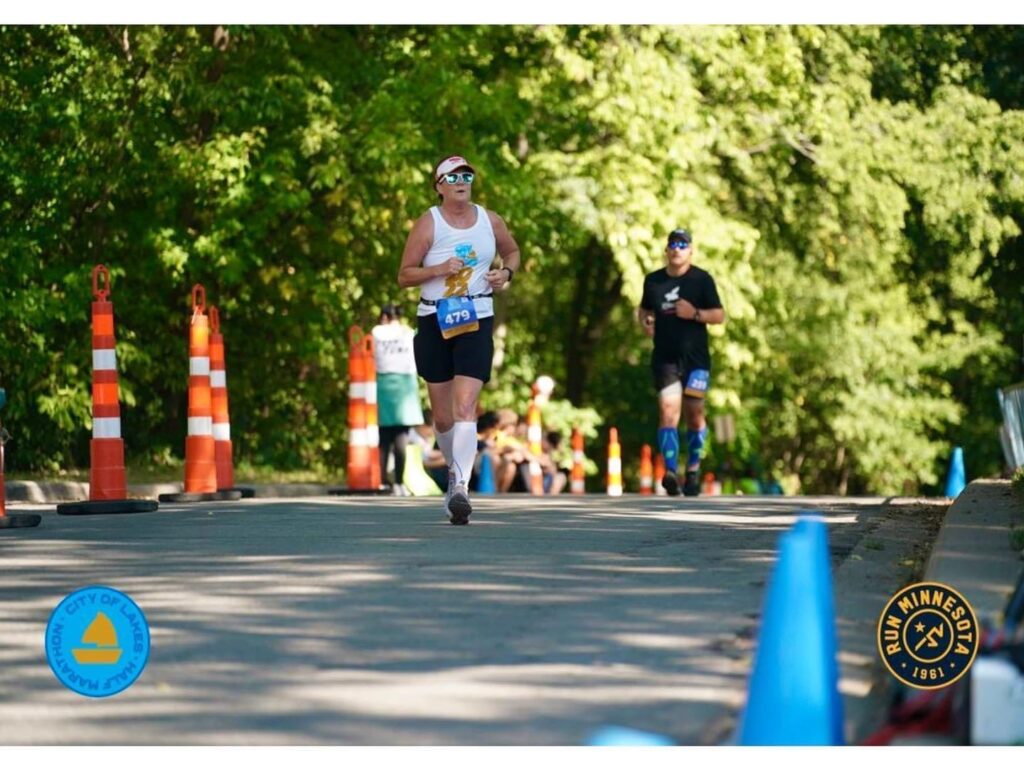 My health might not be perfect, and strangely that's okay. I do well with what I have. I make good life choices and I navigate the difficult with friends, not alone.
Kickstarter is coming AND first book sale
All week, I did spend all my spare time working on my Kickstarter campaign that launches on October 12th, 2022. It's coming! Also, this week one of my diabetes educator friends who is also in Run Minnesota with me, Colleen, bought a copy of my book!! She handed me a check for $25 at the Tuesday run meetup. THE FIRST BOOK IS SOLD!
Thanks for reading. It means the world to me to have this community.
How are you doing? Have you ever not met a goal you thought you could meet? How did you handle it? Please leave a comment. They bolster me and keep us all connected.
Are you on my email list yet? If not, please join!