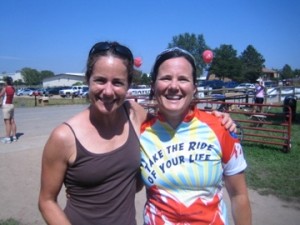 Eight years ago, 111 cyclists who have diabetes rode in the American Diabetes Association Tour de Cure Colorado as Red Riders. The ride started and finished at the Boulder Valley Fairgrounds, just outside of Denver, Colorado. It was August 2007. It was the roll out of the Red Riders!!
I had decided that 100 was the magic number. I wanted at least 100 people with type 1 and type 2 diabetes to be willing to step forward and identify themselves as having diabetes. I wanted at least 100 people to be willing to wear a cycling jersey at the Tour de Cure that would declare, "I ride with diabetes!" 100 people are noticeable. You cannot ignore 100. I was seeking impact.
Marcey Robinson, MS, RD, CSSD, BC-ADM and I raised more than $10,000, from new Tour de Cure funders, to pay for the 100 cycling jerseys and all the other goodies for the Red Riders. I wanted to give every person with diabetes a FREE Red Rider cycling jersey BEFORE they rode in the Tour. That way, we would all be able to identify each other and cheer each other on, as we rode. This had never been done before at a Tour de Cure. It had not been done at any of the more than 85 Tour de Cure bike rides. I knew it was time for things to change.
I knew, from close personal experience, that it is possible to blend in when you have diabetes. It's not like being paralyzed, to have diabetes. Unless you tell someone, we can simply go unnoticed. My father, who had type 1 diabetes for almost 50 years, he didn't like to tell people he had diabetes. I wanted to celebrate the courage and fortitude it takes to live well with the daily challenge of diabetes.
I had been a high school assistant principal, principal and an activities director. This meant that I understood school spirit. And spirit makes or breaks an event!!! That first year, I was bound and determined that SPIRIT seep through every moment of that Tour de Cure.
Step One was to have cool clothing that identified those of us with diabetes as Red Riders. I wanted the handling of that gear to have meaning. Thus, we trained volunteers in how to give a person with diabetes their jersey. The goal was to create connection and purpose.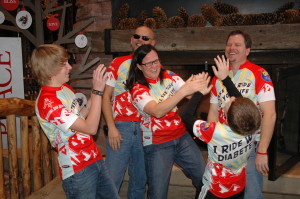 Step Two was to have a cool, upbeat phrase that we could call to each other when we rode by one another. My friend Sandria and I brainstormed for hours. We came up with the simple and to the point, "GO RED RIDER!!" called with love and joy in the voice! The goal was to remind each and every Red Rider that we see and celebrate the days and moments of being alone with the challenge of diabetes.
Step Three was to have a clear place to belong. We started Team Red that first year. I wanted a team for all the Individual Riders who weren't on a team. I wanted a team for the friends and family of every Red Rider. I wanted a team for any Red Rider who didn't have a team. Team Red was that team. We also made sure there was a gathering place for Red Riders and Team Red. The first year, we had a tent for both together. We decorated the tent and my mother came and hosted the tent. She talked to everyone! Welcoming them and asking about their ride.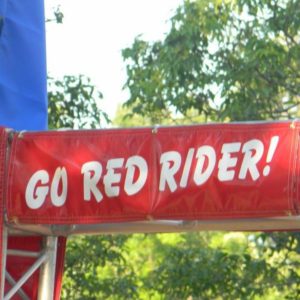 Step Four was to make the send off and the finishing line super cool and very celebratory. Toward that end, we decorated the start/finish with lots of great decorations, including red paint on the street. We had awesome banners. Before each ride was sent off, I got up to the microphone and told everyone about the Red Riders and what they should say to them when they saw a Red Rider. I had everyone practice yelling with love and joy, "GO RED RIDER!"
Sandria agreed to be the announcer. She figured out, using lots of great volunteers, how to celebrate and welcome back nearly all the Red Riders and call out their names as they crossed the finish line. This made so many people smile!!
Step Five was to have lots of fun gifts to give the Red Riders! That first year we had water bottles and glucose meters! Other items I'm sure, perhaps carb counting books!!
All in all, it was a massive success! I succeeded in recruiting Primal Wear to design the jersey that first year. I wanted a local company to make the jerseys. They got us 100 jerseys in advance of the Tour. We gave them out to the Red Riders in packet pickup the few days before the Tour. We convinced them all to wear the jersey on ride day! In fact, we had recruited more than 100! Eleven more! We had to place a second order on jerseys! Tim, the designer at Primal Wear, later designed the Red Rider logo that we use now. Tim and I worked closely to make the logo perfect.
And that's how it all began. It took the American Diabetes Association a few years, about four in all, to roll the Red Rider and Team Red Program out at all the Tour de Cure rides. For many years, I helped Tours by coaching the paid staff and the Red Rider volunteer staff together in how to implement the program at their local Tour. Every context is a bit different. Not every Tour had the clear vision of how to celebrate and love the Red Riders in an uplifting way. Not everyone with diabetes wanted to be called out and identified. Slowly and surely, the Red Rider and Team Red Programs have proven to be the big success I knew deep in my bones that they would be.
Today, August 15th was the 8th Tour de Cure Colorado with Red Riders. I wasn't there riding. Now I live in Minnesota and it was 92 degrees Fahrenheit with about 75% humidity. I did a 36 mile ride with the Twin Cities Bicycling Club. It was a hilly ride. I wore my full Red Rider kit. And I mentally sent lots of love and celebration to the more than 2000 people riding in Colorado. I was with you all in spirit!!! GO RED RIDER!!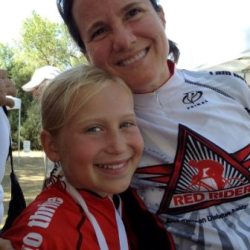 Please leave a comment here! I love hearing from you. Are you a Red Rider?!! If so, which Tour?!