P.ink Day, Personal Ink Day, where we pair breast cancer survivors with tattoo artists so they can get healing tattoos over their mastectomy scars is soon to happen! It will be October 10th, 2014 and will be at Twilight Tattoo here in Minneapolis, Minnesota we have six survivors and six tattoo artists. Everyone who participates in P.ink Day, there are 11 cities participating this year, are volunteers.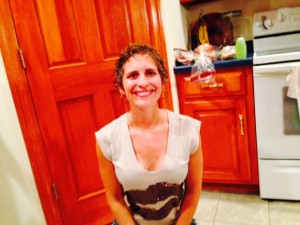 I'm excited to introduce you to our fourth warrior survivor, her name is Missy and she lives in Suamico, Wisconsin, which is just outside of Green Bay. Missy is 38 years old and she has three children, a son who is 8, a daughter who is 5, and another son who is 3. She works part-time as a Speech Language Pathologist in the school system. She loves having her summers off to spend time with her kids. This summer she especially enjoyed the summer and she spent a lot of time with her family, camping, boating and just hanging out.
In August 2103, Missy went for her annual physical, which she had to schedule with a midwife, who she normally did not see, because her normal provider was so booked. Missy has the strong faith that she was put in her hands for a reason.
The midwife found a lump during the breast exam and recommended a mammogram. The mammogram showed nothing because Missy's breast tissue was so dense, but they recommended an ultrasound. They assured her it didn't look like anything scary and sent her to a "breast specialist". Another ultrasound was done, and they again reassured her that it didn't look bad.
Missy then had a lumpectomy. When she came out of surgery, she found out it there was a 90% chance that it was cancerous, which it was. She then had a double mastectomy in October. Then she had 4 rounds of chemo starting in November and ending in January 2014. Her last reconstruction surgery was in March 2014. Her scars have healed really well, which is why we gave the okay for her to participate in P.ink Day.
Missy's one-year anniversary of having the mastectomy is October 8th, which is just two days before P.ink Day! What a great way to celebrate! We are very happy to be part of helping Missy not have to see the big scars everyday. She loves her upgraded new breasts, but it is disheartening to see the scars. She's excited to have a new focus when she looks in the mirror, a beautiful new tattoo!
Missy, we are glad you will join in P.ink Day Minneapolis!