P.ink Day 2014 Minneapolis is fast approaching! October 10th is just around the corner, and our six tattoo artists and their six warrior survivors are meeting and planning and gearing up! We've got breakfast and lunch donated, thanks to Glam Donuts and Which Wich, and our tattoo shop, Twilight Tattoo is excited for the day to happen! On another exciting note, we've reached out to the media and interest is percolating!!! It's going to be an incredibly healing day for all involved!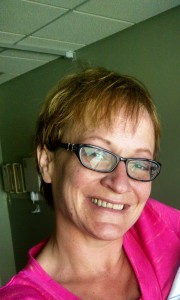 I've introduced you to 4 of our 6 survivors so far, and today, it's time to introduce you to Amy, our 5th Warrior Survivor!!! Amy is 38 years old and she's had breast cancer three times. The first time was when she was 28. She's got an incredible fighting spirit and in her words, "I do not understand why cancer wastes its time coming back, because I keep kicking its butt!"
Amy has been married for 6 years, which makes her very happy. She's found a wonderful, supportive life partner. Amy, like me, has type 1 diabetes, which she's had since she was 3 years old. Amy has really taken control of her life, and she has been in recovery from addiction for the past 10 years. GO AMY!!
Amy is a substance use disorder counselor, and she works with teenagers at a corrections placement organization. She loves it. Amy already has quite a few tattoos, and she is very excited to get her mastectomy scars decorated.
I look forward to meeting Amy and all of our survivors! Thanks for stopping by and please leave a supportive comment!! I love hearing from you!