P.ink Day Minneapolis is happening very soon! October 10th will be the day! I'm excited to tell you about our tattoo shop. It's Twilight Tattoo, which is owned by Shane Wallin and his wife Toni. The shop is an old firehouse that Shane and Toni have restored. The shop has a wonderful vibe, it's colorful and spacious and will be a wonderful healing space for our six breast cancer survivors to receive their healing, transformative tattoos on P.ink Day!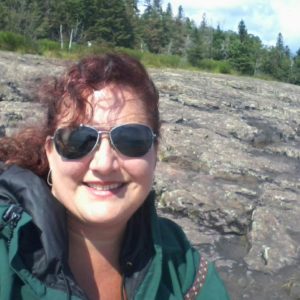 I've introduced you to two of our six survivors so far, Sarah and Kathy. Our third survivor warrior is Cindy. She is 46 years old. Cindy lives in Southwest Minneapolis and she has two teenagers. She is a choir director. Cindy was diagnosed with breast cancer four years ago and she decided to have a double mastectomy. Her cancer anniversary is today, September 21st, 2010.
Cindy wanted to do everything she could, to ensure that the cancer wouldn't come back in the future. Her daughter, who was 12 at the time, was adamant that Cindy have a double mastectomy, because she was worried about her mom. Cindy's mom, who was a very influential consultant that I learned about student government when I was the Student Council president in high school, died of cancer. Cindy had a lot of motivation to make sure the cancer would wrap up and be done. As part of her mastectomy, Cindy had reconstruction. When it was time to have the nipples made and areola tattoos, she didn't want to go "under the knife" again.
The scars have bothered Cindy since finishing the reconstruction. As soon as she found out about P.ink Day, she reached out to me to find out how to sign up. Cindy is looking forward to working with her tattoo artist on the design she would like. She is envisioning a phoenix tattoo because the phoenix rises from the ashes and is rebirthed. Cindy is looking forward to meeting all of the strong, beautiful survivors who will participate in P.ink Day Minneapolis.
Cindy, I am glad that you will be part of this transformative experience!