We are gearing up for P.ink Day Minneapolis that will be on October 10, 2014. It's a day where breast cancer survivors are paired with tattoo artists to receive a healing tattoo over their mastectomy scars. Everyone who participates on P.ink Day volunteers their time and energy. P.ink Day is happening in 12 cities in the US and Canada.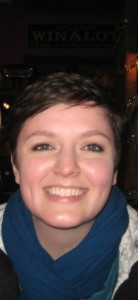 I introduced you to our first survivor, Kathy, a few days ago. Here is our second of six survivors. Meet Sarah. She is 33 and she lives in Maple Grove, MN. Sarah works for her family's business running the office. They repair industrial machines.
In August 2007, while taking a shower, she found a lump in her right breast. Sarah went and got it checked out and by the end of 2007, during just four short months, she had a bi-lateral mastectomy and 4 rounds of chemo. And she was just 26 years old. Yes, young women get breast cancer.
She then began taking Tamoxifen, an anti-hormone drug often used with breast cancer patients. On the instruction of her oncologist, she stopped taking it, and when she went in for a follow-up appointment, they saw nodules on her lungs, which they said were from the same cancer found in her breast.
For all of 2013, Sarah went through months of chemo to get rid of the nodules. She is now again clear of any cancer. It's called No Evidence of Disease, NED. Since her cancer is estrogen receptor positive, Sarah opted to have her ovaries removed. She is now taking anti-estrogen medication, and she will take it for the rest of her life. 
Sarah is one brave warrior!
Sarah is very excited to be a part of this amazing P.ink Day event. This will be Sarah's first ever tattoo! She hasn't yet decided on what tattoo design she wants, as she finds many designs to be beautiful in their own ways. She will work with her tattoo artist to create the perfect design for her healing journey!
Sarah, I'm so glad you are part of P.ink Day Minneapolis!!
To donate to the P.ink Fund, go to the P.ink website: http://p-ink.org. And please leave an encouraging comment for Sarah and our 6 Minneapolis survivors!
We are very excited to announce the first of our P.ink Day Minneapolis sponsors!! Which Wich on Ford Parkway in St. Paul is donating lunch and Glam Doll Donuts of Minneapolis is providing breakfast treats!!! Thanks so much Which Wich and Glam Dolls for helping make the day a big success!!
If your organization would like to get involved, please contact me, Mari Ruddy, at mari (dot) ruddy (at) gmail (dot) com!!! Thanks!