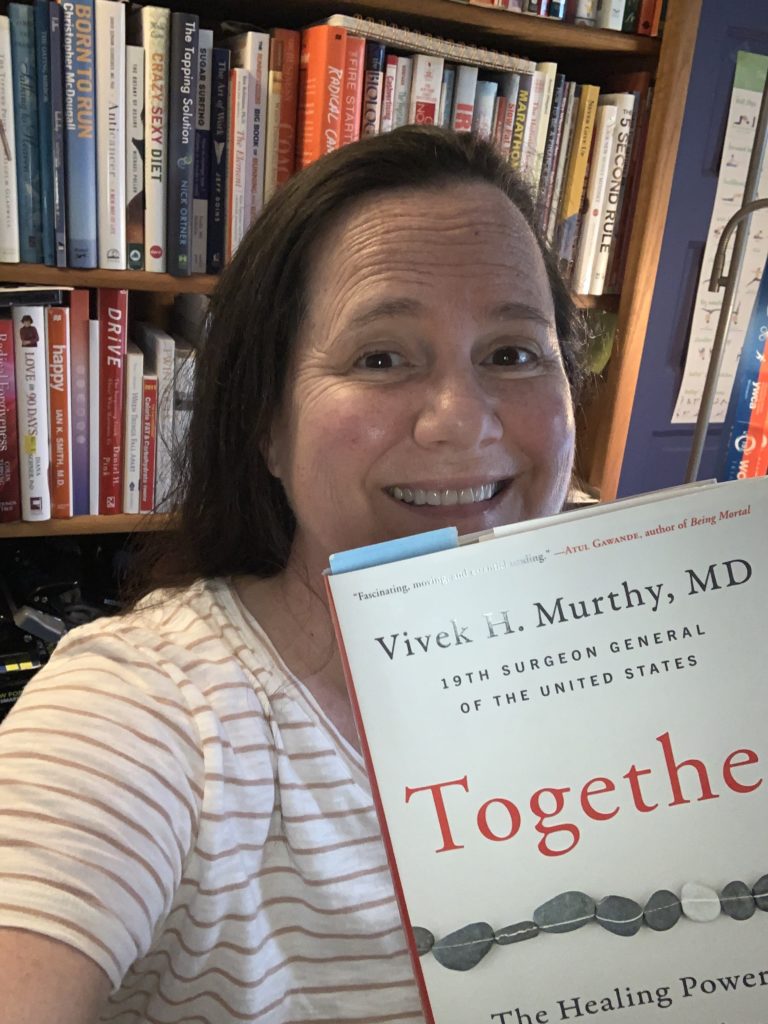 I notice my loneliness more now than maybe I ever have. Can you relate? Granted, I remember I went through a big loneliness phase in my mid 20's, when I first started remembering my childhood sexual abuse and needed space from my family. With lots of therapy and intentional friends connecting, I made it through that lonely phase.
Pandemic loneliness strikes
And here I am again. This pandemic is really challenging me. I miss seeing my coworkers at Great River School and at the University of Minnesota. I miss seeing clients at coffee shops to help them with their LinkedIn profiles.
I've been a hugger for most of my adult life and I big time miss hugging. I miss going to see my therapist in person, granted she is really good at telemedicine, as is my endocrinologist. As I've mentioned in other recent blogs, I also really miss acupuncture and massage therapy – both of which I get, or got, on a regular basis.
My physical body misses being touched
Physical touch isn't a top Love Language for me, but 15 weeks of no touch is difficult. I mention this because it's the physical presence of people, whether they are hugging me or not, that I most deeply miss. It's created reverberations of loneliness again. I've noticed sadness and a sense of loneliness lingers in the air around me.
In late April, I happened upon Brene Brown's podcast called Unlocking Us. The episode I found is called On Loneliness and Connection. I strongly encourage you to listen to this 57 minute podcast, it will be worth your time. In it she talks with Dr. Vivek Murthy, who was the 19th Surgeon General of the United States.
Listening to the podcast and then reading the book Together: The Healing Power of Human Connection in a Sometimes Lonely World, by Dr. Murthy, helps me understand my loneliness and helps me navigate these socially distant times. One thing Dr. Murthy explains is that research has shown that there are three dimensions of loneliness. They are 1) Intimate, or emotional, loneliness is the longing for a close confidant or intimate partner – someone with whom you share a deep mutual bond of affection and trust. 2) Relational, or social, loneliness is the yearning for quality friendships and social companionship and support. And 3) Collective loneliness is the hunger for a network or community of people who share your sense of purpose and interests.
The loneliness that hits me the hardest is the lack of intimate connection. Since I grew up feeling very lonely in my family of origin, I can also get hit pretty hard by relational loneliness. Thankfully, I've learned to create strong relational connections. Granted I have to do things when the loneliness hits me.
Here are three things I'm doing to help me navigate the loneliness of these times. Please let me know what you're doing to help yourself. Connecting with you helps both of us stay connected!
#1 Befriend myself
One of the things I've discovered in this moment of loneliness is the opportunity I have to befriend myself in deeper ways. On a daily basis I reach deep into my heart and soul and talk to my inner selves and remind them that I am with them. Sounds a little silly, perhaps. And at the same time, I find it very reassuring. Lots of self help books say how important it is to be your own best friend. At long last I am actually doing it.
One of the things I make a point of doing every day is look into my own eyes in the mirror and I tell myself, "I love you." Turns out Louise Hay was indeed very wise in teaching people how to do this sort of mirror work.
#2 Be intentional with my self talk
I tend to be a fairly upbeat person. AND, this pandemic and the revolution happening around us right now is a lot to navigate. It's not easy or simple to remain upbeat and hopeful. As a result, I am paying close attention to what I am thinking and what I am telling myself.
I remind myself that we are collectively not alone. When I feel alone, I acknowledge that feeling within myself, and I remind myself of my many dear friends. In fact, I sometimes make lists of my friends, so I kinesthetically remember all the people with whom I have deep, meaningful connections. We all have a strong heart-hand connection, so for me, the act of writing the names and thinking about my friends, reminds my heart that I am connected, that I belong.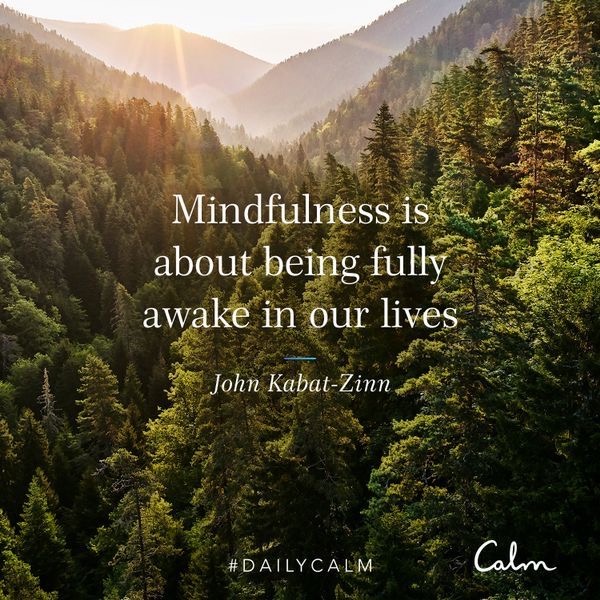 As I've mentioned in other blogs, I've upped my daily meditation time as I notice that having more time to spend practicing noticing my thinking is very helpful. It helps me be able to notice what I'm thinking and internally telling myself, and thus be able to interrupt unhelpful thinking patterns. Into which I can fall into if I'm not careful.
#3 Create socially distant gatherings
My office mates from the U of MN gathered for a socially distant lunch in the garden of one of my co-workers very recently. We didn't hug hello or goodbye and we wore masks until we each sat down more than 10 feet apart from one another. It was fabulously delightful to laugh together and share stories in physical space together!
The Minneapolis Park and Recreation Board opened up swimming at Lake Nokomis five days a week!! BIG HAPPY DANCE!! That's the lake several triathlons are usually held at every summer and it just happens to be less than 3 miles from my house. So far I've gone six times since it opened on June 9th.
I have it in my calendar to go 3 to 4 times every week, assuming the weather cooperates, which it hasn't a few times. Many of the women who are in my triathlon group are also swimming, and thus we see each other for some excellent socially distant socializing. This has become one of the anchors of my summer.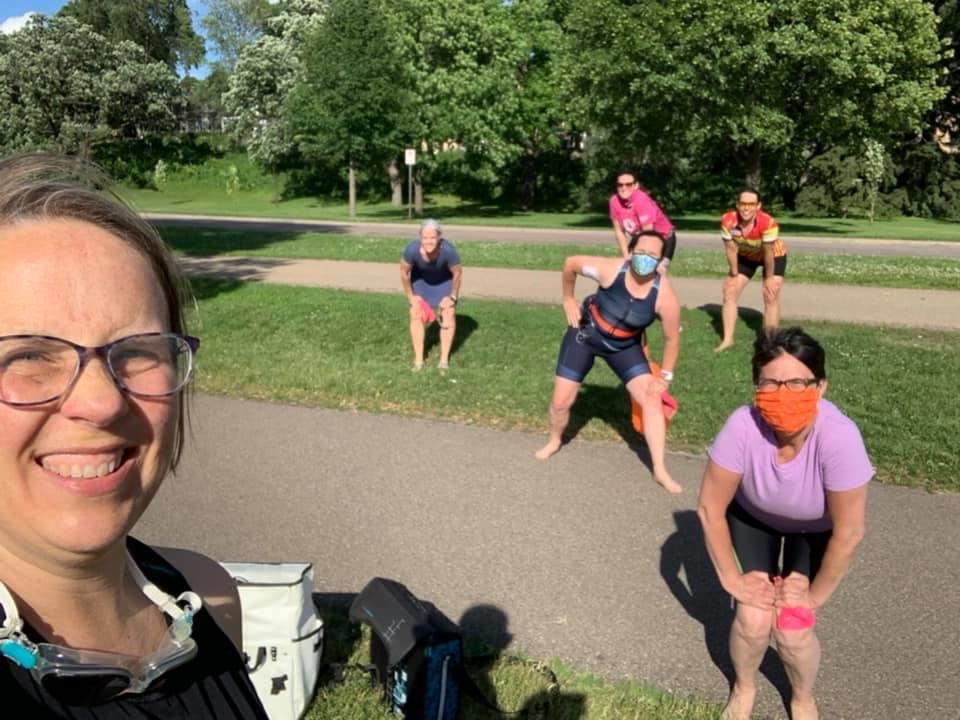 That's how I'm navigating the loneliness that has reared it's head in my world during this pandemic. How are you doing? Sending love.