The morning of Saturday, June 6th, 2020 in Minneapolis, MN dawned sunny and beautiful. I walked to the local Farmers Market and got some lettuce, kale and radishes. Then I came home and packed up my 4 water bottles, my riding nutrition which included Skratch Labs and a few other random carbs in case of low blood sugar and to maintain my energy.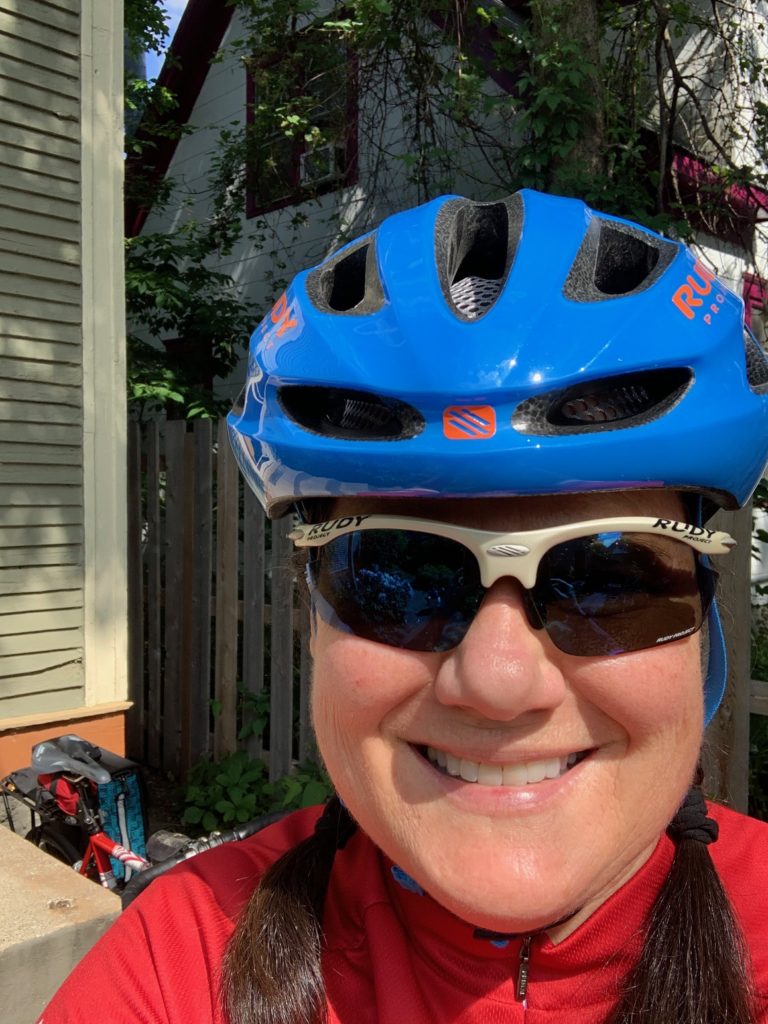 I found my bike map and got into my Red Rider jersey and biking shorts. I carried my bike outside from the basement, had my housemate take a few photos and I made a kickoff Facebook Live video. Then I headed out.
I usually know where I'm going to ride. This morning I really had no idea where I would go. Since my suicide attempt in 2013, from which I've sustained some minor brain damage, I have a hard time with spacial awareness. Tracking bike routes isn't easy for me to navigate.
But this virtual Tour de Cure I was riding alone, so figuring out my route was all up to me. I rode around a nearby lake and then got on a trail that took me by the Minneapolis campus of the University of Minnesota. That took me to the Saint Paul camps of the U of MN, which is where I go to work, when I could go to work. (Yup, now, like many of us, I work from home!) It was sad and wonderful to see the campus.
Then I rode through the Minnesota State Fair grounds. The fair is cancelled for 2020, so the entire space was totally empty. Another bittersweet moment.
I continued my ride past the nursing home/hospice my father was in at the end of his life. Made me think about how my father died on July 7, 2015, in part from diabetes complications after living with type 1 for 49 years.
I will be 65 years old when I will have lived with type 1 for 49 years. I hope I'm alive and well when I'm 65. I don't think I'm done with this human life just yet, and likely won't quite be done in 10 years. But who knows. None of us get to determine when we will die. My meditation practice reminds me to value the here and now with as much intentionality as possible.
I got on a beautiful trail that took me through the woods. I love riding my bike on trails through trees. The bike trails in the Twin Cities are magically spectacular. It almost made up for riding all by myself.
I was out riding for about 3 and a half hours. I covered 35.88 miles. I drank all 4 of my water bottles. My blood sugars did well on the entire ride. Here's the continuous glucose tracing to show you how well things went with my blood sugars.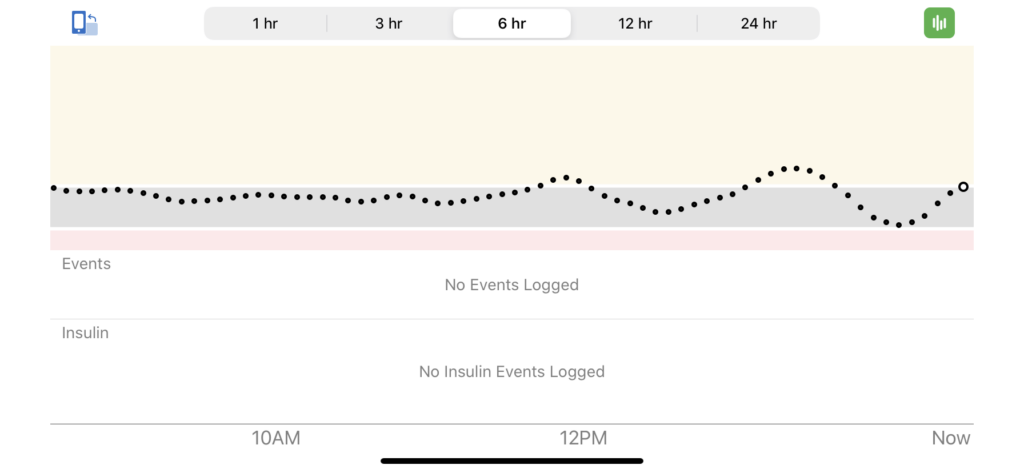 I made this thank you video to thank the 39 people who donated to my fundraising effort. I ate some lunch, took a shower and took my dog Sam for a walk. I share it with all of you in case you'd like to see it too. Maybe you'll donate!!
It was a good ride. You were all with me as I rode.
If you'd like to donate, the fundraising campaign is open until the end of July 2020.
This year I was hesitant to ask for donations.
My diabetes is well managed. I deal with it 24 hours a day 365 days a year, and I often and generally just take care of it, quietly and without calling attention to it. Asking for a donation means I call attention to my diabetes.
Given the gravity of what's happening in my neighborhood and in the world right now, it took a bit of courage to ask people for a donation to the American Diabetes Association.
I know that more than 34 million people live with diabetes in the United States. People with type 2 diabetes are 2.5 more times likely to die of coronavirus and people with type 1 diabetes are 3.5 times more likely to die of coronavirus if we get it. I plan to not get the virus, if I can help it. The American Diabetes Association is working hard to help people with diabetes navigate this COVID-19 moment.
The American Diabetes Association is a good organization. The people who work there are good people who care about the work they do. They put on excellent camps for children who have diabetes (this summer they are virtual camps), and they have very helpful resources for people learning to successfully navigate living with diabetes. Plus they fund scientists who are looking for cures. I'm not holding my breath that a cure will be found in my lifetime, but I am ever hopeful. In short, fundraising for them makes sense to me.
If you'd like to donate, thank you.
Tour de Cure Team – explanation of the power of GO RED RIDER!
I have been on the team Paul's Pedalers (yes, that's how we spell it!) for a few years and the team captain, Paul Thorsgaard who's lived with type 1 since he was a kid, wrote this about the virtual ride this year. It beautifully captures the value of this ride and of the community we create with the Tour de Cure.
From Paul:
"I was riding my Virtual Tour de Cure Twin Cities, feeling alone, about 5 miles in, riding along, and all of a sudden I thought about prior Tour de Cures, and started sobbing. I realized how much I missed the camaraderie of all the people yelling GO RED RIDER!! all day long. Before the ride, after the ride, during the ride. 
But not today. My wife, Lisa Thorsgaard, yelled it as I left. But no one during my ride. I yelled it a bunch, to myself. Still thinking about it, it brings tears to my eyes. Thank you Mari Michelle Ruddy for PUSHING, and FIGHTING, and CREATING this powerful slogan, and getting the American Diabetes Association to accept this slogan, and use it. 
I am a proud RED RIDER!! Best slogan EVER!!
But, just like diabetes, which always feels like you are alone, and most can't tell if you have diabetes, we are not alone. 
Tour de Cure will be back next year, and me and all of us will be together, yelling GO RED RIDER, and I will never get sick of hearing it."