Hello everyone who happens upon this blog!
I have really missed writing a weekly blog. Life is often that way, we don't know what's important until the thing is gone. I realized in not writing these posts the past few weeks that the connection I feel to this community, to YOU, is something I deeply value and treasure. The rhythm and steadiness of a weekly blog helps ground and center me. Toward that end, I'm happy to be writing today. I decided to write directly to you as when I used to write handwritten letters to dear friends.
I have three topics I'm excited to share with you today. They are
Quick report on the 7th (for me) YWCA Women's Sprint Distance Triathlon I did on August 14, 2022.
The diabetes disaster I navigated on August 27th, 2022
Update on my book – SO EXCITING!!
Let's start with the triathlon
WHAT FUN it was! I do love triathlon with my whole being. I love the complexity of figuring out all the gear, the nutrition, the hydration. I love the people who are drawn to the sport, such kind, welcoming, friendly people. I love pushing my body to see what it can do.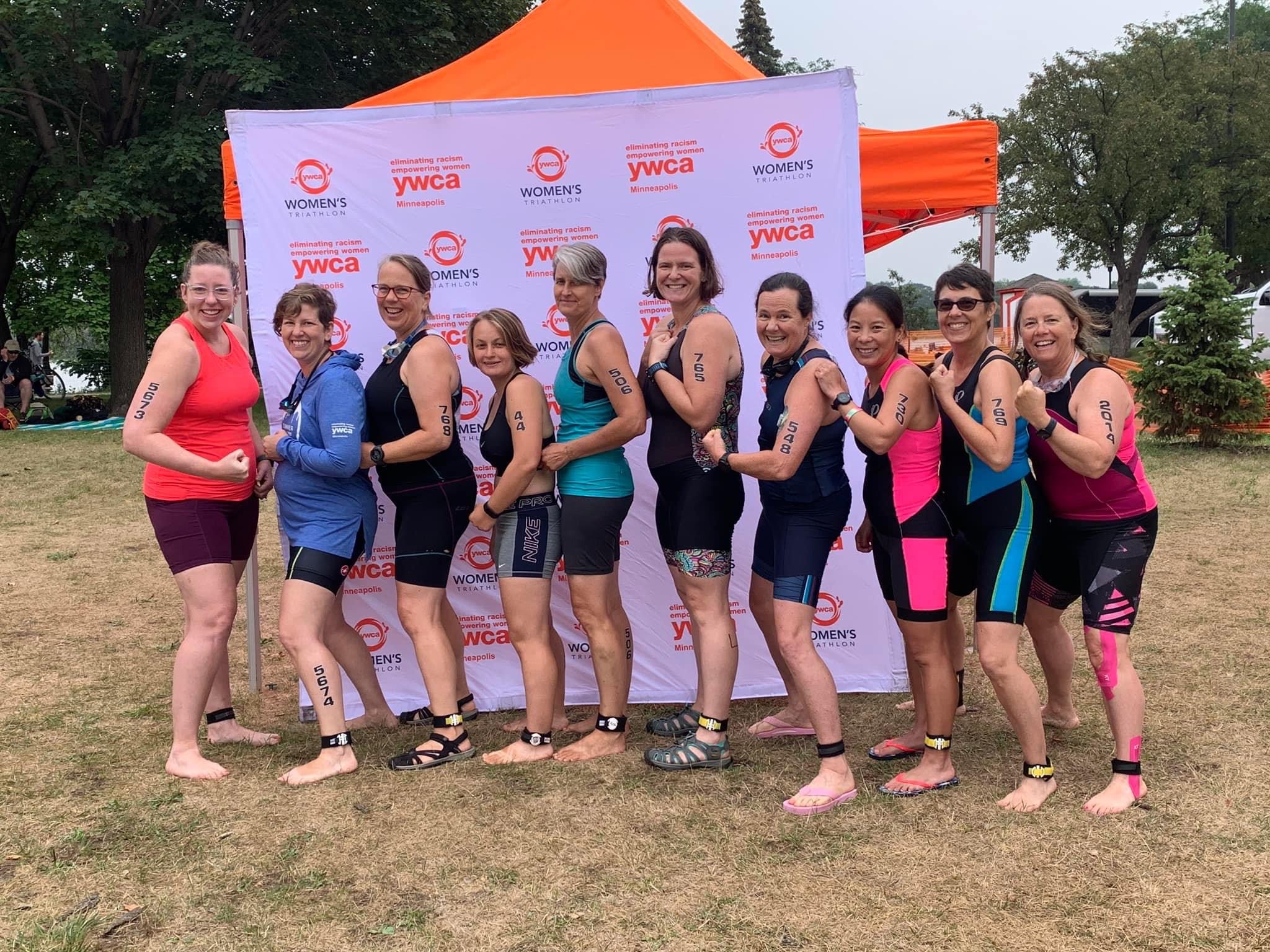 As you know, I've been running quite a bit this year, since running is one of my three goal areas for the year. Turns out all that running I've been doing translates to excellent biking in a sprint triathlon. Thankfully, I've consistently been swimming all summer long so I did well on the swim component too. In fact the swim was one of the best triathlon swims I've had ever in my triathlon career. The water was smooth and no one was around me. I didn't bump into anyone and I stayed my course smooth and steady. Not once did I have open water panic, which in and of itself is a miracle.
The transitions went well too. I mentally practiced the day before, visualizing what I would do from swim to bike, then bike to run. I highly recommend visualization and taking time to imagine what you're going to do. I find in my life it makes the actual doing of a thing that much smoother.
Highlight of the day – belonging & community
The absolute highlight of the entire triathlon was the encompassing feeling of belonging that surrounded me from the moment I got on my bike at 5:20 am with my triathlon backpack and rode my bike to Brooke's house to meet my fellow Looking Sharp teammates to bike over to the triathlon location, which is at my favorite summer swimming lake, Lake Nokomis.
The sense of belonging continued when I arrived and kept meeting up with people I've known for many years. AnnLiv is 80 years old and has had five joint replacements and she does the triathlon every year. I have known AnnLiv since I was in high school and used to babysit her sons!
I met up with people from my Run Minnesota community, my Thursday morning YWCA track run group, people I know from Great River School, from Personal Ink, and others I know from shopping at the coop and the Midtown Farmers Market every week all summer.
The smiles, hugs and high fives abounded. I noticed how full and happy my heart felt. When I was out on the run portion of the race, I had a transcendent moment of pure joy and spiritual connection to all that is. The profound beauty of the completeness of life filled me to the brim.
I smiled the whole run, which I did faster than I've ever run a 5K in a triathlon!!
The topping for the day was gathering late afternoon in Jenny's backyard for a tasty, carb filled, healthy rice noodle dinner to recap and relive the joy and glory of an in-person triathlon again. Turns out Nadine, who is 47 got 6th place in the entire race!! She was the oldest woman in the Top 10, by 5 years!! And I get to swim, bike, run and ski with her all year round! So fun to count as a close friend such a fast and accomplished athlete. It helps my slower athletic self stay motivated to keep training, always helpful!
Diabetes disaster
Two weeks later I was out with Run Minnesota doing a 12 mile run in preparation for my third half marathon that will be the City of Lakes Half Marathon on September 11th, 2022. I had gotten to the run start to do an early 2 miles with my fellow Team Lead Katie. We hammered out the miles with our run colleague Howard and greeted our 12 minute pace group at 7am. We started the run, which was out in Plymouth, a Minneapolis suburb about 30 minutes from my house. The humidity was dense and quickly all of us were glistening.
At mile 2, which was mile 4 counting my early miles, our group stopped at the water stop and there was a portapotty. My blood sugar was 85 mg/dl and heading down and often I need to pee when that happens (unusual I know!) I was the last person in line for the portapotty so when I got in, I was in a hurry to go quickly, I didn't want to hold up the group. I rushed, and that, along with the coating of water on every skin surface, resulted in me accidentally pulling off my insulin pump infusion site.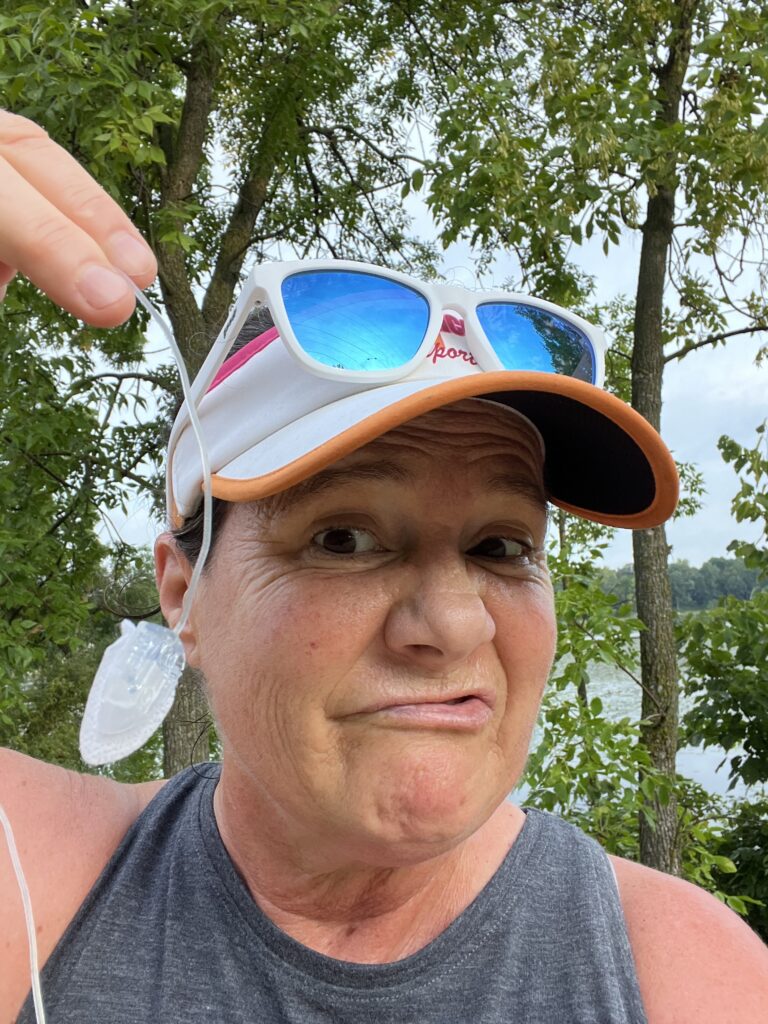 NOT GOOD.
I had 8 more miles to run and that's too many miles to have zero insulin. I said goodbye to my pace group with the intention of putting on the spare infusion set I keep in my car and then running on the same route to meet up with the group again. Sadly, the extra infusion set was not in the car. At this point I'd run 6 miles and was without insulin for about 30 minute so far. One of our coaches provides Italian Icys for after the run and I wanted one.
I wasn't done with my run and I had a 30 minute drive to get home to get another set to get insulin back in my body. I made the choice to take an icy. Not the best choice ever as they are essentially pure sugar, with no ability to take any insulin to cover those carbs.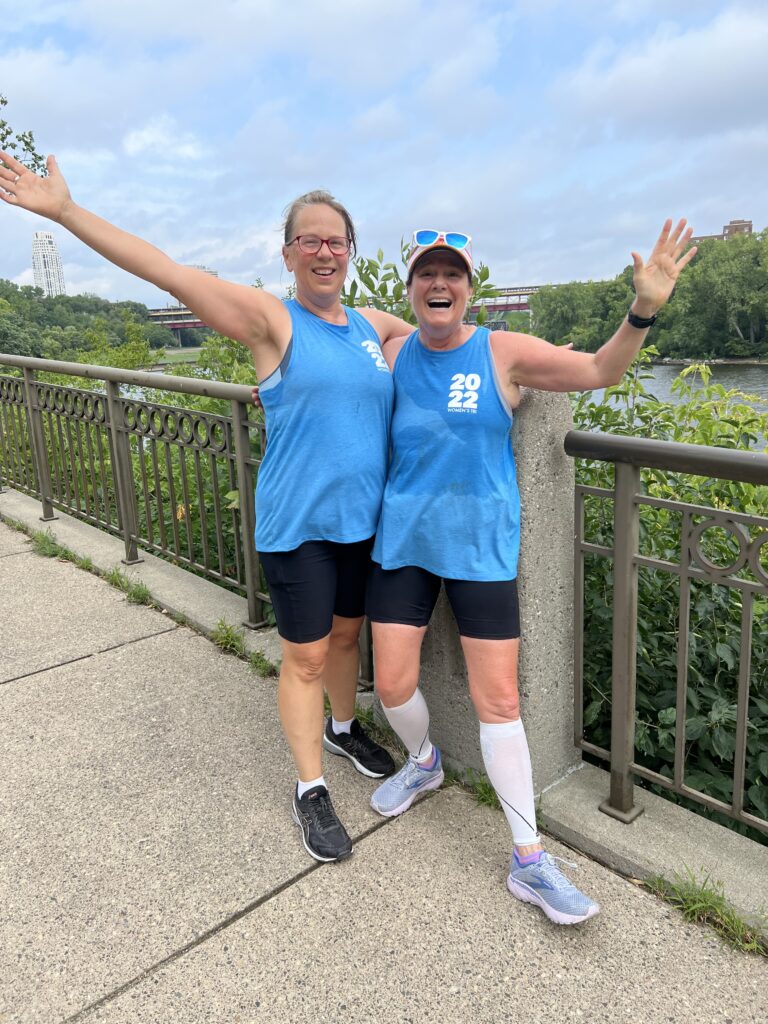 Oh well, I ate that icy anyway and drove home. Before I drove I texted my Looking Sharp athlete pals and updated them. Turns out Jenny hadn't started her run and she wanted to run 6, same that I wanted to do!! Excellent good fortune!
I got home, changed my set and took a correction bolus as I now was having horrid high blood sugar. I drank a bunch of water to help my kidneys flush the glucose out of my system.
Then Jenny and I drove to the Mississippi River in our spontaneously matching outfits – thanks YWCA triathlon for the cool shirts! And we ran 6 miles. Thankfully the set change got insulin into my body and it all worked.
Fairly quickly my blood sugar dropped from over 300 mg/DL to normal range. I will say the high then low did combine to wear me out. Oh and on another note, the day this happened was the 12 year anniversary of my breast amputation. Grateful I'm NED (no evidence of disease).
What a day it was.
Book update
Thanks for reading this far. Usually each of these topics would be its own blog. Due to not writing for most of August, it feels like I have so much to tell you!
I've got a new title for my book. My longtime mentor and colleague Kylea Taylor was one of my beta readers and her husband Jim is a gifted namer of things. He came up with this book title, and I love it. The new title is
Extreme Healing: Finding Your Inner Endurance Athlete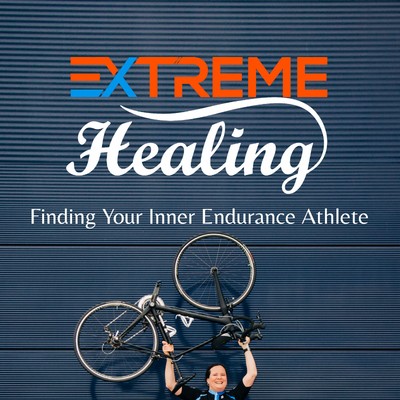 To get things started for my Kickstarter Campaign, I hired a graphic artist from the website Fiverr. She's super talented and happens to live in Pakistan. She had the design for me in a matter of days. Here it is as a sneak preview for you. The photo on the cover is from a photo shoot I did with the very talented photographer Amy Anderson, who I know from working at Great River School. Amy was also a Personal Ink photographer for a few years.
I'm doing a Kickstarter Campaign because after attempting to find a traditional publisher for more than two years, I realized lots has changed in the self-publishing world and decided to go for it.
I've found an outstanding hybrid self-publishing company and once I've raised the needed funds with the Kickstarter, I will hire FriesenPress and get their help with a final edit of the book, layout of the book, and a whole lot of other critical elements that I can't do myself.
I am going to need your help!!!
This book is a project near and dear to my heart and soul. As many of you know, I've been working on this book for almost twelve years now. I discovered I'm a bit of a perfectionist and I had a lot of unresolved trauma I needed to work through in order to put together this book.
The book is about how people with chronic health conditions, such as diabetes, cancer, or asthma – the health conditions I've had and continue to have to deal with, or who are more mature (aka 'older') or who struggle with their weight can become athletes. Endurance athletes in particular, in the sports of cycling, running, swimming, cross country skiing and triathlon in particular. I weave in many stories from my own life and how I was an older person, age 39 when I realized I was finally an athlete, and an endurance athlete specifically.
In the manner of knowing everything I can about something that I care deeply about, I've been studying how to launch a successful Kickstarter Campaign. The amount I need to raise to make this all happen is $12,000.
Turns out that successful campaigns raise 11% of their goal on Day 1 of the campaign, which will be Wednesday, October 12th, 2022 – in Breast Cancer Awareness Month. The campaign will last 35 days, so it will wrap up in Diabetes Awareness Month. I like the timing of it all!!
That means I need enough of you to pre-order my book on Day 1.  I will reach out to everyone I know to ask you to pre-order. After all, if I don't raise $12,000, then I won't get any of what I do raise, since this is an all or nothing campaign. On Day 1, I need at least 53 people to pre-order a paperback copy of the book. Will you be one of the 53? I sure hope so! 
Successful campaigns raise 33% of their goal within the first week of the launch of the campaign. That means by Wednesday, October 19th, I need enough of you to have made a pre-order of my book to raise just under $4000. A paperback copy of my book, signed, will be $25, so I need at least 160 people to pre-order one paperback by October 19th.
This really is a community project!
I confess, I am a nervous wreck about this campaign. I thought I would feel relief when I finally finished the book, and I did celebrate. It's just that the work for sure isn't done. I had 9 beta readers and thankfully all of them liked the book and said they found it engaging, inspirational and important to share with the world.
I've confirmed my friend Sally Edwards as the writer of the foreword for the book. Sally is a 16-time Ironman finisher and the author of more than 20 health and fitness books. She also launched several businesses including Fleet Feet and Heart Zones. She's amazing!
The challenge is that I've never asked the world to support me in this magnificent way. Due to the challenging childhood I had, I'm more comfortable giving than asking for support. I've got my fingers crossed that you will trust that what I've written is worth spending $25 to pre-order a copy for yourself.
Thanks for reading to the end! I am SO incredibly grateful for you and for your place in this world!
Keep moving your athletic body!
Are you on my email list yet? If not, please sign up right here!
With love,
Mari