There are moments in life that stun. Last Friday, I experienced one of those moments.
My publishing team has been teaching me for the past year how to launch and market a new book. I've been taking notes and paying attention. That said, until it happens, you never really know if it will work.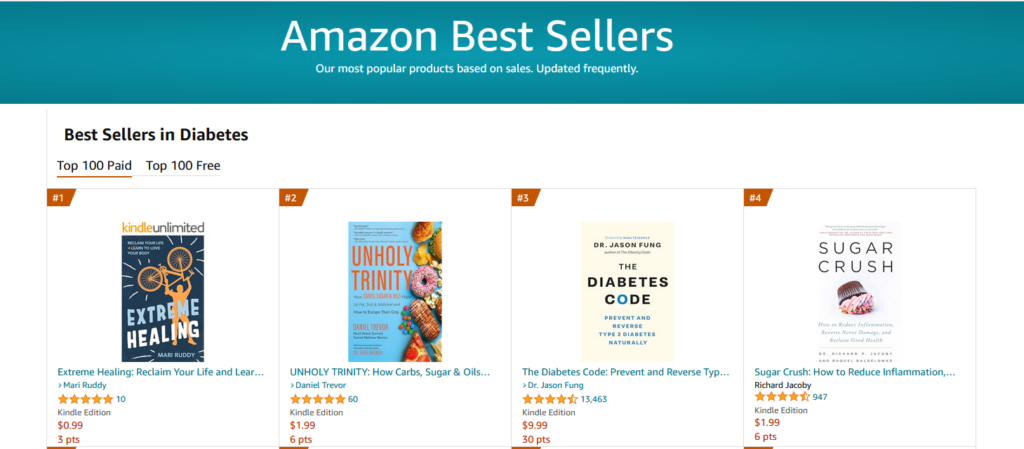 On Friday, it happened. My new book, Extreme Healing: Reclaim Your Life + Learn to Love Your Body hit #1 in Best Sellers on Amazon in the Diabetes category. Here's photographic evidence and video evidence.
One of the strategies Authors Who Lead and my long-time friend and publishing leader Azul Terronez of my publishing group, Mandala Tree Press, taught me is GET REVIEWS. As in get reviews right away.
That made sense to me.
On the other hand, to get people to write a review requires strategy. Luckily I enjoy strategic thinking, especially if it's for a good cause.
I wrote Extreme Healing to help people. My hope is to inspire people with health challenges to move their bodies. To shift their identity to ATHLETE. Because athletes take care of their bodies. They get good rest. They listen to their bodies. They make healthy food choices.
Making this identity shift isn't easy. What I provide in Extreme Healing is a map. The reader can move around in the book, depending on what they need at any given moment for support and guidance. I tell lots of deeply personal, vulnerable stories to illustrate the ideas I'm sharing and the map that I'm providing.
Back to convincing people to write reviews.
The key is to ask, and then succinctly explain why reviews matter.
I did that at the Kickstarter gathering on Wednesday evening when I handed out the books that my Kickstarter backers had purchased a year ago. These are the 200 people who believed in me. Eighty-eight of the backers live in Minneapolis-St Paul and of those 88, over fifty of them showed up at Twin Cities in Motion Center for the Kickstarter Book Distribution gathering.
I asked those 50 people to do a silent sustained reading session with me for three minutes. Each of them had a copy of my book, since I got pre-ordered copies for each of them. We did that all together. You can read a fair amount in three minutes! Then I told them that they had now read enough of the book to write a review. I asked how many of them would be willing to write a review on Amazon telling the world what they thought of the book. More than 30 of them raised their hands. I then took a picture of everyone who had their hand up in the air and I told them I would email them to remind them to post their review.
As of today, Sunday, November 12th, my half birthday (I love half birthdays!) 20 reviews have been written and 11 are showing up on Amazon. It can take a bit for a review to show up. I tell you, reviews matter! A huge shout out of appreciation for everyone who has purchased the book, read some of it, and has written a review!!
If you'd like to see the little talk I gave at the Kickstarter gathering, here's a video of what I had to say!!
Thank you everyone for all the love and support. As I'm entering week 4 of taking letrozole to have low to zero estrogen in my body to fight off this third round of breast cancer, feeling the love and support has bolstered me SO much. When I feel the fatigue, the achy joints, and wondering what more will be needed, I remind myself that this book is out in the world and people are finding it helpful! I breathe into that and smile.
With love,
Mari
Are you on my email list yet? If not, sign up today and let's stay in touch!