Celebrating the end of a year is something I love to do. I'm sending this post out into the world on the very last day of 2021. When it publishes, I will be out running 5 or 6 miles with a group of friends. Good chance I will be wearing my DueNorth Everyday G3 Ice and Snow Traction Aids, due to the amount of snow and ice freeze we've had this week. Send good vibes that all my bones stay healthy while I run!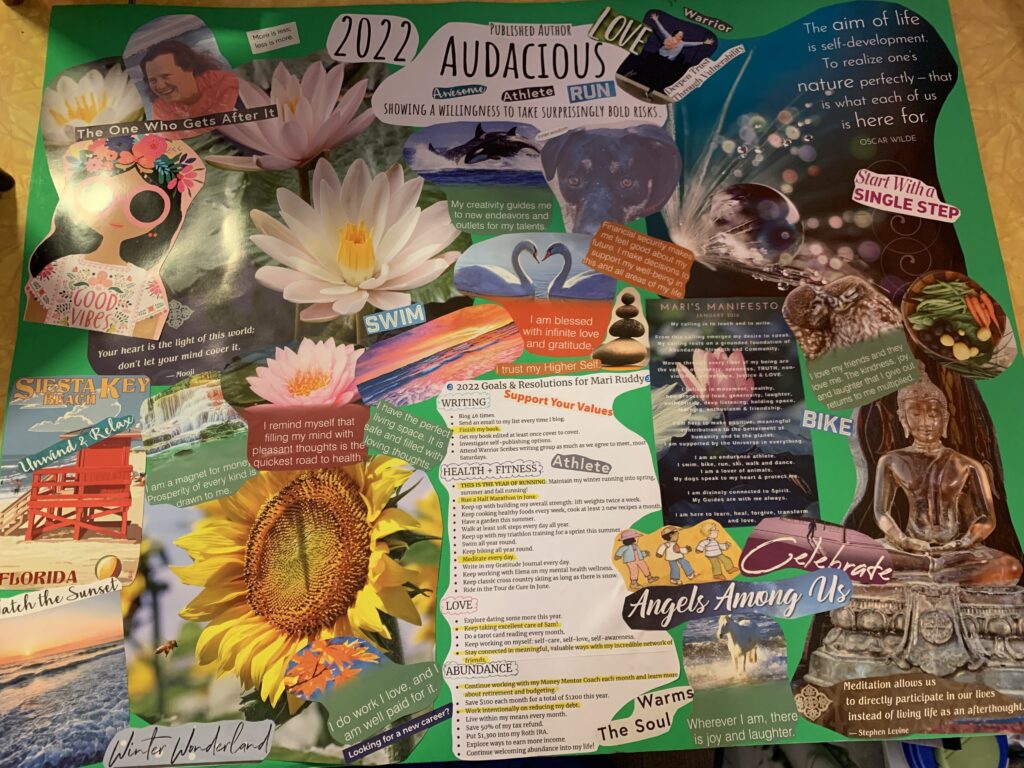 Vision Board for 2022
I've made a Vision Board every year for the past 8 years and this year I again joined Life Strategist Jasna Burza for her online vision board workshop that was held on December 11th. Once again, it was AMAZING! In part because the idea of raising my energy levels by taking action and surrounding myself with others who are raising their energy levels was affirmed.
Importance of reflection
I had spent time reflecting on how 2021 had gone and what I most wanted from 2022. I like to create resolutions and action plans for each year and at the end of the year, I document my successes. I don't spend much time getting down on myself for the things I did not accomplish, and to affirm, there are ALWAYS things I don't accomplish! I am human after all!
Rather, I note what I didn't accomplish and I assess if the item just wasn't that important or if the item was beyond my ability or resources for this past year. If the item didn't get done and it's still important to me, I add it to the next year. I visualize how I might take small action steps to make it happen this coming year. If the item turned out to be not that important, then I let it go.
Learning how to let things go has taken me a long time to be able to do without getting down on myself. I do it by visualizing the item going up in a balloon and cutting the string that attached me to the balloon. Then I watch the balloon get farther and farther away from me. I breathe into letting it go with ease.
One of the things I did not do a very good job of in 2021 was saving as much money as I had hoped to save. However, I did go on three vacations and all of them were super fun!! The trade off was worth it. Additionally, I got a new insulin pump and my contribution to that purchase (it wasn't 100% covered by health insurance) also ate away at my savings. It too was a wise purchase.
Repeat healthy habits go on the vision board every year
There are a number of things I like to do every year. Those items I add to my Vision Board year after year. These are the many things that are woven into my daily habits of wellness. I add them to my Board to continually remind myself how vital they are to my well-being. These include, finding two new recipes and cooking them every month, doing a tarot card reading every month, and exercising lots and lots every week.
Word for the year
A few years ago, I started choosing a word for the year. My word for 2022 is
Audacious
I am daring myself to be plucky and bold as we enter a new year. My three priorities around which I plan to be audacious in 2022 are: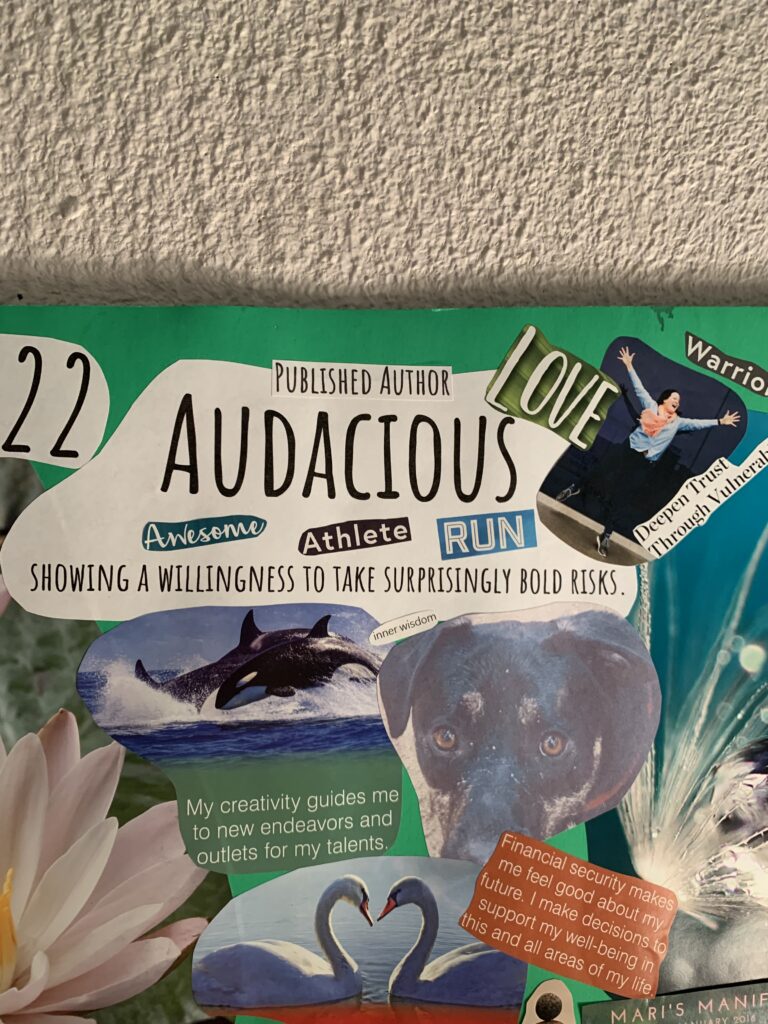 1. Running
I am going to continue working on getting a little bit faster by going to weekly interval sessions and continuing to weight lift. Plus I am going to run two 10 mile races and another half marathon. Thrown in for fun will be a few 5Ks and 10K's. My plan is to run 3 or 4 times a week all year long! Wish me luck!!
2. Writing
I've been working on my second book for almost 9 years. Fingers crossed this will be the year it gets published! I will be done with a complete first draft by the end of January. Then I will move into a three month revision phase. Then I will have a few beta readers give me feedback. THEN, I will sign on with a self-publishing house. You can expect to hear a lot more about this as the year goes on!!
3. Finances
I'm doing lots of deep emotional healing and forgiveness work around my relationship with money. I am getting lots of support and collaboration around discussing and learning about finances and retirement. It's work that is calling upon lots of courage and audacity!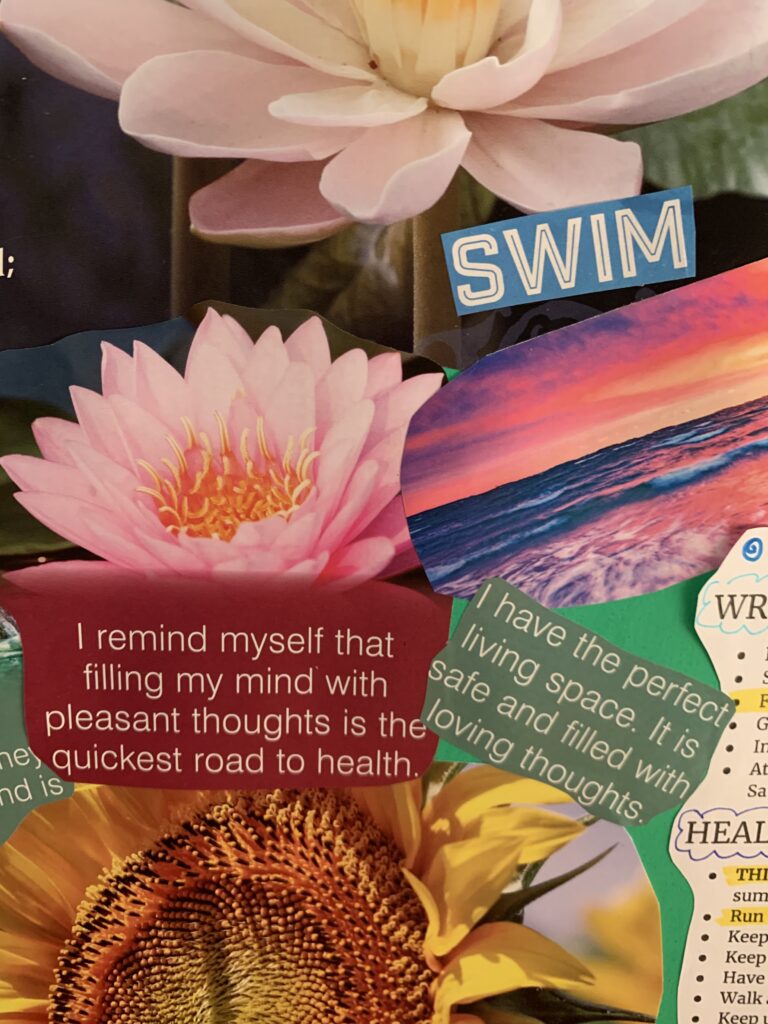 End of Year Reflection Questions
This year, an email newsletter I randomly got, it's called the Dr. B Newsletter, they sent a list of things to reflect on for the year. Here are their questions and my replies. Use the questions if you find them inspiring. Reflection at the end of the year is worth a bit of your time! Enjoy!!
What are the 3 most important things you learned this year?
This year I learned that what happened to me as a child does not mean that I am not safe now as an adult. In fact, I realized that my adult self can take care of my inner child self and my adult self does a really good job creating safety for myself.
I learned that I benefit greatly from having support and accountability to stay focused on my writing. Joining First Book Finish with Rhonda Douglas is helping me SO much.
I learned a lot about diabetes management success. Working with Dana from Integrated Diabetes Services for three months was profoundly transformative. Getting on Ozempic and successfully getting my weight down to 157 lbs feels so good in my being. Additionally, Dana encouraged me to start serious weight lifting, which I have been doing for 6 months now, longest ever weight lifting stretch.
What can you do today that you didn't think was possible a year ago?
I can consistently lift weights for an hour twice a week. I enjoy it and I like how strong in my body I feel.
How do you maintain balance in your life?
The key thing I do is meditate every morning and evening, plus lots of deep breathing throughout the day. Additionally, walking my dog Sam keeps me calm as does cooking soups and/or salads on Sundays for the coming week so that I have healthy, tasty food to eat all week. Making time with friends outside is also essential.
What is one habit you'd like to change?
I need to tackle my behavior around spending money I don't have. I need to 100% live within my means.. This requires new focus and focusing on the abundance all around me and not on seeking comfort with buying things out of my budget.
What is something that was hard early in the year that's easier now?
It was hard to weight lift with consistency, now it's gotten much, much easier!! And it's fun!
And finally, here are all the races I intend to participate in during 2022 (not including the various 5K run races I hope to add in!)
May 21 Women Run the Cities 10 miles
May 22 Lake Elmo Duathlon
June 4 Tour de Cure Twin Cities bike ride
June 18 Gary Bjorkland Half Marathon
August YWCA Women's Triathlon
October 1 Twin Cities 10 mile race
November 24 Saint Paul Turkey Trot 10K
Are you on my email list yet? If not, please sign up today! I love staying connected!
In fact, to celebrate the end of a very tough year, please leave a comment and tell me one thing you learned or discovered in 2021 that makes your life better. It means the world to me to hear from you!