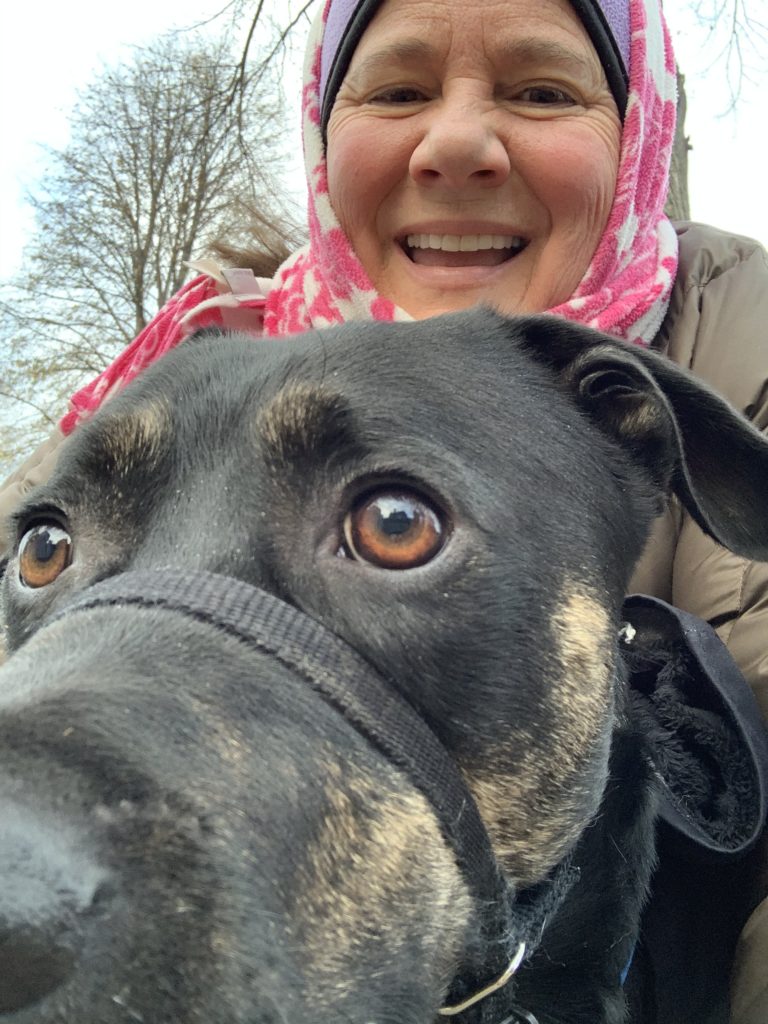 Wonder what's happening in the world of diabetes? Maybe you have diabetes like I do and like me you like to stay updated on what's happening in the diabetes innovations world. I follow a few organizations that regularly update me with what's new.
One such organization I follow is diaTribe. They send out a weekly email that I read nearly every week. Lots of great type 1 and type 2 info!! I also make an effort to learn live and in-person when I can. On Saturday, November 9th, 2019 I attended the Type 1 Summit put on by the local JDRF organization.
Turns out, I was an "early adopter" of an insulin pump, despite my initial resistance to getting one. Luck was in my favor and I had an endocrinologist when I was 30ish who pushed me hard to get a pump. I'm now 54 and ½, and I have been on an insulin pump for almost 25 years. That's a good long time to wear a pump!
I wear a Tandem t:slimX2 pump and I love it. The Basal-IQ software is embedded in the pump, and if my blood sugar, as measured by the Dexcom G6 continuous glucose monitor that I wear, is dropping fast, the pump automatically shuts off my basal insulin.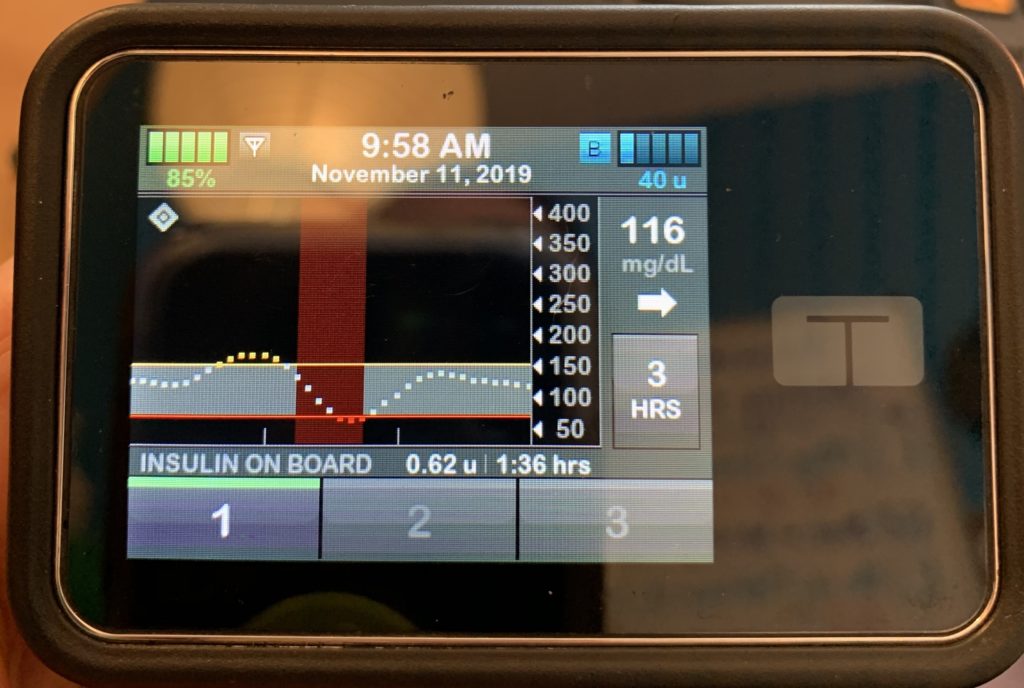 Here's a recent image of my pump. The red band shows when my pump shut off. I ate 6 grams of carbs in the form of one roll of Smarties candy. On a side note, turns out Smarties are practically the same dextrose as much more expensive glucose tabs. That red line happened as I was out walking super fast with my speedy athlete dog Sam! To be able to keep walking and only eat 6 grams of carbs is THE BEST!!
How to get the most out of your CGM
At the Type 1 Summit, I really liked the session put on by Caitlin Hasledalen, a researcher who herself has type 1. Her session was entitled, "How to get the most out of your CGM." One of the things she talked about was the soon to come Tandem Control-IQ system, which is known in the diabetes world as an Automated Delivery System.
What I am super excited about is that without my direct interference or management, my pump and my CGM with Control-IQ will be able to talk to each other and based on my blood sugar will be able to raise or lower my insulin. I tend to have a more challenging time with high blood sugars, so to have the pump give me a bit more insulin when I go over 180 mg/dl will be fantastic.
Time-In-Range and Standard Deviation with a CGM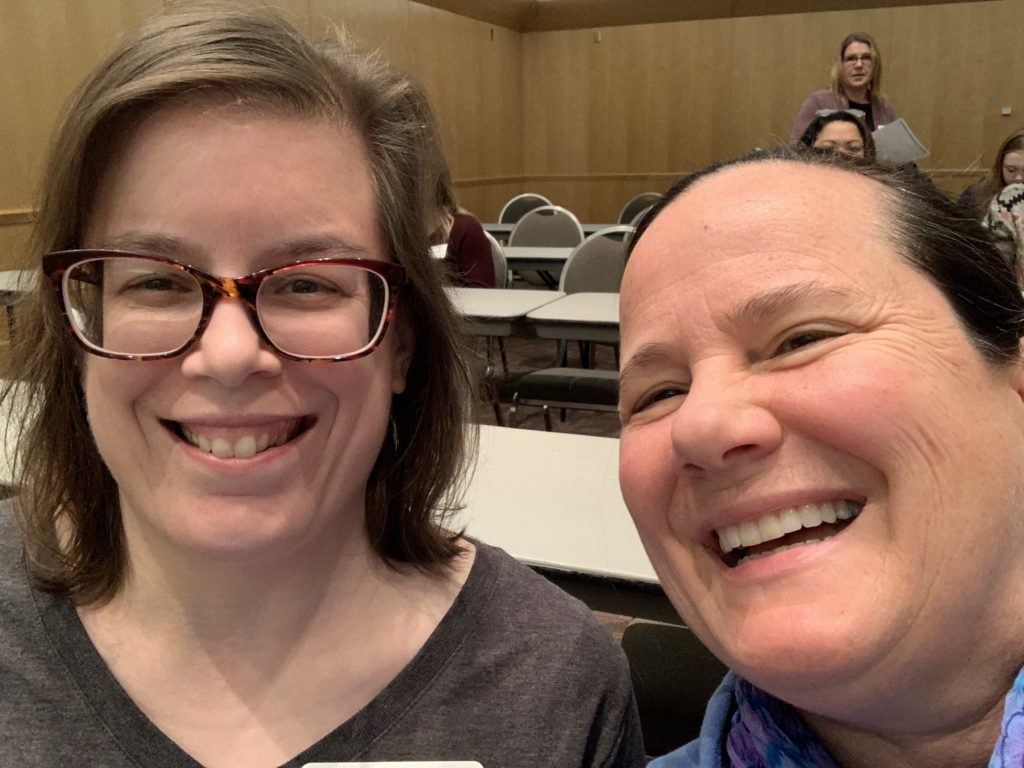 I knew a few of the terms that Caitlin mentioned, but it is incredibly helpful to be reminded of what to pay attention to. Specifically she talked about Time In Range, TIR, which the goal is that a person with diabetes would be in range with blood sugars. My ideal range is 70 mg/dl up to 150 mg/dl. The goal is to spend 70% of my day in range. Currently I'm TIR about 55% on average. So I have a bit more work to do. I like having a goal, and now I do!!
Caitlin also mentioned the Standard Deviation number with a CGM. diaTribe explains this term much better than I can. Here's what Adam Brown and Divya Gopisetty from diaTribe have to say about SD, as it is known.
"SD" is shorthand for "standard deviation," which is a measure of the spread in glucose readings around the average – some call this the variation. For example, if someone has been bouncing around between many highs and/or many lows on a given day, they will have a larger SD. On the other hand, if someone is having a pretty stable day, she will have a lower SD.
Caitlin encourages us with type 1 diabetes to aim for an SD of 30 or less. My SD is usually on average about 48, so again, I have some specific work to do.
As I tell you these two new goals I have for my diabetes management, I remind myself to take a very deep breath, and I remind myself to not get overly hung up on all this data. Yes, I can get REALLY OVERWHELMED with managing my diabetes, especially if I get too hung up on the little nitty gritty details. And, I also know I like goals!!
Like you, I care deeply about my health, so I am willing to manage my overwhelm and stay focused.
How do YOU stay up with new diabetes information? And how do you stay focused on your good health?
I love hearing from you!