It's hot in Minnesota in the summer months, no two ways about it. Makes me focus on electrolytes and hydration with extra intention. Plus it makes me think about my underwear. Chafing underwear is NOT FUN.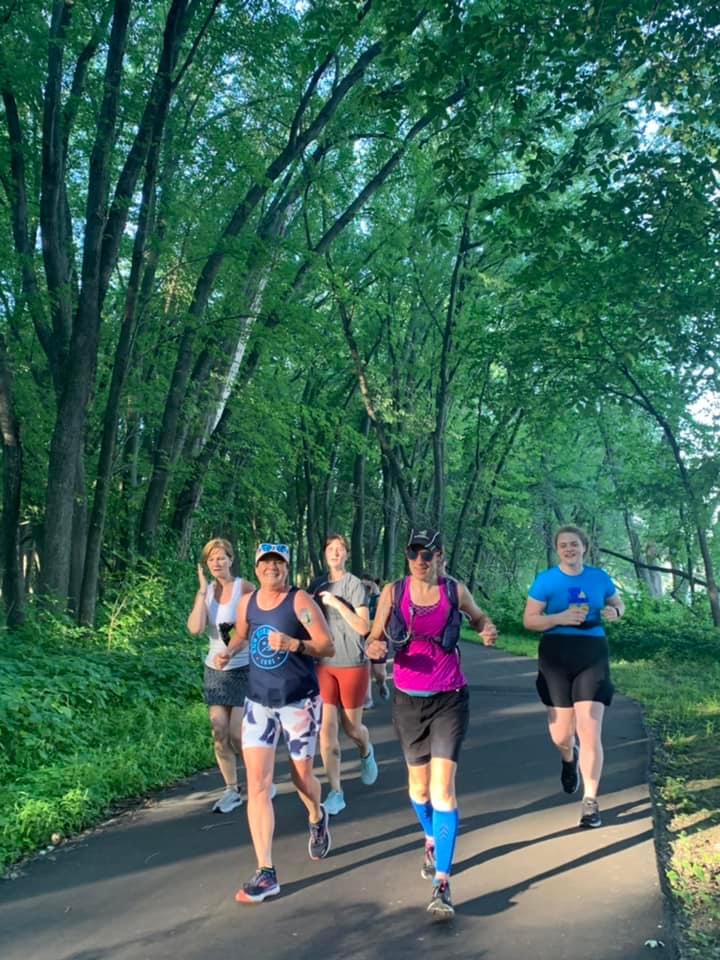 Worst run of the year
I had one of my worst runs this entire year last week, mostly due to not changing my insulin pump and the degradation of the insulin that happened because of the heat. I had insulin in the pump but it wasn't full strength and that caused my blood sugar to be chronically high and I couldn't get it to come down.
Insulin goes bad in the heat
I forgot that when it gets this hot I need to change out my insulin pump set every two days not every three or four days. The insulin just doesn't hold up well in heat. Chronically high blood sugars over a few hours is not normal for me and my critical, self-sabotaging voice took over. Tell me to stop running. Saying I was a terrible runner and I should give it up.
Third half marathon is coming up
When I finally got home I changed my pump, got fresh insulin into my body and I took a nap. I also knew I needed to prepare better for my next long run. After all, I am now training for my third half marathon of the year. The City of Lakes Half Marathon on September 11th.
Hydration & dew point – pay attention
In preparation for my intended 10 mile run this week, I made sure I slept well the two nights before this run and I drank lots of water with Nuun sport tabs – electrolytes – the two days before the long run. After reading this article that my Run Coach Laurie Ladd Goudreault shared with my Thursday morning YWCA Endurance Run Group, I've started paying close attention to the dew point. 
Turns out the dew point is useful information when planning a run or any activities outside. Dew point is a better indicator of how comfortable or uncomfortable it will be outside. The article has an easy chart to remember and dress accordingly. Hang in there with me, I'm getting to the underwear.
I knew the dew point would be high during this 10 mile run, and it was. It was 70 which as the chart in the above article indicates, a 70 dew point is in the orange zone and is listed as "uncomfortable and humid." Thankfully, all my hydration preparation along with a fresh insulin pump and good sleep for two nights made it bearable to be out there for what ended up being 11.5 miles of running.
What knickers do you wear
Which brings me to the topic of this post – knickers, aka what you wear under your shorts or leggings when you run. Turns out talking about seemingly personal topics such as your bathroom habits before and during a run, what underwear you wear and what you eat or drink on a run become topics worth exploring on group runs.
Some people like running shorts that have underwear built in. I have an older pair of those and I liked them just fine. However these days it's essential to have side pockets: one for my phone and one for my Flipbelt water bottle. The pair of shorts I own that have underwear built in have exactly zero pockets. No good these days.
Cotton underwear is BAD in the heat
I'm also a big-time budget shopper. I now own several pairs of tight fitting shorts that have side pockets in them. Turns out that once the dew point goes up and the humidity makes all of us glisten as we run, cotton underwear under running shorts is flat out a VERY BAD idea.
I re-discovered this in early June. Yes, I am normally a 100%-cotton-underwear-wearer. I often have to use the porta potty on my runs and pulling down my shorts and completely drenched cotton underwear is brutal. Not to mention the various chafing impacts.
Run-specific underwear
After two runs with this effect, I did a bit of research and discovered there are all kinds of running specific underwear. For men and for women and for all genders. Since I am a CIS-identified woman, I particularly liked this Running World article about the Best Women's Running Underwear for 2022. You will notice that this is the UK version, so prices for all these underwear brands are in pounds. Their description of what to consider when buying run specific underwear is quite helpful. 
No cotton
What I discovered is that none of these brands use cotton. Instead, various types of nylon, polyester, polyamide and even merino wool are used to achieve flexibility and breathability.
Buck Naked for the win
That got me thinking about the zillion emails I get from Duluth Trading Company. They regularly go on and on about their Buck Naked underwear, which is often on sale. I like a good sale. I found a pair for a good discount and ordered. Within a week I'd ordered 4 more pairs, also on sale. 
I highly recommend them.
Here's what Duluth Trading has to say about them:
"Our Go Buck Naked™ Performance Hi-Cut Underwear is the comfiest thing next to your skin, with a Stay-Put Fit that won't shift or bunch when you're on the move. Our breathable 93% nylon/7% spandex fabric wicks moisture and resists odor. Covered seams eliminate chafing in high-friction areas, and there's a double-layer crotch for comfort. Plus, elastic in key spots (like leg openings) for stretch – with flattened seams for reduced panty lines. Wanna get comfortable? Go Buck Naked!"
I've been wearing these 5 pairs (and washing them!) with major success and high comfort. No two ways about it, I'm a convert.
There you go, I hope you enjoyed reading about underwear!! I had fun writing this one. Oh, and the main reason I went with Buck Naked by Duluth Trading Company and not a pair recommended by Runner's World is because I like finding a deal. The brands in Runner's World are more than I want to spend.
Of note, I am not (yet) sponsored by Duluth Trading Company.
Are you on my email list yet? If not, please sign up right here! 
Thanks!