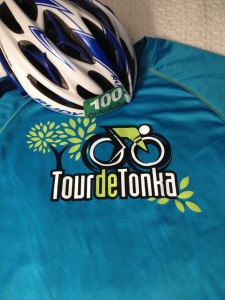 My T1D friend Ramsey, who's had Type 1 diabetes since he was 2 years old and he's 43 now, asked me a little over a week ago if I'd like to do a 100 mile bike ride with him, at the Tour de Tonka, a route here in Minnesota, in and around Minnetonka. Since I only did a 98 mile ride in Coralville, Iowa at the end of June, I jumped at the opportunity, and said a resounding, "YES!!"
I got my bike back from Erik's Bike Shop just in time for a 54 mile test ride a few days before the Tour de Tonka. My old steel frame LeMond Zurich bike needed a new chain and a new rear cassette, and the front shifter had broken, so I needed to have all of that replaced. Erik's did a great job on the repair and the bike was in fine shape for the 100 mile ride, which was on Saturday, August 2nd.
I figured I was still in good enough shape to pull off a 100 mile bike ride. I had continued to ride all through July, and I had added in swimming and running, in preparation for the Sprint Distance Triathlon I am doing on August 17. It will be the first triathlon I've done since the Half Ironman I did in Austin, Texas in October 2009.
I had written a Race/Ride Plan for the 100 mile ride in June, so I worked off that plan. I slept great two nights before, which is key to success! And on the morning of the ride, I woke up at 4:30 AM for a 60 grams of carb breakfast. My blood sugars all day stayed in an excellent range, and I was very happy with my diabetes and nutrition plan.
The Tour de Tonka route was considerably flatter than the route in Iowa, which was rolling hills the whole time. The weather was amazing! It dawned cool, no rain, no wind and clear skies. It did heat up and the humidity was crazy. I still wonder how people handle the humidity here!! My cycling clothes were soaked for most of the ride, just from sweating and the clingy humid air.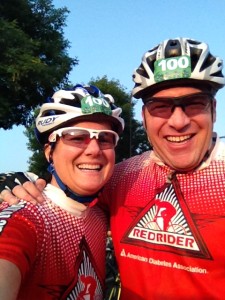 Ramsey had a tough time with his blood sugars the first part of the ride, but once he got enough insulin on board, and his blood sugars came down, then he was on fire! He's gotten to be a faster cyclist than I am. I'm disappointed, in that I just have never been a super fast athlete. I'm slow and steady. I was able to keep up with Ramsey for the first part of the ride, but once he felt good, he left me in the dust. Luckily I like riding alone, as there's much to see and I ended up talking to several fellow riders.
I hope that perhaps with a bit more work, I can get faster. I know I need to drop another 10 or 15 lbs this winter, during the off season. Yes, weight-loss season will happen November to March!! I also will need to do more interval training.  I'm already considering what my athletic goals will be for 2015!
I finished the ride a little before 4 PM. We had started the ride at 7:30 AM, so that was about 8.5 hours start to finish.  I was riding in the saddle, pedaling 6 hours and 42 minutes, and my average pace for the time in the saddle was 15.3 mph. We stopped at every rest stop, plus we stopped a few extra times for blood sugar checks, and apparently those stops added up to about an hour and 45 minutes of "resting." That's not very Ironman-like!!
All in all, I rode 103 miles! And it felt great to see that number at the end of the day!
Here is my Race Report, with my blood sugar, insulin and nutrition strategies!
Time              Blood Sugar  Carbs                                                        Insulin                      
4:30 AM         84                   60 g: oatmeal, juice, eggs, walnuts           5 units
6:40 AM         88                  20 g: granola bar
7:10 AM         97                   25 g: Sport Beans
7:30 AM         START RIDING!   Did not turn down basal rate
8:27 AM         102                 60 g: Gu & Skratch Labs
9:36 AM         140                 65 g: Honey Stinger, Skratch Labs, cherries
10:45 AM       59 (darn)         90 g: Glucose tabs, Gu, Skratch Labs, cherries
11:54 AM       133                 65 g: Rice cake, Honey Stinger, Skratch    1.15 units
1:21 PM         132                 60 g: Skratch Labs, Rice Treat, Banana
2:30 PM         122                 60 g: Fruit Snacks, Bananas
3:50 PM         END RIDING!
4:30 PM         190
5:52 PM         88                   45 g: Soup, protein shake, salad                  2.2 units
11:10 PM       236                                                                                       1.4 units, turned down basal rate by -10% for 8 hours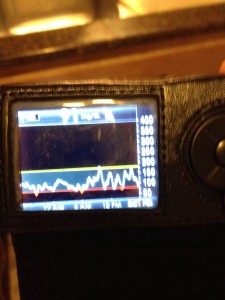 I was very happy that I stayed between the red and yellow lines pretty much all day! The red line is set at 80, the yellow line is set at 180, that means my blood sugars stayed "in-range" all day!! That is a LOT of trial and error to arrive here!
Total Insulin for the day:   22.065 units
Total Carbs for the day:   550 grams
 Please sign up for my email list! I promise I will only send motivational emails every now and then!!