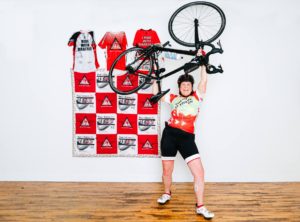 It is official, I've started training for the 62 mile bike ride I will do at the Tour de Cure Twin Cities on June 2nd, 2018. Toward that end, whenever I start a new training program, it feels like a good time to start a lot of things. Toward that end, I'm now taking an online course with Jeff Goins called Intentional Blog. I am learning a lot about how to effectively create, organize and write a blog. I've been blogging for more than 9 years now, you'd think I would know what I'm doing. The thing is, there is ALWAYS more to learn in life.
I LOVE writing!! That's why I love blogging. The thing is, I have never clarified what THIS blog is about. Not good. So, today that changes. I did an hour on my bike trainer today and I did some core exercises. That means I'm ready. And now I'm telling you what this blog is all about. Here it is:
This blog is about wellness, fitness and how to be and become an endurance athlete in the face of struggles and challenges.
I am here and now committing to post a new blog every Thursday by 10 AM Central time. That is my promise to you. If you are on my email list you will get a quick email every Thursday telling you about the latest uplifting, fun, inspiring post.
Please join my list, as I love to stay connected!
To learn more, check out this page. And say hello! AND, get on your bike, or put on your run/walk shoes or get your swimsuit on, or if it's snowing where you are, put on your cross country skis and smile while you move your grateful body!