I love triathlon. No two ways about it, I fell in love way back at my first ever triathlon, the Danskin, that I did in 2005, a week after I finished radiation treatment for my first round of breast cancer. I knew I had found the sport for me. It captured my imagination.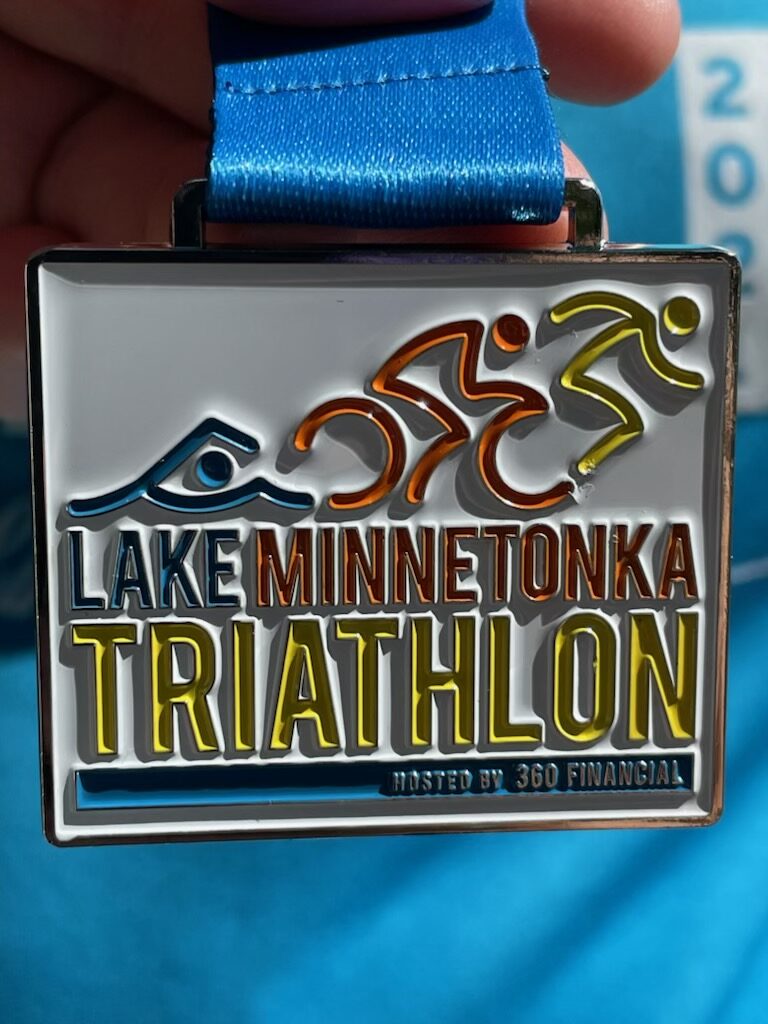 Triathlon love
I love how it requires a lot of gear, a lot of planning, tons of little details to manage, and it 100% requires that you train. Swimming, biking and running one right after the other asks the body to please, please, please PREPARE. On top of the physical athletic preparation, you also have to train (practice) your nutrition and hydration.
Managing details
Living 40 years with type 1 diabetes has required a massive amount of attention to details and doing triathlon takes the skills I've gained from having type 1, and gives me new (and fun!) focus for that skill.
June 19th, I did my first official, in-person triathlon since doing the YWCA Women's Triathlon in August 2019. I LOVE RACING!!!
Two types of people try triathlon
As we were getting ready to go off in our swim heats, I heard a man say to his new friend, "There are two types of people who find their way to triathlon. Those who do one and never do another one. And those of us who do one and then keep doing them the rest of our lives." When I heard him say that, I laughed out loud and knew I fell into that second category.
Triathlon alone
When I signed up for this triathlon, I was hoping one of my tri team buddies, Julie, would also sign up. Turned out she needed to fly to California with her son to preview a potential college for him. Oh well, I was signed up and I convinced myself despite my fear and apprehension to go for it.
I knew it was super important to take time to create a Race Plan so that I could "race my plan." Seems silly, but it's not. In fact, having a clear plan that I followed the week before I raced, helped me stay calm and it upped my confidence, both essential race prep strategies.
Here is my RACE PLAN
Officially, I only had two areas I focused on: food and sleep.
Oh yes, diabetes management
Technically there was a third category and that was diabetes management. My focus in the diabetes arena was to pay close attention to my "time-in-range" and make every effort to have my blood sugars stay in the 70-180 mg/dl range at least 80% of the time. I am happy to report that according to my Dexcom Clarity App, I was in range exactly 80% of the past week. I call that a diabetes win!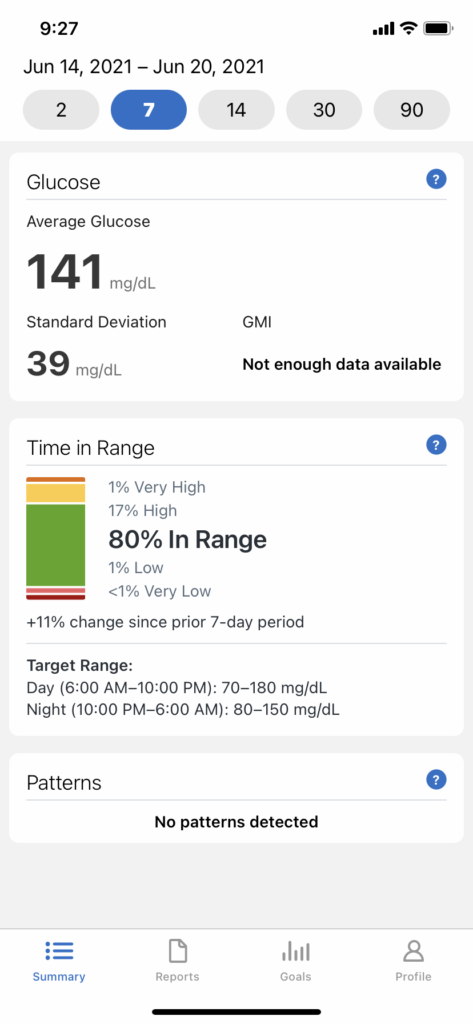 FOOD – eat super clean this week
Super clean to me means: eat as little processed food as possible, meaning no chips, no crackers, nothing that comes out of a package, if possible. The other thing it means is to eat zero gluten.
I likely have celiac disease and I've noticed that gluten slows me down and stresses my system. Additionally, I eat zero meat and as little dairy as possible. And finally, I make every effort to eat as little sugar as possible.
FOOD plan for lunches and dinner
I eat chia pudding for breakfast everyday, so that was covered.
Options for lunch and dinner: 6 days = 12 meals
Edamame spaghetti with veggies and sauce (4 meals)
Kale & chickpea salads (2 meals)
Salad with greens and salmon (1-2 meals)
Scrambled eggs with kale and biscuits or rice (2 meals)
Salmon with rice and veggies (1 meal)
Mac and cheese with veggies and kale (2 meals)
I am happy to report that my eating this past week was a huge success. I am super glad that I'm taking Ozempic as it really helps me manage my eating and my appetite. Of note, my weight is now 163 lbs, meaning I'm down 17 pounds since my high weight of 180 lbs in October 2020.
SLEEP – get 8 – 9 hours of sleep each night
My goal in this category was to make sure I got enough sleep Sunday – Thursday, the five nights before the race. I knew it was likely I would only get 5 – 6 hours of sleep the night before the race, and in fact, I only got 6 hours on Friday night. But that's okay, because on Thursday night, two nights before my race, I got a solid 9 hours, so waking up at 4am on June 19th, race day, wasn't difficult.
Turns out the sleep two nights before race day matters much more than the sleep the night before the race. I find that very reassuring.
Race times
I've learned that it helps me stay focused to set realistic goals that include a bit of a push for the time I hope and want to achieve for each leg of the race. After thinking about my athletic preparation, here are the time goals I set for myself for this race:
RACE TIME GOALS:
To swim 880 yards will take me 20 to 25 minutes.
To bike 15 miles, given the rolling hills, I expect that will take me 1 hour 15 minutes.
To run 3.1 miles (a 5K) I expect that will take me 35 – 40 minutes.
With transition time (5 minutes for each transition) and all of the above, I hope to be finished racing in two hours and 30 minutes.

If I can do it in less time, that will feel miraculous!!!
RACE MORNING SCHEDULE & REPORT
Here is the detailed plan I created for myself for Race Day. Along with the Race Plan for Race Day, I've included notes on how things went.
4am wake up
4am – 5am
Stretch
Meditate
Put on triathlon outfit, bring a sweatshirt in case it's cold at the race start (I'm so glad I had this sweatshirt as I needed it as I was setting up. It was a bit chilly.)
Gather all my items

Put bike and gear in my car
Bike pump in car (pump up bike tires evening before)
Bag with helmet and shoes in car

Eat breakfast by 4:30am + tea + container of juice in case

Take zero insulin as I tend to go low at the start of races. (Most people with type 1 go high due to adrenaline, not me, I go low.)

Fill 5 water bottles

Put Skratch in bottle that will go on bike: 40 grams
Be clear which water bottles go on bike

Review Race Plan mentally & mantras
4:50am Drive to Excelsior Commons & park my car
5:30am – 6:45am: Arrive – Body Markings / Transition Area Set-Up
-Arrive to The Commons
-Get Body Markings done. My race number is 337. Get that number put on my arm and leg, plus my age. No hiding how old you are in triathlon.
-Set-up bike and other personal items in the Transition Area
Transition Area Set Up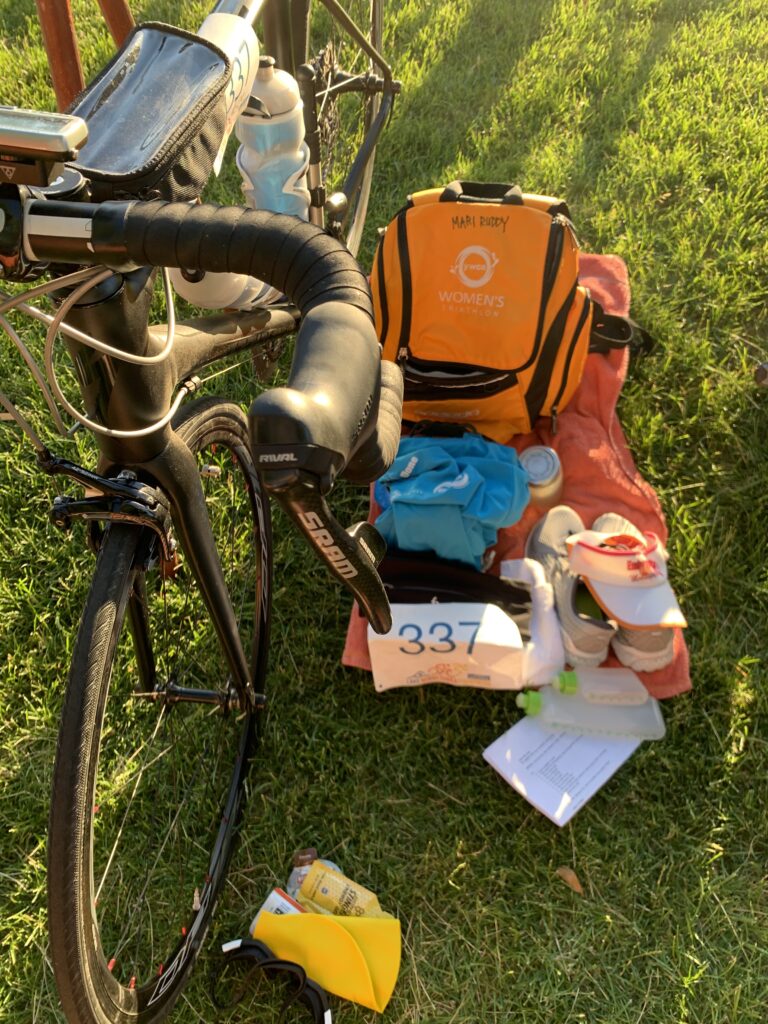 Gu packets in tri shorts (I carry 2 or 3 gu packets in case I go low before the swim starts or while I'm swimming. I've practiced eating a gu while in the water.)
Insulin pump in AquaPac (My Tandem pump is not waterproof, I want to wear my pump for the entire swim, so I use an AquaPac)
Swim cap
Goggles, decide if I want clear or shaded goggles – depends on sun reflection on lake
Flip flops for feet in transition area
Body glide on neck
Timing chip on ankle
Sticker on bike (has my race number on it)
Covers off my cleats on my bike shoes
Reset computer on bike to zero
Put phone in Flipbelt
Write on hand to start Garmin at start of swim, use lower right button to move between sports and to time transitions
Transition tasks to accomplish
Set up orange towel with BIKE stuff & RUN stuff
Mentally practice the order I will do things
Breathe deeply, stay calm, focus on myself and my race and my mantras
Notice how beautiful everything is
Rack my bike
Walk the transition area so I am super clear about where the swim out, bike out, bike in, run out are located in relation to where my specific transition area is set up.
Stretch & use the bathroom
7am Mandatory Pre-Race Meeting
You must be present for the Mandatory Pre-Race meeting where we will review the course route, safety requirements, and a few other housekeeping details.
After the meeting, racers will be directed to walk across the timing mat to register their chip. It is important that you listen to the instructions that will be given to register your chip otherwise you may not be timed properly!
At 7am, I ate a packet of UCAN Edge Fuel To Go. UCAN is an amazing superstarch fuel that burns slowly and I've discovered it holds my blood sugars in an ideal range while exercising. I also drank 2 small gulps of limeade organic juice that I brought with me.
7:30am Race Begins
The race will begin at 7:30am, as long as weather permits. Heats will then be released every 3-5 minutes depending on heat size (and weather conditions).
Swim warm-up
After the Race Meeting, we all went over to the swim start. There was enough time to do a swim warm up. Over the years, I've learned that doing a swim warm up helps me greatly when the swim begins for real. I didn't wear a wetsuit as I hate them. They squeeze my chest and cause my body temperature to get way too warm. Thankfully the temp of Lake Minnetonka was perfect on June 19th.
Swim heat 9, yellow swim caps
Turns out they had us go into the water by wave. Waves were organized by gender and age. I was in the second to last wave that had all the women older than 45 years of age. The AquaBike races were the only wave after us. It was delightful to be at the end of the swimmers. It meant that likely no one would swim over me and knock my goggles off. Yes, that has happened in other races.
I ended up talking to Laurie and Brenda, two other racers there that morning. That is another thing I love about triathlon: the friendly, kind, interesting people!
RACE REPORT
Swim 880 yards
Gear: Gu, goggles, swim cap, AquaPac, timing chip
Going into the swim, my blood sugar was 165 mg/dl. That was a perfect race start blood sugar for me.
SWIM MANTRA: I am a strong, calm swimmer. I swim with ease and joy.
Swim Recap
My goal was to swim 880 yards in 20-25 minutes.
I have a bit of a tendency to panic in the open water and this race was no exception. Luckily I've been swimming and lifting weights and my back and lats and arms are stronger than in the past.
That remembrance kicked in each time I panicked and my mantra recitation helped calm me down in record speed. Each time I panicked I flipped over on to my back, recited my mantras and reminded myself I was safe, strong and okay.
The race had multiple swim angels, more than 20 along the full course, all of whom had swim buoys with them that racers could hold on to if a rest was needed. I didn't need a swim angel, but it was super calming and reassuring to see them in the water with their eyes on me and all the swimmers.
I did the swim in 23 minutes 37 seconds, according to my Garmin.
According to the timing chip, I did the swim in 22 minutes 53 seconds.
Transition 1: Order of steps
Cap & goggles in pack
Take insulin pump out of AquaPac, take off AquaPac, put it in pack
Put on Get In Gear shirt over triathlon outfit
Put on my Flipbelt that had my race number pinned to it. Also in Flipbelt: Smarties for low blood sugars, extra Honey Stinger gel and lip balm
Brush off feet
Put on socks
Put on bike shoes
Put on helmet, clip it
Put on sunglasses
Look at blood sugar, decide if I want to eat or take any action
Unrack bike, GO!
My goal was to do T1 in under 5 minutes.
According to my Garmin I did Transition 1 in 3 minutes, 6 seconds
According to the timing chip, I did it in 3 minutes, 49 seconds
My blood sugar was fine, about 175 mg/dl, so I did nothing. I had nutrition on my bike, both in one water bottle and in my bento box on my front bar. Both easy to access. I could read my blood sugar on my pump as needed.
BIKE MANTRA: Biking is fun, I am an excellent, fast cyclist. Enjoy!
Bike Recap
My goal was to bike the 15 mile route in 1 hour 15 minutes.
Biking is my favorite of the three sports. I love my bike and I love the feel of riding on the road. I love the feel of my body on the bike. The sense of freedom and joy I get when riding feeds my heart and soul.
The route is an out and back and what impressed me the most was the amazing volunteers the race had working. They all had clearly been trained. All of them had on lime green t-shirts and reflective vests. All of them knew their job. Almost all of them cheered us on and smiled at us. They all blocked traffic. As a result, I felt very safe the entire route, despite much of the ride being on somewhat busy roads.
I felt that I handled the rolling hills with relative ease. I played leapfrog with a 32 year old woman for much of the ride. We talked and laughed a bit as we leapfrogged each other. I was better at going up the hills and down the hills, she was much faster on the flat parts of the route.
Blood sugar status
While riding, I checked my blood sugar on my continuous glucose monitor on my pump about 4 times. My blood sugar had started to go down. The focused biking and breathing were kicking in action. At one point it was lower than 100 mg/dl. I made sure I drank the full water bottle of Skratch Labs hydration mix, which was 40 grams of carbs. I also ate one Honey Stinger gu packet, which was 27 more grams of carbs.
According to my Garmin, I did the bike in 1 hour 3 minutes and 9 seconds.
According to the timing chip, I did the bike in 1 hour 3 minutes and 14 seconds.
My average speed was 14.2 MPH. I tell you, considering how little I've biked this spring, I feel really good about this average speed!!
Transition 2: Order of steps:
Rack bike
Bike shoes off
Run shoes on
Helmet off
Visor on
Put Flipbelt water bottle in my belt
GO!
My goal was to do T2 in under 5 minutes.
According to my Garmin, I did it in 1 minute 22 seconds.
According to the timing chip, I did it in 1 minute 22 seconds.
My blood sugar was holding steady at about 125 mg/dl. I had enough carbs in my system, I just knew I needed to pay attention as I ran.

RUN MANTRA: I am a STRONG runner. I love running. The first mile is hardest, hang in there. Think of your triathlon pals. Smile!
Run Recap
My goal was to run the 3 miles in 35 – 40 minutes.
Running after swimming and biking is not easy for me. This is where the mental part of the sport of triathlon really kicks in for me.
The race organizers continued to do an outstanding job with the volunteers. Every turn had encouraging, cheerful people directing us. The run route was beautiful, through trees and along the lake edge. Part of the trail we ran was shaded, which as the temp was heating up helped me quite a bit.
Dizziness
My biggest challenge with the run is dizziness. I think the dizziness is related to my body's struggle to cool itself in the warmth and with the effort I've made. I'm not a good sweater. I had Nuun tablets in my water bottle on the bike, in an effort to make sure I had enough electrolytes in my system.
The first mile is the hardest. My legs felt a bit wobbly and I was a bit concerned about the straight down arrow on my continuous glucose monitor. I ate 2 packets of Smarties and immediately started to feel better. I kept reciting my mantras and I thought of all the runs I've done this past winter and spring with my Team Looking Sharp triathlon pals. I kept reminding myself that I love running and that I could do this.
I did the first mile in 13:22 which included a fair amount of walking. Thankfully I can walk pretty fast. I didn't have any leg cramping, but the dizziness kept hitting me. Every time it got bad, I would walk until it subsided. Then I would run again.
The second mile I did in 14:01, not faster than mile 1 as the dizziness wasn't subsiding. I had a full Flipbelt bottle of water that I drank as I walked and ran. My body felt good, but the dizziness was difficult and kind of scared me. This is a challenge for me to figure out. I didn't use my Frogg Togg chilly pad and maybe I should use it in any additional races this summer. Maybe that would have helped. Or maybe I could have used Nuun tabs in my Flipbelt water bottle. It's a bit of a mystery for me to sort out. Maybe running when dizzy isn't all that dangerous.
Turns out the 5K wasn't actually 3.1 miles long. According to my Garmin, the run portion of the race was only 2.95 miles. I did that last almost 1 mile in 12:36.
Cheering friends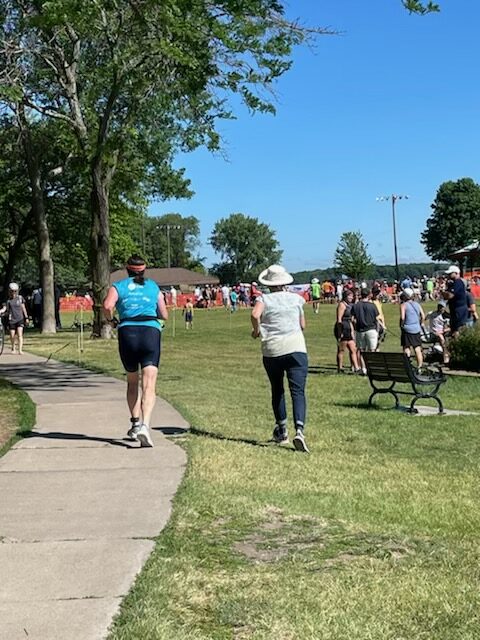 My Team Looking Sharp pals Monica and Woo showed up to cheer for me at the end of the race!! Monica ran the last few yards alongside me to the finish line!!!
Finish line joy
I was grinning ear to ear at the finish line. It was wonderful to share the highlights and joy of doing the race with avid listeners and dear friends at the end. I felt accomplished and proud of myself. I'm glad I signed up and I'm very glad I got to the race and did it.
I came in 100th out of 104 women who participated in the event. 100 is a fantastic number!!!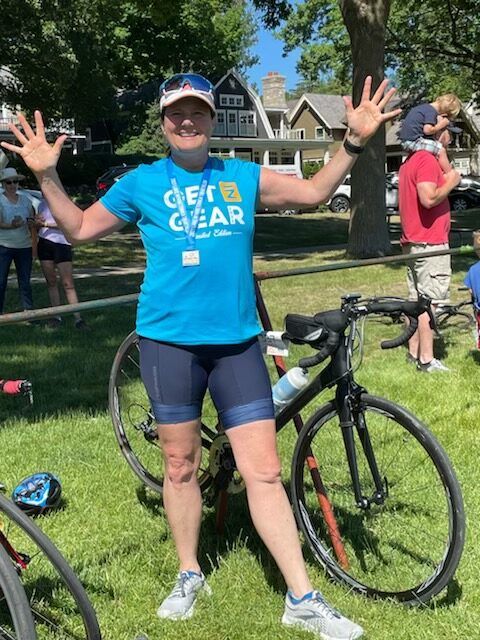 Final Times
According to my Garmin, the entire race took me 2 hours 11 minutes 16 seconds.
According to the timing chip, the entire race took me 2 hours 11 minutes and 13 seconds.
I hugged my friends, thanked them for coming to see me cross the finish line, take some photos and for being amazing athletes themselves. Then I gathered my gear and we hauled it all to my car.
I drove home, ate some lunch, and met with my writing group to write this race report. I went to bed right after I ate dinner and walked Sam, my dog. I slept a bit over 10 hours, as my body was in need of some recuperation and recovery.
Thanks for reading this long race report!!
Please tell me what you think and what events do you have planned this summer? I love hearing from you!
If you haven't yet joined my email list, please do so now! Let's stay in touch.