#TourTurns30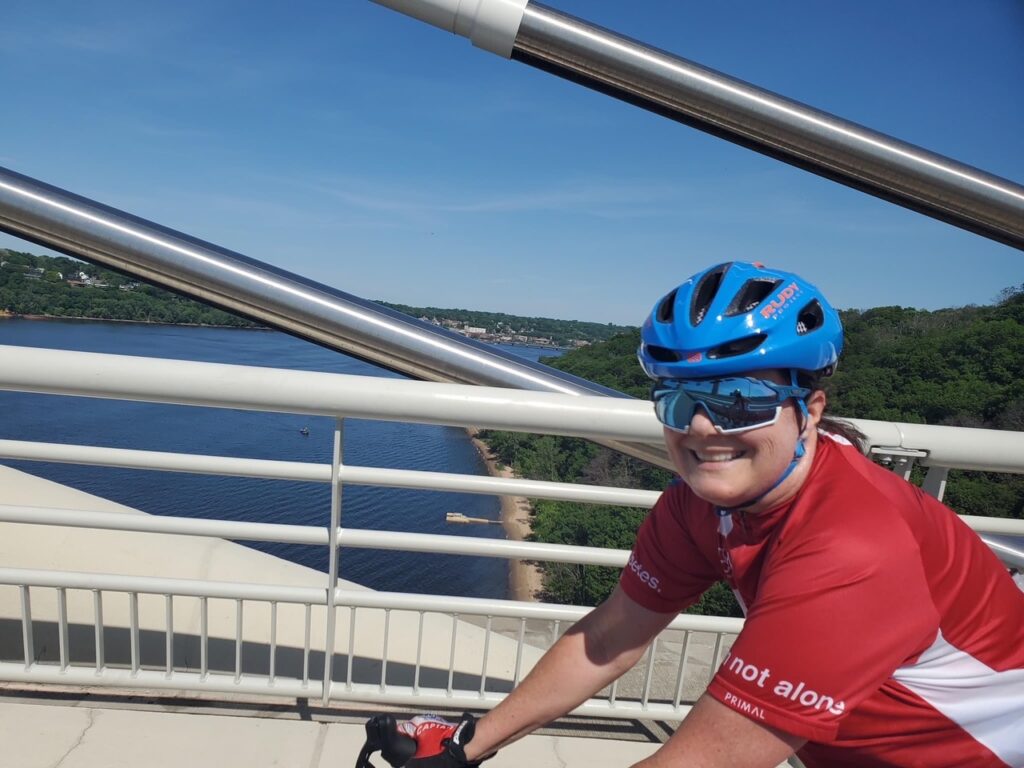 This year, 2021, the Tour de Cure, a major fundraising event for the American Diabetes Association, turns 30. That means that people have been riding their bikes, and some years, running and walking, for their health and to raise money for the American Diabetes Association.
Due in part to this global pandemic and partly to reasons unknown to me, the Tour has shrunk over the past few years. Perhaps the Tour is no longer worth the effort in terms of raising money for the American Diabetes Association.
Red Rider Program – Living Red
Back when I started the Red Rider Program in 2007 in Colorado, which is now called the Living Red Program, both of which provide recognition and celebration for cyclists living with diabetes, there were more than 90 Tours that happened throughout the year. This year, there are 12 virtual Tours happening around the United States. One of those Tours is billed as "Nationwide."
The ride is virtual, meaning you ride wherever you want on the day of the ride. That makes it easier for the ADA as they don't need to get any permits or host any afterride food. Additionally, they don't need to rally volunteers, music, or sponsors to be at the afterride.
No after-ride party
It's sad for us riders however. We don't get to gather around celebrating our health and wellbeing and the challenge of living well with diabetes. After all, living well, Living Red, with any type of diabetes is not easy. It's joyful to gather with others to celebrate and remind each other it's worth it to keep making the effort. As someone who's lived 40 years with type 1 diabetes, I sure know that.
Paul's Pedaler's
The past few years, I've been on Paul Thorsgaard's team called "Paul's Pedaler's." Paul was diagnosed with type 1 when he was 8 years old, which was 48 years ago. Paul and I are the same age, both of us born in 1965, so Paul was diagnosed in the early technology days of living with type 1.
Type 1 in 1973
Managing type 1 in 1973 was no easy feat. Luckily, he had and still has loving, attentive parents and siblings who encouraged him to stay active and to live as normal a life as possible, which he has done. Paul is a very social guy and he does an outstanding job wrangling all of us on his team. He sends many encouraging emails and when we are in person he makes all of us feel welcome and included. Being on his team is fun and motivating.
Tour de Cure Jackpot
Paul is passionate about biking and when he found Tour he felt like he'd hit the jackpot. He's also an outstanding fundraiser. This year Paul has personally raised $5,895 for the Tour and our team has nearly raised $19,000, which is our new goal! Please consider donating if you can.
Tour de Cure Minnesota
The virtual Minnesota Tour de Cure was held on Saturday, June 5th. I rode in my first Tour de Cure in 1991 in California. I randomly signed up because I had done an ADA walk fundraiser in Santa Cruz and they advertised the first Tour de Cure and I liked biking even way back then, despite knowing nothing about it.
Camp Needlepoint
I had attended and worked at a diabetes camp in Wisconsin, Camp Needlepoint (clever name don't you agree!) and then in California, both sponsored by the American Diabetes Association. The ADA had helped me quite a bit when I was diagnosed with type 1 when I was 16 years old. As a result, I wanted to raise money for them. I still feel it's worth the energy and effort to raise money for the non-profit. Over the past few years, they've done quite a bit to lobby for affordable insulin and they worked very hard to get people with diabetes access to the COVID-19 vaccination as soon as they became available.
Ride Day, June 5th
Paul created a route that he named "40 mile bike ride for having diabetes for 40 years." Since I was the rider of the 4 of us riding together that was celebrating successful living with type 1 for 40 years, he named the ride in my honor. When I saw it I laughed and immediately started crying. For joy to have such amazing people in my life. Thankfully Paul chose a route that was 85% in shade the whole route. We rode the Gateway Trail to Stillwater, MN, which has lovely beautiful trees on nearly the entire trail.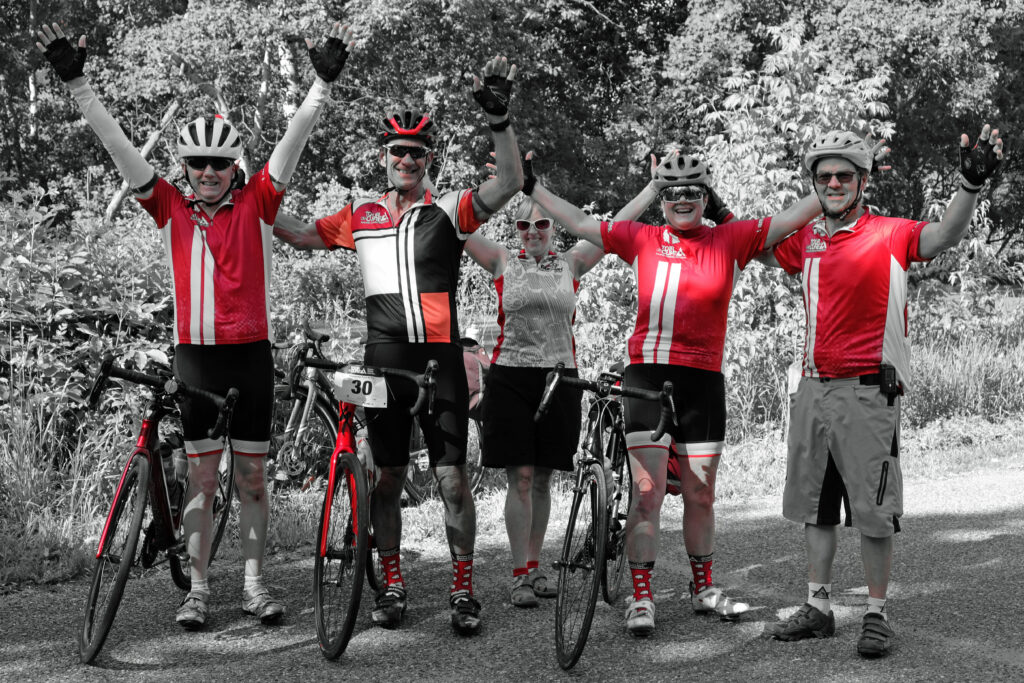 Riding with the men
I do most of my biking with my female triathlon friends, thus I rarely ride with men. I confess, I was a bit nervous when I realized I would be riding with Gunnar, Paul and Todd and no one else on June 5th. I am pleased to report that I kept up with them and I don't think they slowed down to accommodate me, at least not too much!
HOT HOT HOT
I wore a Froggs Toggs Chilly Towel around my middle for the entire ride. Additionally, I carried 4 bottles of ice water with me. I had Nuun tabs in all the bottles that didn't have Skratch Labs hydration nutrition. In other words, I was ready for the heat! Thankfully, I didn't get heat exhaustion, which I am prone to getting because I'm not very good at sweating when it's super hot. Turns out sweating is critical for helping to cool the body.
Diabetes Management on the ride
Things went very well on the ride. I ate enough food, had the right amount of insulin and felt good the entire 4 hours and 10 minutes it took us to ride those 40 hot miles!! Plus talking to Gunnar, Paul and Todd as we rode was delightful. Of note, Paul has lived with type 1 for 48 years, he was diagnosed when he was 8 years old. Gunnar was diagnosed when he was 15 years old and he's lived well with type 1 for 45 years. I was diagnosed with type 1 when I was 16 years old and am about to celebrate 40 years managing life with type 1.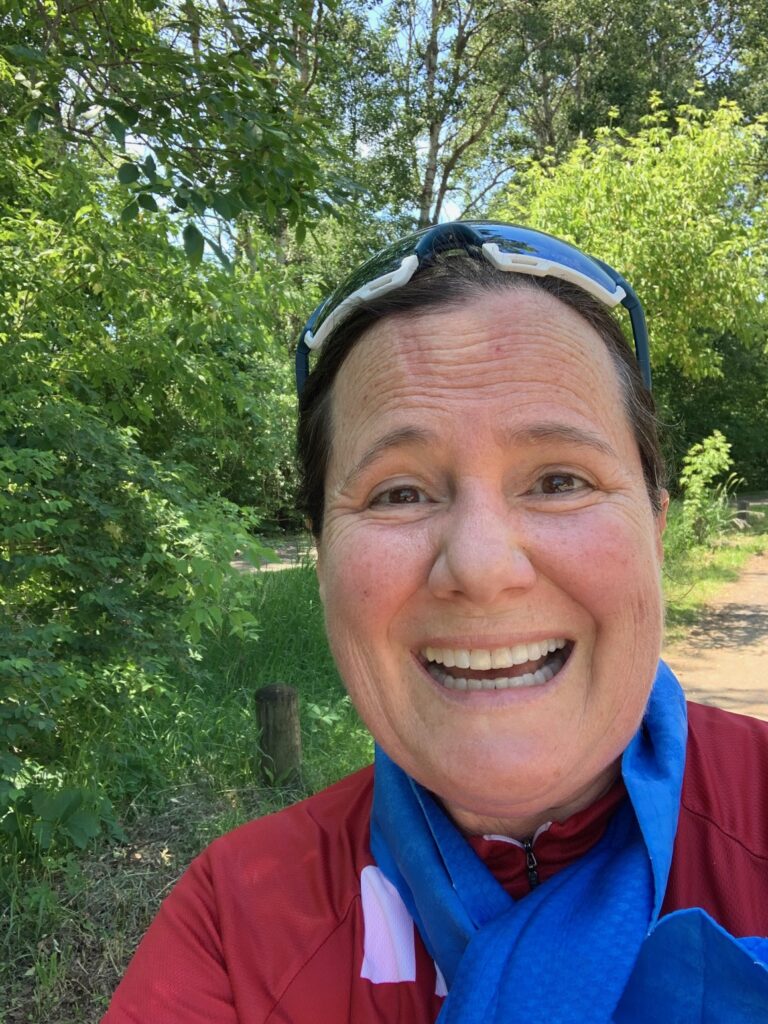 Celebration and inspiration – 133 years of type 1 diabetes
Riding with Gunnar and Paul was massively inspiring. Both of them are calm, cool and collected about their lives with type 1. They are both very healthy and super active. They give me so much hope for my type 1 future.
Huge thank you to my donors
Thirty five people made a generous, kind effort to help me celebrate my 40 years of successful living with diabetes by making a donation to my Tour de Cure campaign. It always touches my heart to see who steps up and contributes. This year, as I was pedaling up a few hills and visualizing cool air, I thought of every single person who donated.
Here are all of their names & a bit about their connection to me and to diabetes
Amy Anderson – a gifted photographer who took many of the photos on my website
Andrea Kittelson – my longtime friend who moved with me from MN to CA in 1988 who's father died of type 1 complications
Becky Mattison, MD – my endocrinologist who is AMAZING
Brenda Peick Hanson – a breast cancer survivor sister who makes vision boards every year with me
Elina Coulter – a friend from before I moved to CA who then also moved to CA and lived with me in my early Santa Cruz days
Eric Hudson – a fellow Red Rider and Facebook friend. He captains a Team Red (a team I started when we created the Red Riders
Evelyn Kountoupes – the mother of my brothers wife who has seen how challenging type 1 can be. My brother has type 1 too
Francesca Painter – who has donated to my campaigns for more than 12 years
Gale Hunter – a dog loving Facebook friend
Helen Johnson – We did early triathlons and long bike rides here in the Twin Cities together
Jay Adams – a college friend who worked at MPRIG when I was the State Board Chair and who is a gifted photographer
Jenn Ray – a Tour de Cure Colorado friend from the early Red Rider days
Jenny Thompson – the founder of my Twin Cities triathlon team Team Looking Sharp and a fellow breast cancer survivor
Jill Marks – one of my dearest friends who I often visit in LA over the winter time holidays
Jody Arthur – a dear writer friend
Karen Kingsley – my current housemate who sees the daily challenge of life with type 1 by living with me
Karin Bright – a first cousin who has a sister who has type 1
Kathy Ziegert – a type 1 friend who was on the original TeamWILD Half Ironman & Ironman team
Kevin Ward – a teacher at a school I subbed at for a few years
Lilly Ann Popken – I learned to ride long on my bike with Lilly Ann and Janet way back when I lived in Santa Cruz
Liz Stuck – my former housemate who has seen first hand the challenge of type 1 by living with me for 6 years
Marco Magarelli – a wonderful Facebook friend who reads my many posts
Marie Rickmyer – a triathlon buddy who is married to a man with type 2
Marvin Christie – who was my student at Harbor High in the early 1990's
Mary Buschette – a UMN colleague who's 18 year old son just got diagnosed with type 1
Melinda Vahradian – a diabetes Facebook friend who is an amazing artist and who lives in Santa Cruz
Monica Hynds – one of my dear tri team buddies
Rich Poser – a Red Rider I rode with in the San Diego Tour de Cure in the early Red Rider days
Rita and Alex Acker-Halbur – Alex was the director of Camp Needlepoint when I attended in 1982
Sara Nagel Newberg – my UMN boss who has a father with type 2 and her daughter dates a young man with type 1
Saralina Francisco – another student of mine from my days at Harbor High in Santa Cruz, CA
Sean McClung – a gifted teacher, now school leader who I coached a long, long time ago
Sheila Sullivan – a teacher friend who is part of my triathlon team Team Looking Sharp
Shirlene Perrin – one of my dear writing group friends who has type 2 in her family
You can still donate, should you be so inspired! Here's my page: http://main.diabetes.org/goto/mariruddy40
I'd love you to join my email list. Sign up below! Thanks! (I will never sell or give your email to anyone. )
While you're here, please leave a comment. Tell me about the Tour de Cure ride you're doing, or any charity ride you do. I really enjoy hearing from you!