The humidity of Minnesota is borderline oppressive. My body doesn't sweat very well or very easily, so I have a really difficult time regulating my body temperature when it gets as humid as it gets here in the Twin Cities.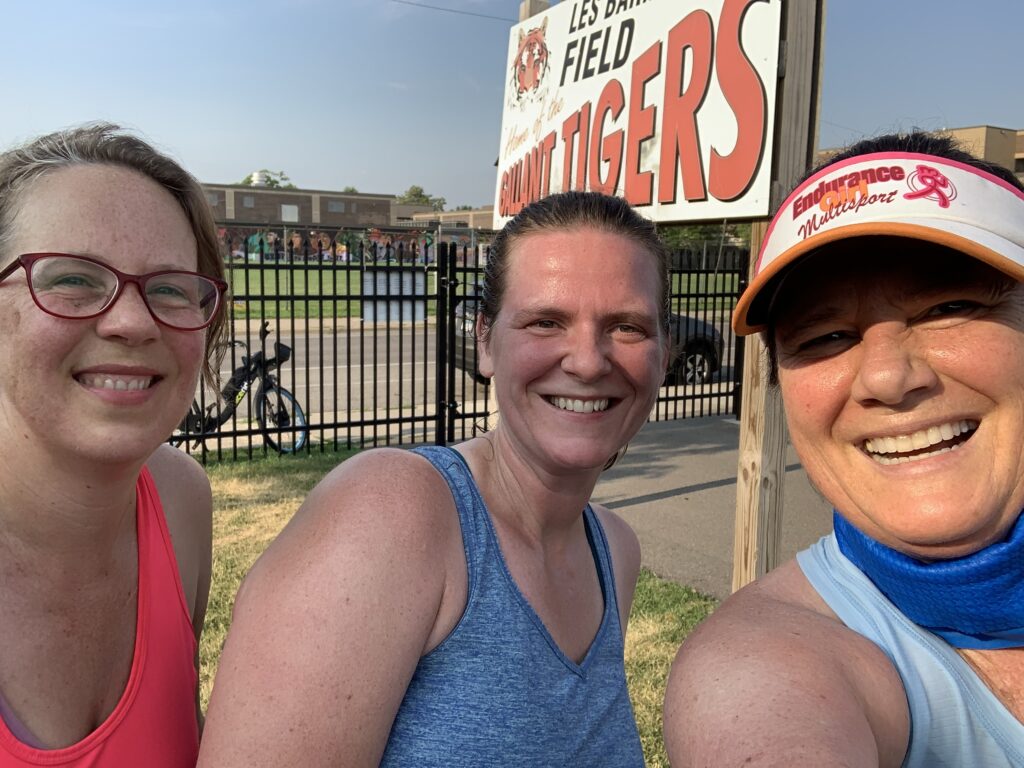 The hot humidity requires that anyone who wants to run get out there in the cooler morning or evening times to avoid the worst of it. I continue to work on loving running. The humidity and my difficulty in managing it creeps in to disrupt my love of running. Thankfully I have amazing friends who remind me to keep loving the run. I do love how strong and fit my body feels after a run.
To help me keep my run love alive and well, here are my favorite 5 Summer Run Gear Items. May you love them too! And please, tell me your favorite summer run gear items. I appreciate the back and forth conversation.
Note: I do not have an affiliate relationship with any of the below listed products. They are items I use all summer long and I like them. I like sharing what I like in the hopes that you too can benefit.
Gear Item #1: Senita shorts
As you might know, I use my iPhone as a medical device, meaning I can see my continuous glucose monitor tracing on my phone. Thus, it's essential that I keep my phone on my body and accessible. Thus pockets in my run shorts have become essential. When it's super hot, I don't love using my trusty Flipbelt, which I use the other three seasons.
I was searching for shorts that keep my thighs from rubbing together (extra awful in the summer!) I stumbled upon Senita. Turns out they love pockets as much as I do. In addition, they are into creating low cost, high quality, durable athletic gear. Count me in!
I have two pairs of their Lux High Waisted Rio Shorts 7 inches inseam and I wear them nearly every day. Not that I'm running every day, but they're fun for lounging and weightlifting too!
Gear Item #2: Target tank top
I don't love wearing tank tops, mostly because I have arm shame. Meaning I think my arms are unattractive. For the past few months I've been doing focused weight lifting and one of the end results is that I like the shape of my arms a whole lot more. Additionally, given the heat and humidity, tank tops just make sense
I was at Target recently and I discovered a wonderful workout tank top. It's their All In Motion Active Tank Top. It's flattering and I like how it feels on my body. Plus the cost is good. Do you have a favorite running tank top? Please tell me more!
Gear Item #3: Brooks run shoes and my BOCO EnduranceGirl visor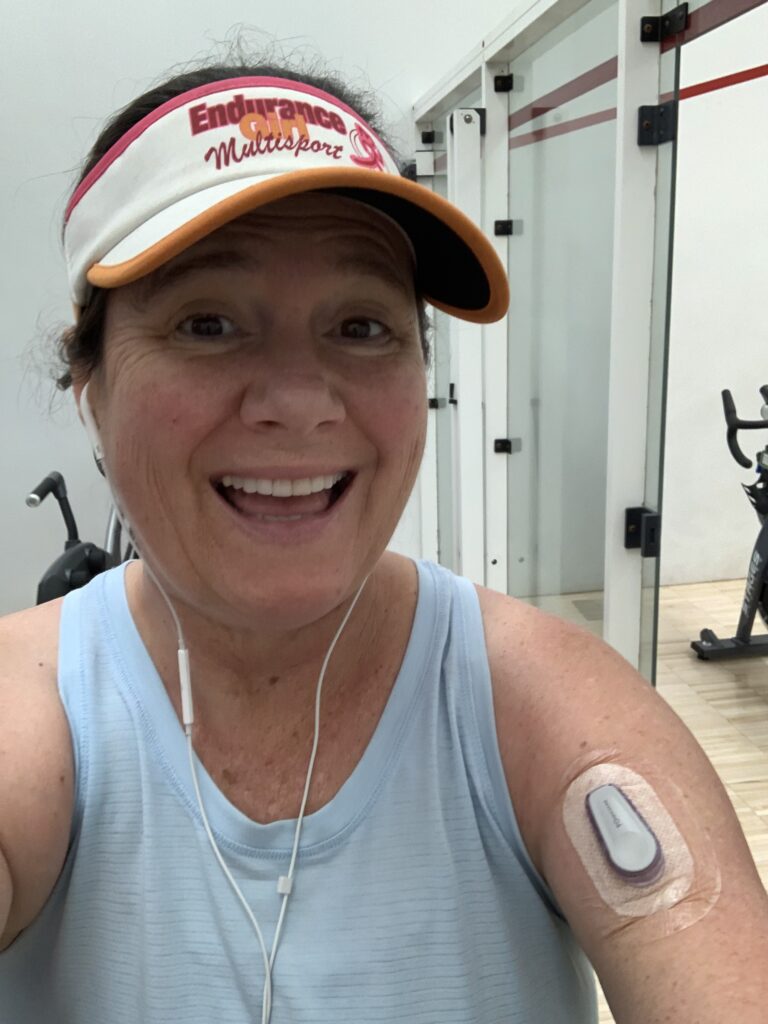 It's true, the shoes I use year round! Because of that, I added my visor to the mix, because I don't wear the visor during the winter run season.
I have been evaluated a few times on my running gait and no two ways about it, I under pronate or supinate. Meaning my run shoes wear out quite a bit on the outer edges of the heel in particular. I make a point of getting new run shoes as soon as I notice the edges wearing out. My new Garmin watch has a feature that allows me to track how many miles I've run in each pair of shoes. Pretty cool feature! I also make sure I stretch before and after most of my runs as that helps keep my calves, hamstrings and quads in good shape. Injury prevention is top of mind in my world.
I found Brooks Adrenaline run shoes more than 10 years ago and I've stuck with them ever since. Turns out the fact that I find them comfortable is what matters most these days when seeking run shoes that keep one injury free.
Since it's 2021, the current shoes I'm wearing are the Brooks Adrenaline 21s. What shoes do you wear? I love comparing shoe stories!!
Then there's my trusty visor. It's a BOCO visor and I LOVE IT! I wear it every single day all summer long. In the morning I put it on because it keeps the forehead hairs off my face (better than a headband) and it shades my eyes from the rising sun. Yup, I'm up early walking Sam every day.
I like the visor because it lets my head vent and the elastic band fits perfectly around my head. Not too tight and not too loose. Goldilocks perfect. My friend Carla Thompson created Endurance Girl Multisport in Colorado and I love representing this wonderful group, even here in Minnesota.
Gear Item #4: Feetures run socks
In the hot summer months, I like the Feetures Elite Ultra Light No Show Tab socks. I like that they are super lightweight and they never, ever slip down into my run shoes. I discovered these socks on sale at REI and I've been wearing them for a few months now and they are some of the best warm weather socks I've ever had.
And I confess, I am a bit sock obsessed. Yes, I own a lot of socks, so I've tried a lot of pairs to find Feetures. Let me know what you think!!
Gear Item #5: Frogg Togg Chilly Pad
My last item is my trusty Frogg Togg Chilly Pad that I wrap around my neck or core on super duper hot days. I bought a regular one and then I cut it in half so I can easily use it around my neck or waist. The beauty of the chill pad is that all you need to do is wet it in water and it stays cool against your skin. I've had my chilly pad for more than 12 years and it's holding up beautifully. An excellent investment.
There's newish (okay, 2012 isn't that new!) research out from Stanford about how best to cool the body and apparently one good strategy is to cool the palms of the hands and the soles of the feet. Here's a great article about it. I'm doing some research about how I could cool my palms as I'm running. I will keep you posted as I learn more.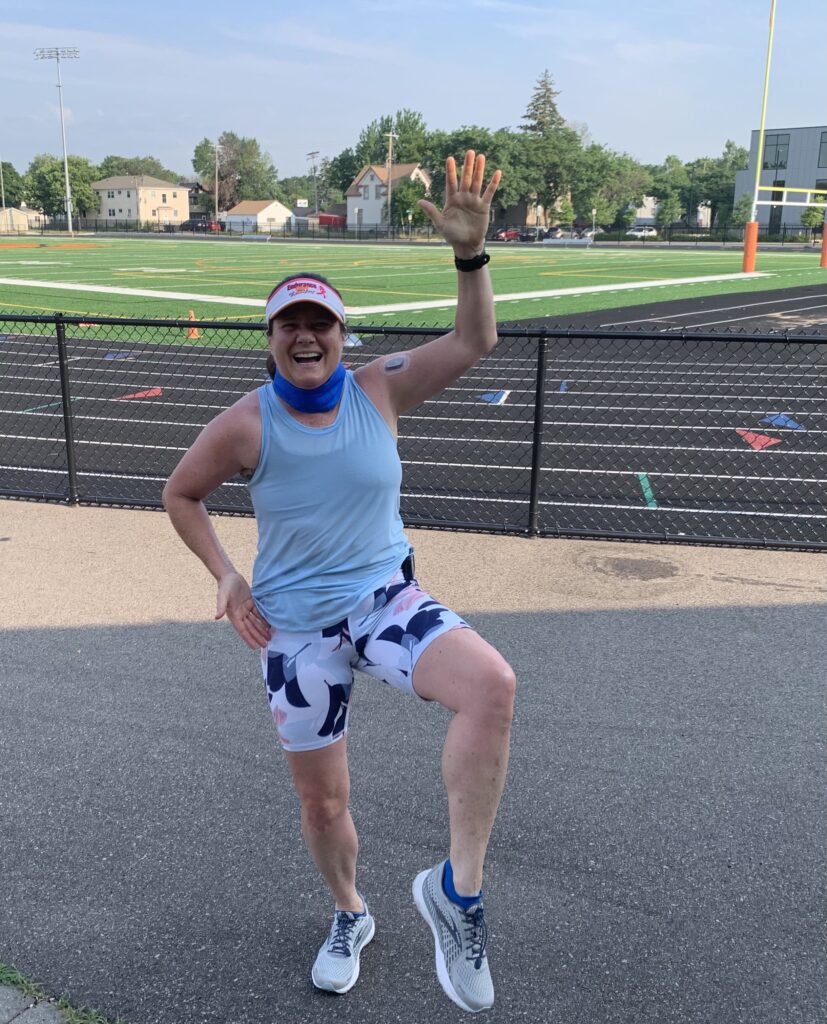 Let me know your favorite summer run gear items. Please tell me in the comments.
I appreciate hearing from you.
And while you're here, if you're not yet on my email list, please sign up! Thanks for reading!!