Two years ago, I did the Monster Dash 10K race with my friend Shirlene. I wrote about it here. I mentioned that I was proud that I completed the route in 80 minutes. I had good blood sugars and a solid race day strategy. My recollection of the run was that I was pretty wiped out afterward.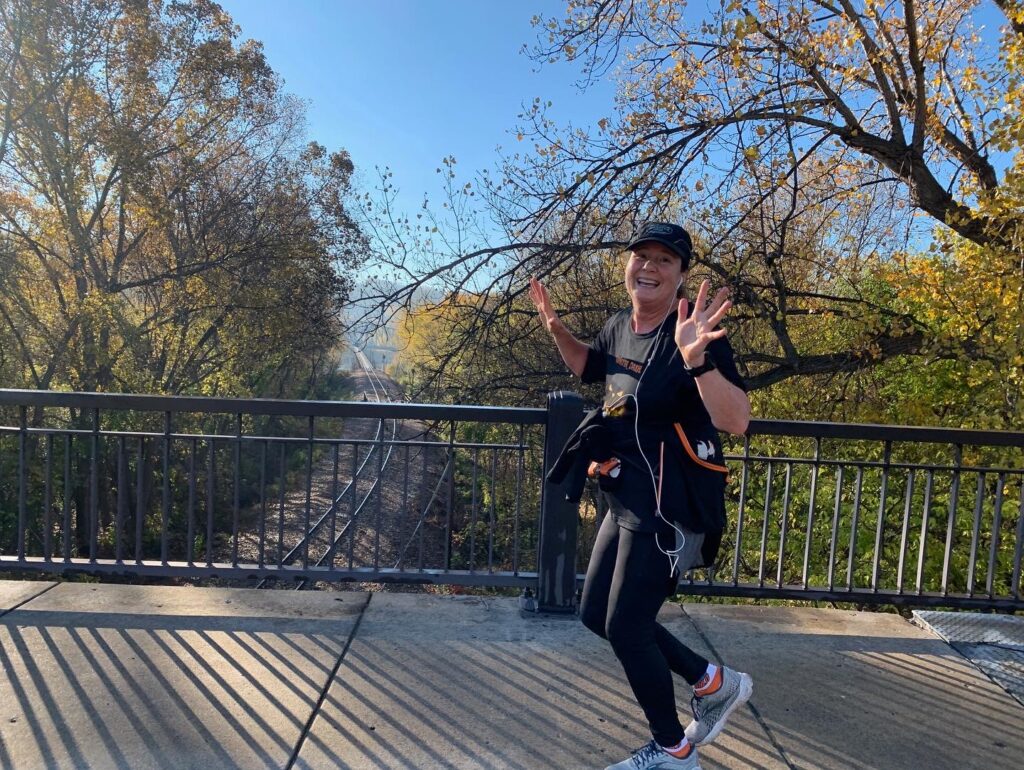 About a month ago, as I was making my Winter Wellness Plan, I decided to sign up again for the Monster Dash 10K. My goal being to see if I could run faster than I did in 2019. My average pace in 2019 was about 13 minutes per mile.
Given that I've been lifting weights very consistently for 5 months now and attending running interval workouts every Thursday morning for six months AND this would be my 3rd 10K in October, I figured I had a good chance to improve my time.
I did!!
It took me 1 hour and 12 minutes. That's 8 minutes faster on the same route as 2019. The bonus was that as I crossed the finish line, I felt fantastic. In fact, I felt like I could have gone another 3 or 4 miles. I'm glad I didn't, but to feel that good upon finishing is a major running success in my world. My average pace was 11:50 per mile. That's a minute 10 seconds faster than what I did two years ago.
My running, fitness, wellness friends Jenny and Nadine came to run a bit with me and to be there at the finish line to celebrate!! Plus as I was running, Monica and Marie plus Jenny and Nadine, texted me encouraging words. Despite doing the run alone, I felt my crew right there with me. Turns out having a supportive group makes it so much easier to keep moving forward.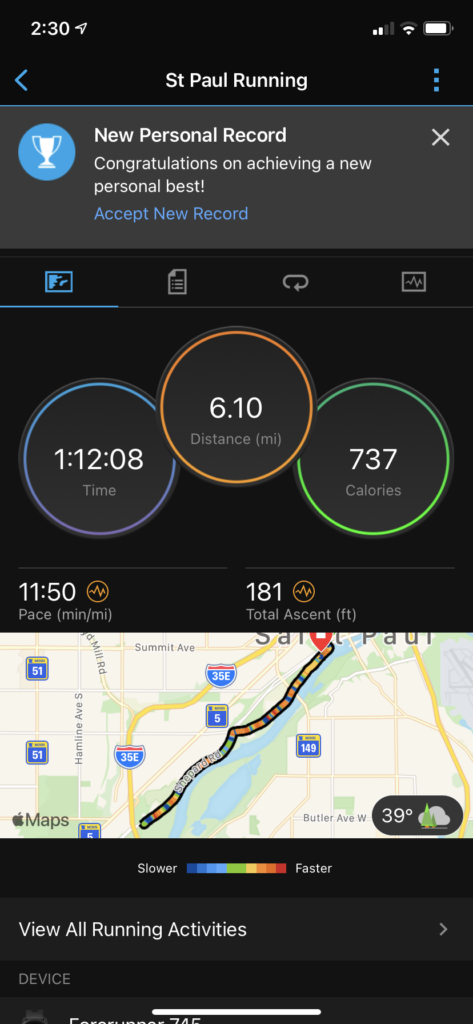 Race Plan
Like in 2019, I woke up at 6am and took a full bolus of insulin for my 30 grams of carbs chia pudding with berries breakfast. This was 3 hours before race start, so that I would essentially have no insulin on board as I started the race.
I took Sam for a walk and got in my car and went to the last Farmers Market of the 2021 season. This week will be my last week of salad jars for lunch until next May. I love the Midtown Farmers Market and I make an effort to go every Saturday during the season they are open. Fresh locally grown veggies make eating lots and lots of vegetables every day super easy to do.
As I got back in my car to drive to the Upper Landing Park in Saint Paul, to the race start, I noticed my blood sugar was going down. Not ideal. I had turned my Tandem t:slim X2 insulin pump on to the Activity setting in preparation for the race. I ate a few Skratch Labs energy chews to ward off low blood sugar.
Overdoing the glucose
Apparently I overdid it. My blood sugar was over 308 mg/dl by the time I got to the race start. Not ideal AT ALL. I've learned over the 40 years of type 1 diabetes to not panic in moments like these.
Instead, I took a mini bolus and drank some extra water. I knew my pump would help me and I knew my blood sugar would come down as soon as I started running.
Sure enough, by 9:15am, 15 minutes into the race, my blood sugar was 168 mg/dl. And my blood sugar was on it's way down, down, down.
At this point I ate a UCAN edge fuel to go 15 gram packet and started eating Smarties. In total, I ate 3 Smarties for 18 grams of quick dextrose. For the majority of the remainder of my run, my blood sugar was near perfect between 103 and 146 mg/dl.
Here's the tracing from my Dexcom G6 continuous glucose monitor. You can see how my blood sugar went up, up, up and then down, down, down. I had checked to make sure my infusion set was still attached to my body, it was. I was wearing a second infusion set, just in case, which can happen during a major athletic event. I knew that I needed to trust my body and my self awareness.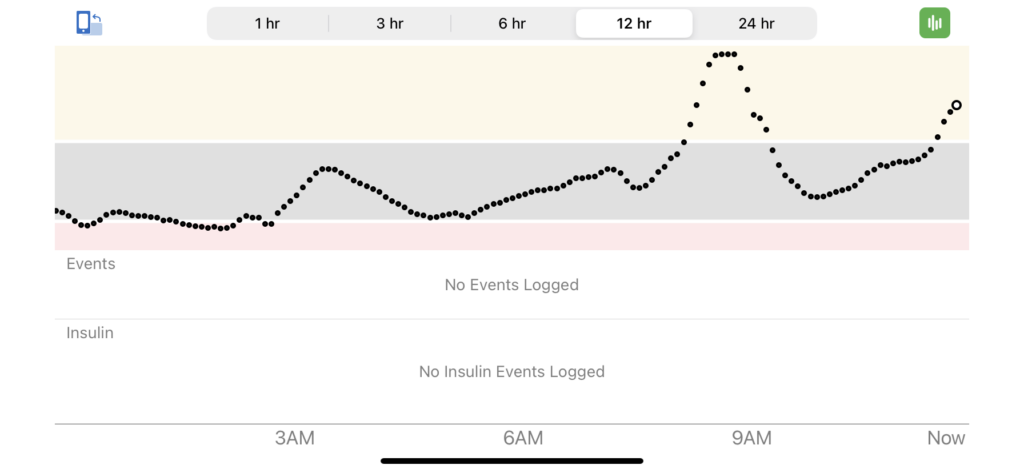 How did I go faster
It boils down to the hard work of running intervals every week, the consistent weigh lifting and perhaps most of all, it was the self-talk I did. I was running mostly by myself and instead of freaking out about my blood sugar situation, I stayed calm and focused on what I could control and my objective. While I was running, I only checked my Garmin watch every once in a while, not every second to see how fast I was running. I kept my mantras going: "I am fast. I am strong. This is fun. Notice how beautiful it is out here along the river. Smile and enjoy." Turns out what goes on between our ears matters as much as anything in athletics.
Thankfully, my self-awareness and trust paid off. Having Jenny and Nadine there at the end of the race was beautiful. Belonging to a community of athletes makes all the difference. Do you have a community? I sure hope so! You are worth it!!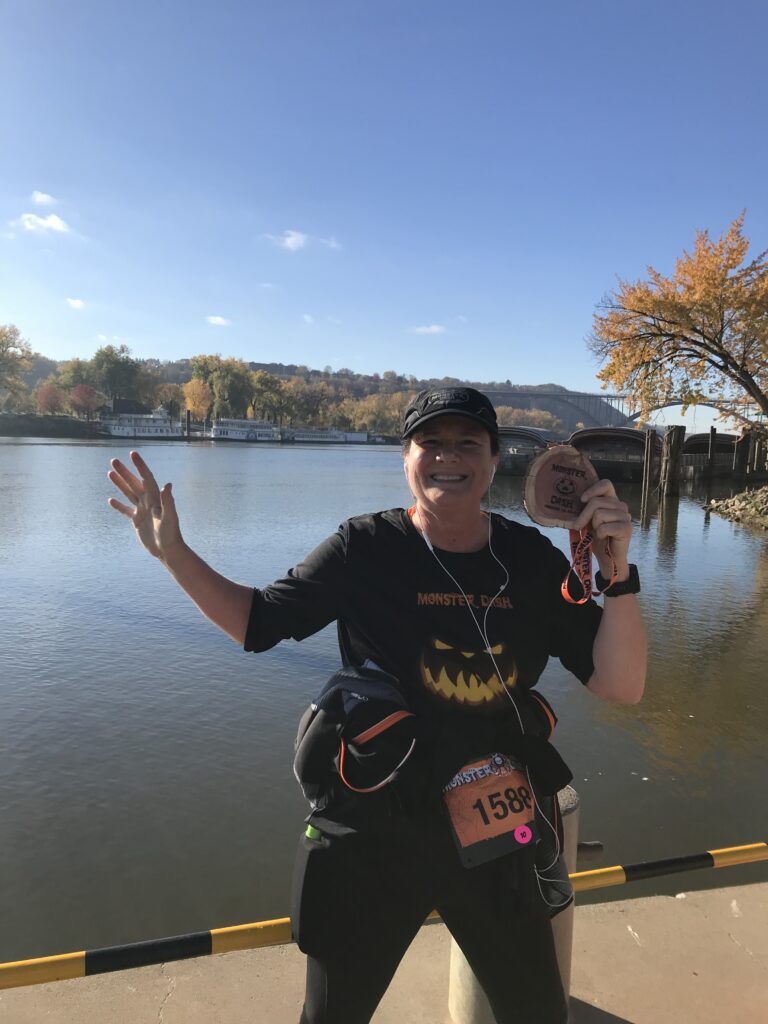 Thanks for reading and for being a part of this community. I appreciate you being here!
And for sure, tell me about your autumn athletic adventures. I love hearing from you!!
Are you on my email list yet? If not, please sign up right here. I won't share your email with anyone.