I've been in Siesta Key, Florida this past week. As you know, I live in cold, gray, wintery in November Minnesota and like you I've been on lock-down due to the pandemic for almost two years. One of my dear athletic friends Jenny figured out a few years ago that one of the best ways for her to survive the Minnesota winter was to take a working vacation to a sunny, warm climate in November.
Siesta Key, Florida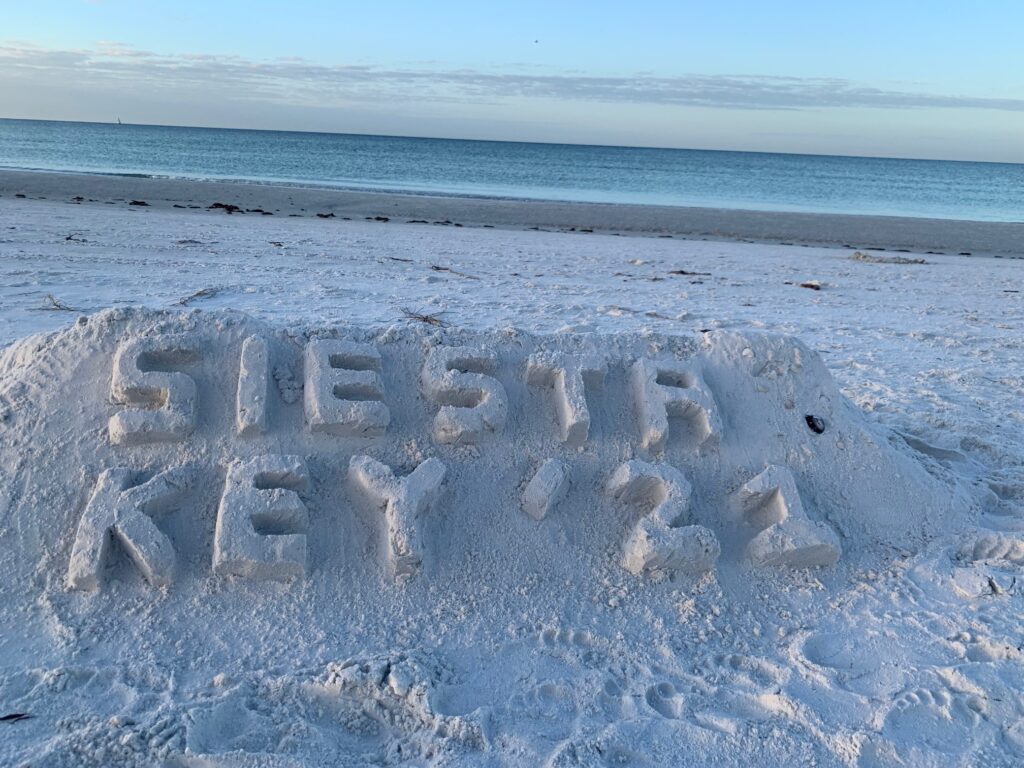 Last April, she reached out to a few of us to see if we'd like to join her this year. I waved my hand high in the air and jumped up and down and yelled, "YES YES YES!!!" We agreed to cook nearly all of our meals in the Dolphin cottage, thus not eating out. In April, all of us were COVID-19 vaccinated and we agreed we'd all take a covid test before we traveled. Thus keeping ourselves and each other as covid-free as possible.
Sunrise & Sunset Walking Everyday
Jenny is here for ten days. Marie was here for 6 days. Nadine is here for 4 days and I am here for 7 days. We get up before sunrise and get out to the beach to walk as the sun rises. In the evening, we get out to the ocean's edge in time to watch the sunset and walk again. We are averaging more than 6 miles of walking every day. The beach is hard packed white sand, so it's easy to walk on. Plus it's level, which for a beach is a bit unusual. Again, making it ideal for walking and running.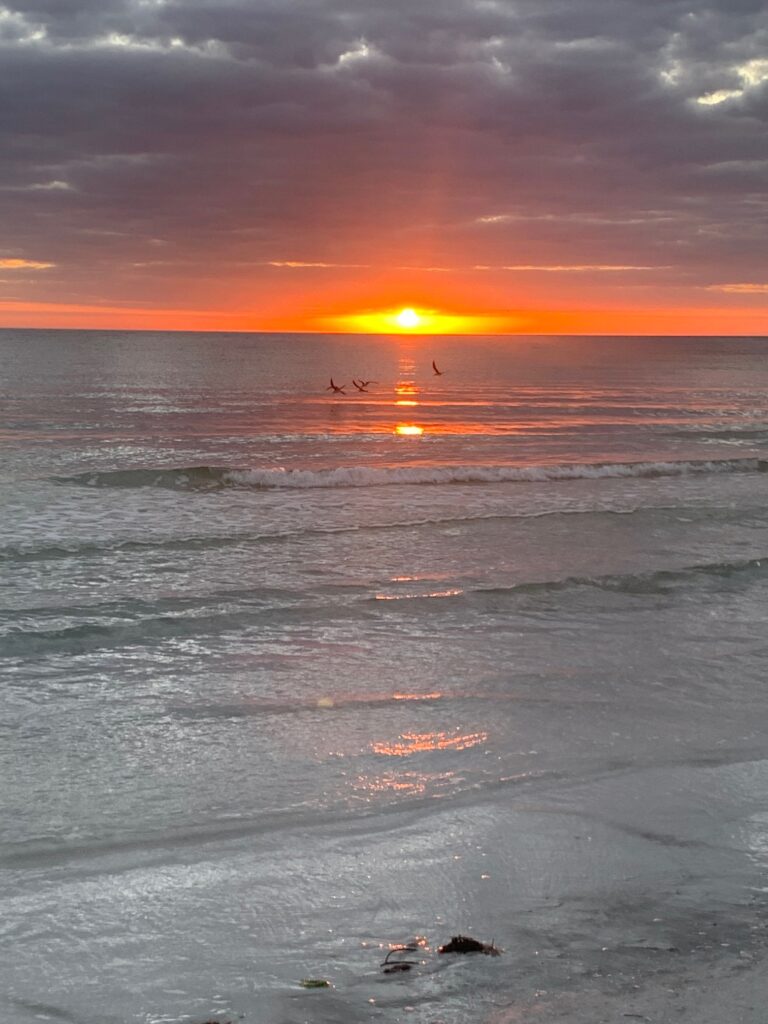 Work Fun
During the day we do the various work each of us has to do. In my case that includes writing, annual goal reflection, Money Mentor project work and a few other fun relaxing things. One key thing I am NOT doing is no University of Minnesota work and no Great River School work. For extra fun, we also use the beach bikes and spend time in the ocean and in the lovely little heated pool. Plus, to keep to our commitment to eat healthy, we rotate cooking tasty home cooked options. Because we rotate, it's super easy and fun. Turns out living with friends is relaxing and very enjoyable. Jenny reminds me co-housing really is a good option.
Time In Range Success
Speaking of relaxing, my Time-In-Range, often referred to as TIR in the diabetes world, which means the amount of time that my blood sugar is between 70 mg/dl and 180 mg/dl, is hovering well into the 90% range. Most days and weeks, I aim for 70 – 80% time-in-range. Another side effect of being super relaxed and super low on stress and anxiety is more time-in-range!
Today is my 56 and a half Birthday!
As you know from reading this blog for years, I am a huge fan of half birthdays! Today, November 12th, is my 56 and a half birthday! To celebrate, I am going to have a glass of red wine tonight and this morning I did a 4 mile sunrise walk AND we saw some bottle nose dolphins swim on by. Nadine did an ocean open water swim. If I come back next year, I want to do a swim with the group! I will be ready next year!! Other fun outdoor activities will happen too. Of course we will eat tasty, healthy food all day. Plus we will likely go biking and more sunset walking!! Gotta have fun on half birthdays!
Thanks for being along for the ride today! Tell me about your favorite beach adventure. I love hearing from you. Your comments mean the world.
I sure appreciate it. Here are some fun photos of our Siesta Key adventure!