A few days ago I saw a post on Instagram asking what our favorite diabetes focused blogs were these days. A bunch of people replied saying their favorite diabetes blogs no longer exist. Maybe people are tired of blogging about the endless ins and outs of living life with diabetes.
As you know, I've been living with type 1 diabetes for 40 years. I currently wear a Tandem t:slim X2 insulin pump with Control IQ technology that pairs with a Dexcom G6 continuous glucose monitor. That said, this short advert by another pump company, Medtronic (I wore one of their pumps for more than 18 years), really explains what it's like to live with type 1. It's ever present, as the balloon illustrates.
I've been blogging since October 4, 2013. A good long time. I started blogging almost weekly in 2018. That means, I just checked that as of this blog, I've published 288 blog posts on this website. Wow, that's a lot of blog posts!! That said, I don't consider my blog about diabetes. Or about cancer.
It could be about either one, considering that I've survived two harrowing encounters with breast cancer and, as I said earlier, 40 long years with diabetes. I suppose I could figure out content to have this blog be about either one or about both. The thing is, I don't identify FIRST as a person who lives with diabetes or as a person who has survived cancer. Nope.
Identity is an interesting concept.
Do you ever ask yourself who you are? Do you ever think about your identity?
Turns out, since I'm a fairly reflective person who happens to teach college students how to be reflective professionals, I am a reflective person who has thought quite a bit about my identity.
I've got a lot of advantages.
I'm white. I'm essentially middle class. I'm heterosexual. I have a college education, and beyond. I was raised Christian. I am able bodied. I'm also not married, never have been. I don't have any children and never wanted to have children. With those last two, I'm out of the norm for people similar to me.
And still, all that doesn't add up to my identity. I do happen to believe that our life experiences help us figure out who we are.
The life experience that speaks most deeply to who I am and how I identify who I am is

ATHLETE.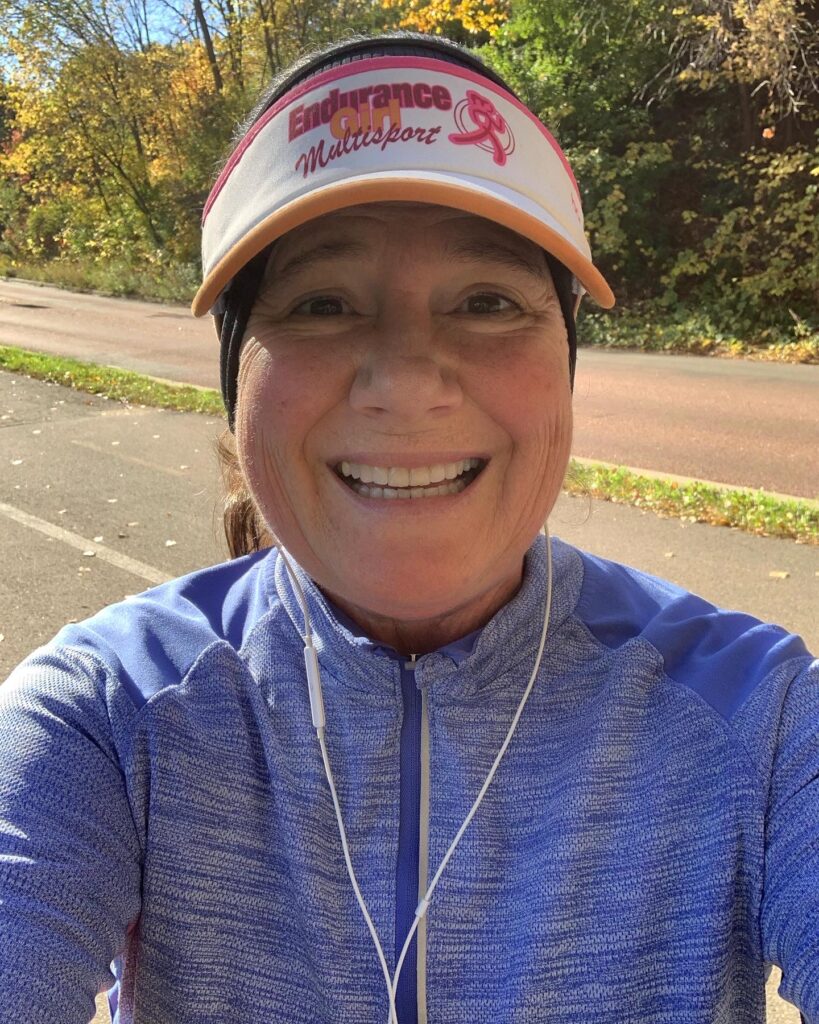 I claimed that identity in 2004, when I biked in the Bicycle Tour of Colorado, a 400 mile bike ride in 6 days all around the mountains of Colorado. I trained for that ride for almost a year. I accomplished it by riding all the miles of the route with practically perfect blood sugars. It was an accomplishment that changed my identity and my life.
Upon reflection, this blog is about that identity. The identity of being an athlete who is middle aged, who lives with the challenge of type 1 diabetes, weight challenges, who survived breast cancer twice, who has a mental health diagnosis of PTSD and anxiety, who is estranged from most of her family, has an amazing circle of friends, who is single and still believes in love. Oh yeah, and who eats super healthy!!
I greatly appreciate that you are along for the ride with me! After all, this isn't a journal. Having readers who write comments and tell me about themselves makes all the difference!! Thanks!

P.S. I am still working on that book I've been writing for a while! Thanks for believing in me.
Are you on my email list yet? If not, please join today. I won't share your info with anyone. You've got my word on that.