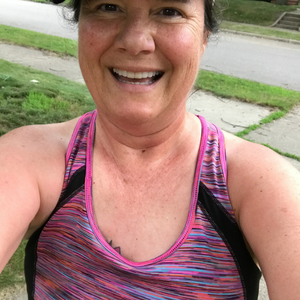 Eight years ago this month, I found out I had breast cancer for a second time. In August of 2010, I had the cancer infested breast cut off. I tend to be a minimalist, so I only had the one breast removed. I don't have any genes that say I'm at genetic risk for breast cancer, and I don't have a family history of breast cancer. A double mastectomy didn't call out to me.
Since the cancer came back as a new cancer in the same breast that had been radiated in 2005 when I did treatments for that first bout of cancer, rebuilding the breast with the thin skin of the radiated breast was going to be super difficult. I opted for no reconstruction.
Picture it: one normal breast on the left side of my chest and total flat chest on the right side.
On the days that I don't wear a prosthetic plastic breast plopped into an expensive bra that has pockets for prosthetic breasts, my chest is uneven. It's easy to write that, it is not easy to live it. For the past eight years, I have struggled MANY, many, many days with the unevenness of my chest. I already wear a continuous glucose monitor device on my body, plus an insulin pump, both of which cause people to notice and wonder. On days when I additionally have an uneven chest, I often feel WEIRD and ODD. Not that weird and odd are bad, just uncomfortable.
I don't tend to have body shame, but now and again, especially during triathlon season, season of VERY TIGHT athletic outfits, I feel shame about having a body that isn't "normal."
Intentionally I order cycling jerseys on the big side so that they are baggy on top, so that my uneven chest isn't so obvious. This is because when I exercise, wearing that plastic breast is just plain old awful. It bounces weird and it gets crazy hot. I opt out of wearing that plastic breast, so as an amateur endurance athlete, I am uneven on top. Luckily I am not a large breasted woman, so my unevenness doesn't call out too loudly.
Right now we are deep into triathlon season, and I am swimming, biking and running with tight clothing. My uneven chest is on full display. So here I am for the first time, writing about it. I know that things become easier when instead of hiding from them, we announce them and process about them and as a result, normalize them.
That is happening about diabetes devices. Theresa May, the British Prime Minister, wears her continuous glucose monitor on full view on her arm. And recently there was a new ad put out by American Eagle/Aerie highlighting lots of different bodied models, including one who was wearing an insulin pump and a continuous glucose monitor.
Maybe one day one-breastedness will become as normal as being one legged or one armed. In any case, slowly and surely I am getting more confident about my one breasted chest. If you ever see me in tight athletic clothing, it's a-okay with me if you mention that you notice. Collectively we make it not weird and not odd.
With love always,
Mari, the one breasted endurance athlete who has successfully survived breast cancer twice and who has so far lived with type 1 diabetes for 37 years
If you're not yet on my email list, please consider signing up. I will keep your name and email private.


In case you're curious what the left side of my chest looks like these days, here it is….