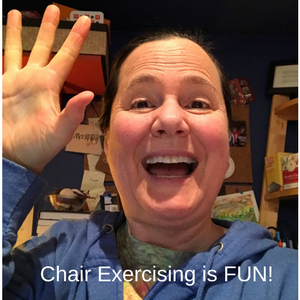 Hello everyone! So, I have had some very bad luck this week. On Monday 4/2, I got home from work and it was snowing. I changed into my run clothing and went outside to test the sidewalks. Thankfully, they were not slippery. So I turned on my Couch to 5K run app on my phone and I set out.
15 minutes into the run, my left toe hit an uneven sidewalk HARD, causing me to trip and fall. On my way down, I heard a crack. (NOT a fun sound to hear!) I stayed down in the snow and I swore at the top of my lungs for a solid 30 seconds, which is a long time and a lot of swear words can be said!!!
Thankfully, a woman driving by saw me fall and she pulled over and asked if I'd like a ride home. I said yes. She helped me hobble to her car. As soon as I got home, I called my public health, movement advocate, Lean In bridge-builder friend Linda who came and picked me up and drove me to Twin Cities Orthopedic. It felt like a HORRIBLE repeat of my broken ankle adventure from May 2016. Thankfully, I had a pair of crutches handy this go around.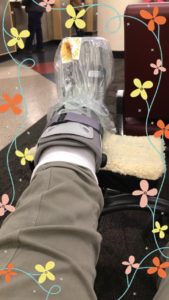 Sure enough, the x-rays confirmed that I had broken my left ankle again. Different spot than in 2016. However, this time I ALSO had a non-displaced left 5th metatarsal jones fracture. Meaning I broke my foot in addition to my distal fibula. DANG.
Linda, being amazing and a health advocate, asked Dr. Paul Dworak, SAME DOCTOR I saw in 2016!!, if the break had anything to do with me having diabetes. He said, "No way, just bad luck." That was strangely reassuring. I do wonder if my bones are getting weaker, as they do as we age and after having chemo.
When I got home, I finally cried. My life dramatically changed in a matter of seconds. Reading this post about 7 Truths about Healing by Heather the Yoga Nerd, got me in touch with my emotions.#1: Learn to love yourself – every little bit. Even my broken bones deserve love. That brought more tears. Thank you Heather for the reminder.
No longer can I do the mini-triathlon I was going to do this coming Sunday at the YWCA. It will be weeks or months before I can run again. Cycling is out for now, which means I may not be able to do any distance at the Tour de Cure Twin Cities on June 2nd. And, swimming is out of the picture for a while too. WHAT'S LEFT?
I remembered from two years ago: CHAIR EXERCISES! And weight lifting. Yesterday, I found Paul Eugene again. Here's the session I did immediately!
I invite YOU to give it a try!! I did work up a little sweat and I found myself smiling ear to ear!
I go see the ankle/foot orthopedic doctor on April 13th. I will let you know more when I know more! In the meantime, keep moving!! Chair exercising is fun and you do get a workout! Paul Eugene is amazing!
With love,
Mari
P.S. The day after I broke my ankle and foot, the YWCA posted a little interview they did with me on their blog. In it, I mentioned when I broke my ankle two years ago!! Interesting how timing works out!