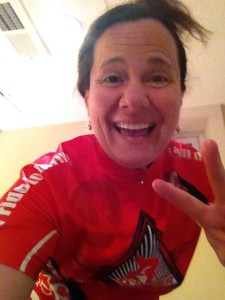 I'm riding my bike trainer as I write this. It's an overload week in my 100 mile bike ride training plan and that means that I'm to ride 12 hours. And do two rides longer than 3 hours. So here I am on my trainer in my basement because it's still cold and it's still raining and I'm a little bit of a wimp. I've been thinking about how I stay motivated. And I can't help but think about my friend Chris Klebl. He was paralyzed from the waist down when he was 23. He jumped off a 35 foot cliff in Colorado while he and some friends were out snowboarding. His two friends went off before he did, and they made it. He followed behind them and mid jump, it flashed to him that things weren't going as expected. And he crashed down and he knew immediately something was wrong. He woke up at Craig Hospital where he stayed for many months to learn how to use a wheel chair and how to be a non-walking person.
I met Chris at a meditation and breath work conference put on by Jack Kornfield and Stan Grof in Joshua Tree, California several years after Chris lost his ability to walk. We became good friends and we fell in love and he moved to California so we could live together.
Shortly after he got to California, Chris decided he wanted to get a hand cycle. He got his parents to help him get one and as soon as it arrived, he convinced me to go out riding with him. He wanted someone to draft behind, and he picked me. I only owned an old green hybrid bike and Chris convinced me that I needed to ride that bike at least 100 times before I got a new bike. So we would go out for rides and at first I had a really tough time with my diabetes management.
I didn't know anything about sports nutrition, or about how to adjust my insulin pump for longer rides. And I had no idea how to actually train for a long event. I just went out and tried to figure it out. It was quite a bit of trial by fire. The thing is, I was with Chris and he has an uncanny ability to focus on what he has control of. Not on what he doesn't have control of. And he asked me questions that caused me to think in a different way about what was happening. He would ask me when I got a blood sugar result:
Why is this happening?
What can you do right now?
What can you learn?
He made me really think things through. And he encouraged me to find medical people who would support my efforts. He also encouraged me to find a cycling coach to help me learn about cycling and training. That's when I found endocrinologist Matt Corcoran, MD and Olympic cyclist Nicole Freedman. Dr. Matt still runs Diabetes Training Camp for athletes who take injected insulin. Nicole has coached hundreds of athletes with diabetes, which she started doing after she met me.
And here's the thing, Chris switched sports from hand cycling to cross country sit skiing. He also moved to Canada and became a Canadian citizen. He trained long and hard for 11 years, and then in March 2014, Chris won a Gold Medal at the Sochi, Russia  Winter Paralympics. He won gold in the 10K sit ski event!!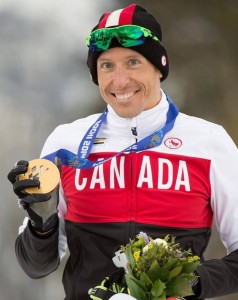 This reminds me that hanging in there IS WORTH IT!! We just never know when we will get our gold medal!!
Thanks for reading my thoughts as I ride this trainer! Please sign up for my newsletter! I am working on a free e-book about how to write a Race Plan!! Those on my list will get first access to it!!