As I write this, on Friday, December 23, 2022, the temperature here in Minneapolis, Minnesota is -10 degrees Fahrenheit with a wind chill of -35 degrees. That's COLD. In fact the weather app on my phone says it's possible to get frostbite in as little as 10 minutes out in this weather. Plus today we have a wind advisory, meaning the wind could get as high as 50 mph, causing the snow that fell a few days ago to blow around and create nearly impossible visibility.
Stay indoors
In other words, today is a very good day to stay in the house, which I plan to do. It's quite the contrast from being in Siesta Key, Florida which is where I was last weekend for four days. Thankfully, I did my December, 10-mile run while on the beautiful, flat, white sand beach of Siesta Key at sunrise last week. No need to make that run happen this weekend.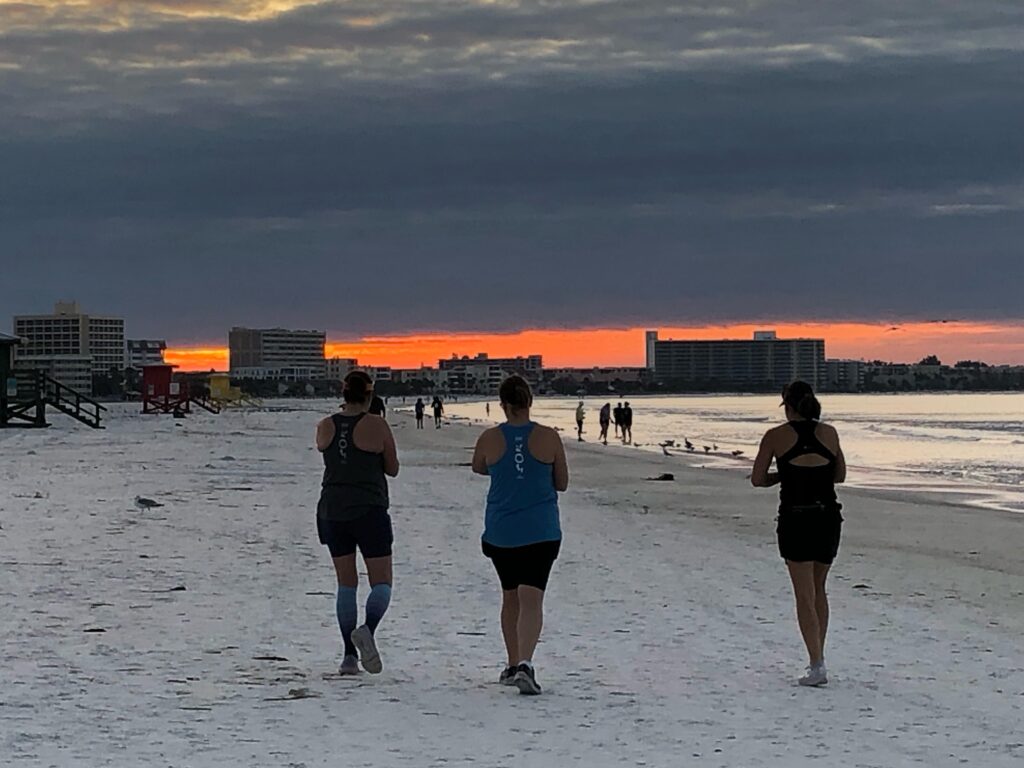 10-mile run every month
My dear friend Jenny and I decided we would keep up our winter running fitness by doing at least one 10-mile run every month from November through February, when the Run Minnesota Spring Training Season launches. We are running three days a week all winter long.
Tuesday evening outdoor run in the dark
I do a Tuesday evening run with a group of women I met through Run Minnesota. We do hill repeats nearly every Tuesday. I am profoundly grateful for these women who meet every Tuesday in the dark, the sun sets at 4:30pm nearly all winter and we meet at 4:45pm, to run hills. Thankfully we laugh, tell the stories of our days, and encourage each other to show up and keep working on our fitness. We wear reflective vests and carry running flashlights. Plus we are at minimum two, and often five of us, running together. Safety in numbers is real.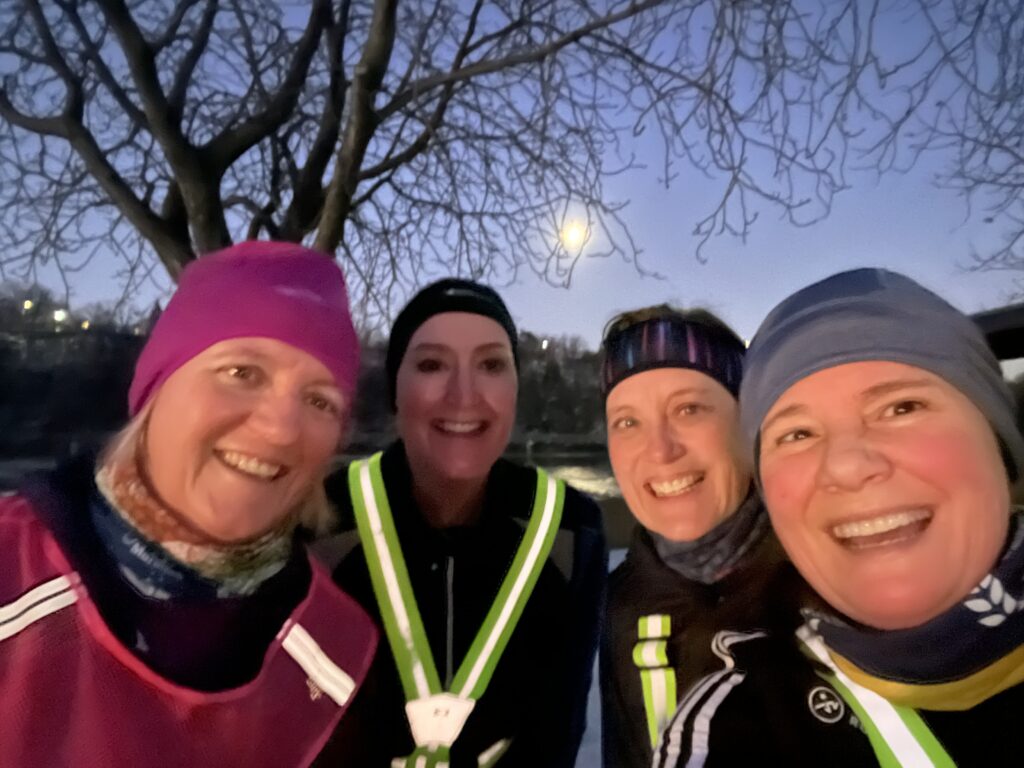 Goals met
As you might recall, I had three main goals for 2022: writing, running and finances. I am very pleased to report that I not only finished my book, Extreme Healing, I got 9 beta readers to give me feedback on it, held a very successful Kickstarter campaign, (THANK YOU EVERYONE!!) I additionally, after much searching and analyzing, signed a publishing contract with Mandala Tree Press Publishing. More on that next week!
Success!
The Running goal was a massive success. I joined Run Minnesota in February 2020, just a month before the pandemic hit and everything shut down. I felt welcomed at that initial joining, but it didn't seem like anyone ran at my pace. Not much of an effort was made by anyone in charge, to make sure I was "included" and aware of those who ran at my pace. Quick reminder, my pace is SLOW. I'm a 12-minute miler most days.
Pandemic group runs ended, start our own
Then, due to the pandemic, all Run Minnesota group runs ended. As did my involvement with Run Minnesota. As the pandemic continued, my group of friends and I wanted and needed safe ways to gather and socialize, and we figured social distancing outside while exercising was the best way to make that happen. Thus was born our dedication to year round outdoor running, even in the cold!
Re-join Run Minnesota
Last year, Jenny convinced me to rejoin Run Minnesota. We had run all winter with the Polar Bears, a program of Run Minnesota, so it was easy to make the leap this time. Our YWCA Run Intervals Coach Laurie, had nominated Jenny and I to be Team Leads for the 12 minute mile group of Run Minnesota. We went for it.
Welcoming environment
Quickly, with fellow Team Lead, Katie, Jenny and I figured out how to make sure to talk to every runner in our pace group every time. Taking care to learn a bit about the goals and hopes of each runner. Listening with care and intention as the runner told us about themselves, and what they hoped would happen for them during the run training season. I knew from my earlier involvement that belonging happens best when someone takes time to hold space and calmly listen with care and interest. All the while running alongside the person. Week after week, all three of us did this.
Katie, Jenny and I worked to make sure everyone felt welcomed and experienced at least a bit of belonging. We even did our best to document with photos the group each Tuesday and Saturday group run days. This helped create lots of laughter and joy.
Continue the fun
I had such a good time being a Team Lead, I signed up to volunteer for the Run Minnesota Fall Training Season. Jenny couldn't continue due to her summer traveling schedule plus starting a new job. That left the 12 minute miler group to me and Katie. We stayed focused on welcoming and belonging. More laughter and fun was had by all!
My races
I successfully did all five of my A races, which ended up being three half marathons and two 10-mile races. I even got faster than expected at a few of the races. One thing I realized is that I need and want to do a better job of keeping track of my times at all the races I sign up for. In running, it's just SO FUN to sign up year after year and see what happens each time.
My brain has a hard time remembering what I did a week ago, much less a year or two ago, so a memory strategy is to have a spreadsheet on Google Drive with all my races. Nothing like a good spreadsheet for running time reference.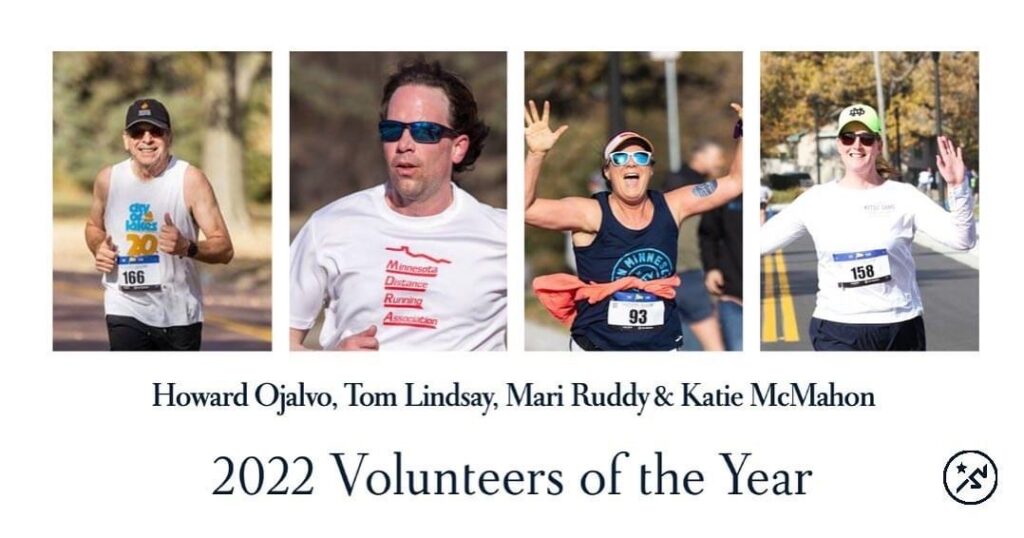 Volunteers of the Year
What a delightful surprise to get this email on December 8th:
Mari,
Congratulations! You, Howard Ojalvo, Katie McMahon, and Tom Lindsay have been selected as the 2022 Run Minnesota Volunteers of the Year!
Since 1984, Run Minnesota has presented this award annually to recognize a volunteer or group for their commitment of time and energy to Run Minnesota. Past VOY awardees. The Run Minnesota Board of Directors, Staff, and other Run Minnesota committee members are eligible to submit nominations for the Volunteer of the Year. At the November Run Minnesota Board of Directors meeting, the Volunteer of the Year is chosen.
Your nomination reflects how your volunteer work significantly supported Run Minnesota's mission. You foster a positive culture within our training programs, you share your enthusiasm for the sport of running, and you encourage and support the runners in your pace groups. We especially value your contributions as we returned to training programs after the impacts of the pandemic. This group of four Team Leads stands apart for their consecutive training sessions volunteering.
We are in the process of informing and congratulating the other awardees and nominees. On Friday, December 9th, we will make the award announcement public. In the spring of 2023, we will hold our annual party, and at that time, we'd invite you to attend so we can present the award in person.
You have made an impact on Run Minnesota members and the running community! Thank you for being a part of our organization.
On behalf of the Run Minnesota Board of Directors, Congratulations!
Sarah Ahlers McInerney
Executive Director, Run Minnesota
Gratitude and delight
I got this email and I burst into tears. Joy, surprise, delight, amazement… the overwhelm of emotion caught me off guard, and tears streamed down my face. Apparently all that effort we made was noticed and appreciated. Unexpected magic. Overwhelming gratitude flooded my body.
Marathon coming up next
I got word from my cardiologist that the Zio Device found absolutely nothing wrong with my heart. No arrhythmias, nothing odd or off kilter. My heart is holding up just fine. Whew. The cardiologist, Dr. Charles X. Kim, husband of my oncologist, Dr. Jocelin Huang, said, "Go ahead, sign up for that marathon. Just keep listening to your body. I do that, and I will keep listening closely. Likely I will continue to do the 45 seconds run – 15 seconds run-walk-run pattern using my GymBoss timer device.
As of a week ago, I've officially signed up for my second ever marathon. Grandma's Marathon in Duluth, Minnesota on June 17, 2023.
2023 brings more running adventures!
Thanks for reading! I greatly appreciate you!! Are you on my email list yet? If not, take a moment and sign up right here. It's good to be connected!