People often ask me what I eat, since I don't eat meat, dairy or gluten. And, in case you didn't know, I have type 1 diabetes and I take insulin which allows my body to process the carbohydrates I eat. In large part because high volumes of carbohydrates are hard for my injected insulin to process, I very rarely eat sugary foods, it's just not worth it. Plus, because I grew up in a family with type 1 diabetes, my dad was diagnosed when I was one year old, the food growing up didn't include very many desserts, so I didn't learn to associate good food with sugary foods. In fact, we ate salads every single night when I was growing up!
First, let me be clear, I do eat eggs, and I occasionally eat fish and other sea food. Because of this, the vegan police would arrest me. I do not qualify officially as a vegan because I eat eggs and fish. And once in a while, I eat honey. I do care very much about the well being of animals, and it feels good, as well as being healthy, to not eat meat. The eggs I eat are generally created by organically fed chickens who have free range. I prefer to buy eggs by chickens who are raised at local farms.
Enough about eggs and fish. What do I eat? Well, I eat a lot of beans, all kinds of vegetables, and lots of variety of fruit. I also eat potatoes, oatmeal, peanut butter, tofu and tempeh, and rice. I am going to make an effort to share some of the meals I create, here in this blog. I know that many folks, those with diabetes, those who have survived cancer, those who want to lose weight, we think about food and wonder the best path to take.
My two favorite cookbooks are Crazy Sexy Kitchen by Kris Carr and The Feed Zone, Fast and Flavorful Food for Athletes by Allen Lim and Biju Thomas. Crazy Sexy Kitchen is all vegan, plant-based, mostly gluten free meals. Kris is a Stage IV cancer survivor and she's amazing. There's a lot of evidence, that I believe and buy into, that suggests that cancer survivors ought to at least consider a vegan diet. Since I've grown cancer twice, I am making my best effort. I've also mostly given up alcohol, in an effort to support my liver in processing estrogen as best it can.
The second book, The Feed Zone, is written by Alan Lim and Biju Thomas, and it does have a number of recipes for those of you who are carnivores. Many of the recipes are gluten free. In both books, the recipes are incredibly simple. I like simple. I'm not the worlds best cook, and I tend to follow recipes, so simple works very well for me.
The other day, I found a bunch of beets at the grocery store and beets are good. They are a wonderful tonic for the liver, and they help purify the blood. The bunch of beets I found had big, leafy green tops on them, so I bought the whole bunch! I figured I would find a recipe that would guide me in using the beets and the beet greens. And I did!
I like roasted beets, and this recipe that I found on the allrecipes website was delicious! Check it out and enjoy your beets!! For lunch, I added black beans to my beets, for some added protein. Plus some delicious cherries! It was a fabulous lunch! And only 30 grams of carbs.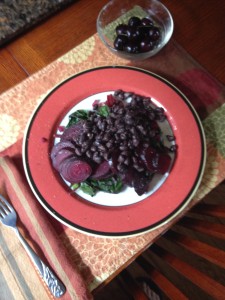 Please sign up for my email list! And, feel free to leave a comment telling me what you eat to stay healthy!