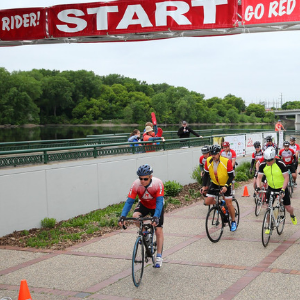 Turns out the free and easy strategy of keeping your eyes on the prize, or keeping your vision on your exercise goal DOES work! I am a big fan of making exercise easier. I do love exercising, AND I regularly struggle to make time and space to make sure exercise is happening on a consistent basis in my life. Can you relate??
I love TED talks and a while ago I found this one by Emily Balcetis, a social psychologist who studies people's perception of the world, especially our visual perception. She studies vision like seeing and how that relates to vision like imagining.
I have always loved imagining. I was told when I was a kid that I had a very active imagination. I loved making up stories and creating plays and stories that I would convince the neighbor kids to join me in acting out. Perhaps my love of imagining has played a positive role in my now love of exercising and participating in organized athletic events like the Tour de Cure and 5K races!!
Turns out using your imagination can help you get moving. And, it does matter what you actually look at with your eyes. Thus, vision DOES come into play!! Emily describes a number of studies she and her team have done to discover a free way to help us perceive exercise as easier. I sure like that! In essence, the idea is to use our ability to focus. Or as she calls it, to keep our eyes on the prize!!
Interesting, when I'm out biking or running or doing a triathlon, I do this!!! I rarely like to chat and I do focus on the finish line. Go figure! And I almost always say at the end of a 100 mile bike ride that it was easy!!
Please, check it out and let me know what YOU think!