In 7th grade I attended a two week summer swim camp at Hobart and William Smith College in Geneva, New York, where my father was the vice president of fundraising. (It wasn't exactly his title but that's what he did, raise a lot of money!)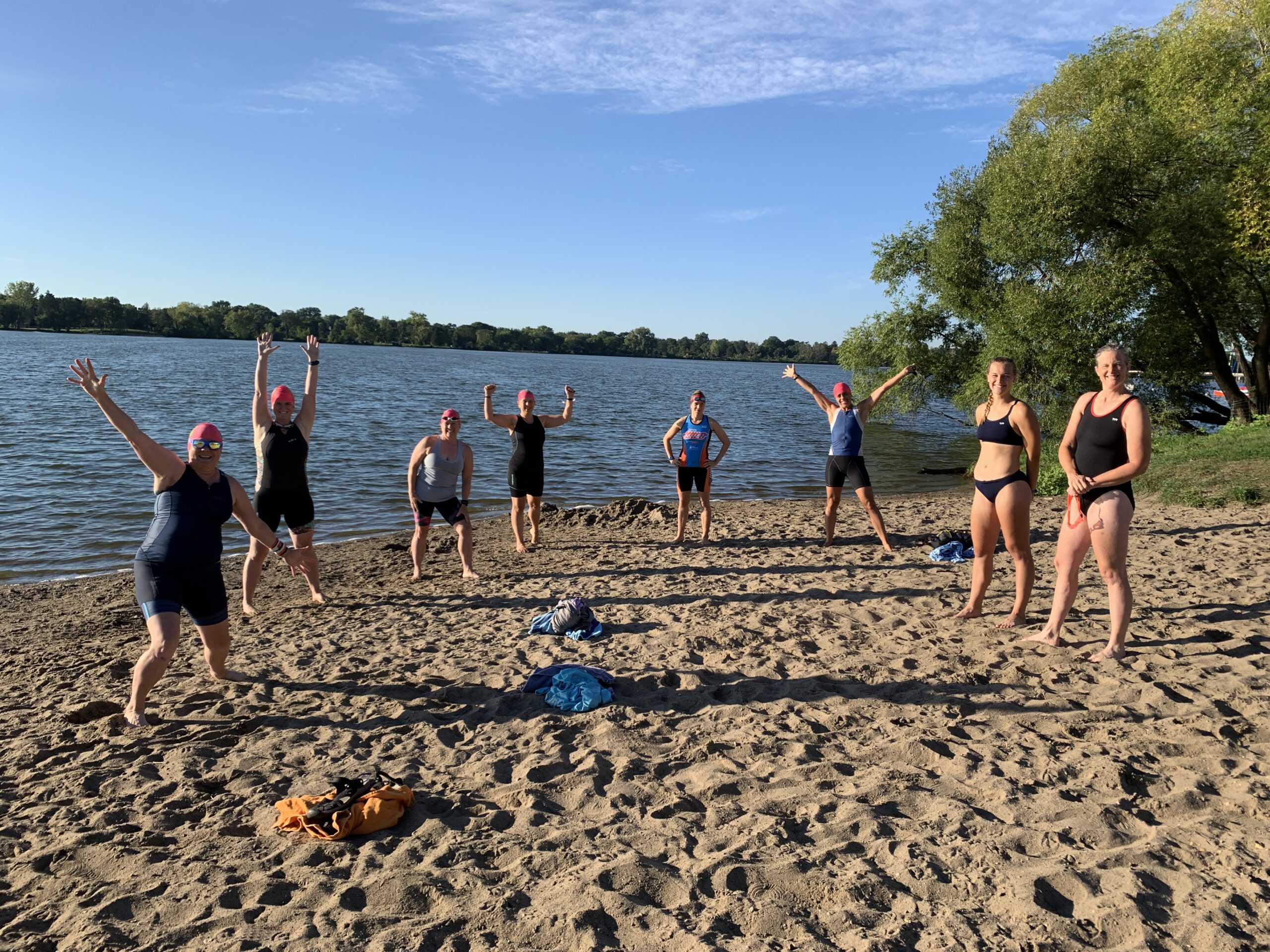 Love of swimming
That swim camp was a transformative experience for me. I fell in love with swimming. Previous to being at the swim camp, I liked swimming, but I did NOT love it. My mother had been a lifeguard and she made sure that all of us (three kids) all learned how to swim as early as possible. The thing is, knowing how to swim doesn't equate loving swimming. It was being in the water swimming fast that transfixed me. That love of swimming has stayed with me ever since.
Flip turns
I still haven't mastered the flip turn, which is why I really enjoy open water swimming better than pool swimming. It was open water swimming at nearby Lake Nokomis that allowed me to keep my sanity this past summer. The City of Minneapolis gave us the choice to purchase a swim cap and a summer pass that went from June 9th to August 30th. They put up big orange and green race marker buoys and had lifeguards in kayaks on Sunday, Wednesday and Friday mornings and Tuesday and Thursday late afternoons.
Team Looking Sharp, the fun, informal triathlon team I am on, we got out there at least two days a week together. I made it most weeks three times a week. It felt SO good to swim with regularity, AND to see friends from a safe distance and in person. Then it was the end of August.
Find a pool for fall swimming
During September I knew I had to figure out a way to swim regularly again and still feel safe and not spend a ton of money. I don't have a high income and spending lots of money on a gym membership doesn't make sense for me.
Luckily, the Saint Paul Gym, affectionately known as SPG, on the Saint Paul Campus of the University of Minnesota has a beautiful pool that doesn't get used that much. Because I work at the UMN, I can become a member of the gym for $32 a month. I get $20 refunded if I show up at least 8 times to work out. That's a $12 gym membership and 8 times a month I can swim!!!
Happily, the end of October is here and I have gone swimming at the SPG pool 8 times. YES! An accomplishment that feels good.
Kick boards and fins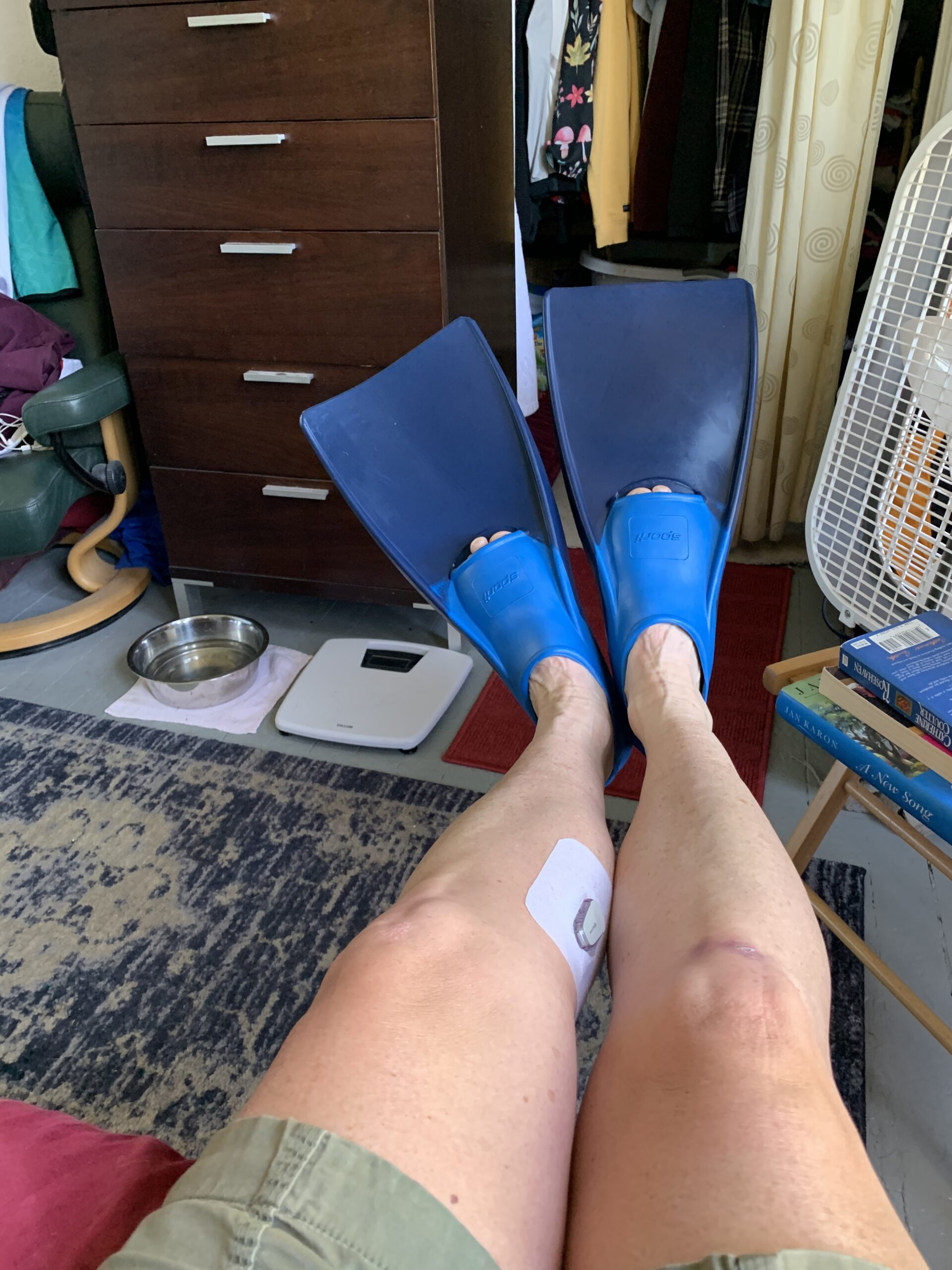 Because of the coronavirus, they put all the kick boards and swim gear away. No sharing of anything. In fact, we wear our swim masks from the locker room out to the pool where we check in. We sign up in advance and they check off our names as we get to the pool. We can take off our masks as we get in our lane. Only one person per lane.
I like using the kick board for the kick drills I do, so I got online and ordered myself my own kick board. Since I was buying the kick board, I remembered my triathlete pal Nadine waxing on about her Zoomer fins. I bought a pair of fins, not really knowing if I'd ever use them.
Fins = Fast + Fun
Then on October 21st, I had only slept 5 hours but I had an 8am swim appointment. I grabbed my swim gear and made it to the pool. I was tired. I decided at the edge of the pool to put on my fins and do all of my planned workout with the fins. I had no idea if this was "allowed" by the expert swim coaches in the world. My tiredness won out and fins were in.
I had so much fun!!!!!!
I was shocked at how fast I swam those 1300 yards! It was absolutely delightful. I remembered why I love swimming. I love the feel of the water as I'm gliding through it. I felt held and cared for. I was energized.
Swim Coaching
When I got home I immediately needed to find out more about swimming with fins. I read about 10 different articles about it. My favorite three articles are here for your enjoyment too!
The first is from My Swim Pro and it's 8 Benefits of Swimming with Fins. It reassured me that I can keep swimming with fins, just make sure that you only use the fins for 50% or less of the overall volume of swimming. Oh well, I did use them for the ENTIRE workout that one day. Since then I've been careful to just use them for 50% or less of the workout! A few of the benefits made really good sense to me: ankle flexibility, less stress on your shoulders and the ability to do a few difficult drills with the fins all made excellent sense! Check out the article and get yourself some fins!!
The second is a detailed article that talks about how to pick your set of fins. I enjoyed this simple review of how to select your fins. It too reminds me that fins are a complement to the workout and to not get too dependent on them!
The third article was sent to me by Jesse of Happy DYI Home and she forwarded this great article about fins and how to find the best pair. It's making me reconsider the pair of fins I have. Might be time for me to get a new pair! Thanks Jesse for thinking of me and all of us!
In fun and fast swimming, I carry my fins and my kick board to every swim session!
Happy swimming!
Do you swim with fins or a kick board or any other tool? Please tell me what you have and how you like your tools!! I love hearing from you!! I do have a pull buoy and hand paddles, gotta keep swimming interesting!
Please sign up to be on my email list. I send you an email every time I publish a new blog. You'll be in the know and I will never share your email with anyone. You'll get a free self-care guide that I made just for you!