On April 24th I'm going to run the longest distance I've run since March 2010, when I did the one marathon I've ever done. I confess, I'm a bit nervous about the virtual Get In Gear half marathon race that my Team Looking Sharp friend Jenny and I will do in three weeks.
Run-walk-run makes it possible
Thankfully we've done a few 10 mile runs and before the big day we will do 11 miles and even 12 miles. Plus we use a 2 minutes of running, 30 seconds of walking rhythm. For me this run-walk-run Galloway system works wonders. The 30 second walk breaks gives my heart rate a chance to slow down and since I apparently have orthostatic hypotension, the walk breaks keep dizziness and lightheadedness at bay.
Add in hill repeats for power and endurance
The other thing Jenny got us to do is run hill repeats on Monday afternoons. It's true I don't love running up or down hills. It's HARD!! Thankfully my marathon coach back in the day, the wise Yoli Casas, had me do hill repeats when I was training for the Big Sur Marathon in 2010. She raved about the value of running hills. I hated it during training, but since Big Sur had thirteen massive hills, I was super glad I had done all that hill training. Yoli is a fantastic coach.
Hills can be short and steep
Here in Minneapolis, Minnesota there aren't hills like there are in Colorado or California where I learned to bike and run, but you can find a few excellent hills for hill repeat workouts. One such hill is alongside the Mississippi River which winds its way through Minneapolis and Saint Paul. The hill goes down to Dam #1 and thus the hill is referred to as The Dam Hill. Appropriate.
Turns out doing hill training is scientifically proven to help endurance runners improve. Here's what a 2017 study had to say:
"The group that was trained on hills showed significant improvement in their VO2 max, resting heart rate, and speed endurance, while the control group did not.
A general strength orientated hill training program is an appropriate and efficient method for improving both strength and speed endurance ability in distance runners," wrote the authors. "To enhance the performance of middle and long distance events athletes, the coaches have to include hill training workouts in their training plan."
How many hill repeats before race day?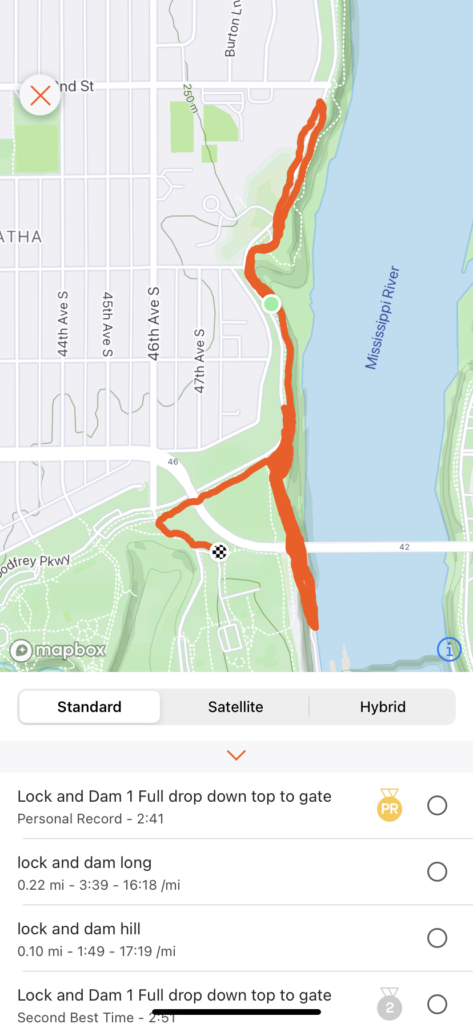 We've done hill repeats three times so far. I know, I know, three times doesn't sound like much. Before we do our half marathon, we will have done six sessions of hill repeats. That's a good amount. After having just done three sessions, I can tell my power is improving. Mostly I can tell that because of how much my butt and quads hurt after hill repeats! Really I can tell because my runs are getting just a tiny bit faster. Of note, I'm not a fast runner. That's okay, at least I'm out there running. Plus it feels good!
Blood sugars, afternoon running and diabetes management
Another challenge of these Monday afternoon hill repeat workouts is my diabetes management. I do most of my endurance workouts in the morning and for those who have type 1 diabetes, you know that time of day matters for blood sugar management. I have more insulin resistance in the morning, so exercise in the morning is ideal, as the exercise helps lower my blood sugars. Mornings I run or bike, I often eat breakfast and take no bolus insulin for the carbs I'm eating. Since I immediately go out and start exercising my blood sugars stabilize quickly.
A small group of us meet at 4pm for hill repeats on Mondays and figuring out carbs and insulin for that time of day has been tricky. This past Monday, in consultation with Dana of Integrated Diabetes Services, I nailed it!
Here was my strategy:
Eat lunch at 12pm. Lunch was 40 grams of carbs in edamame spaghetti noodles, pesto sauce, steamed organic veggies, half a grapefruit and a vegan mochi ball. I took a normal bolus which for me is 1 unit of insulin for every 10 grams of carbs at lunchtime.
At 2pm, I turned on the Activity feature on my Tandem t:slim insulin pump which also has Control I:Q on it. What this does is it adjusts the target blood sugar to 140 to 160 mg/DL, which is higher than usual.
At 3pm, I mixed a 12oz water bottle with a packet of UCAN performance energy. I then got Sam, my dog, and we went for a 25 minute walk. While walking, I drank the UCAN. I don't love UCAN, but I had it and when Dana suggested I give it a try, I went for it. Takes me a while to finish it. The UCAN is 30 grams of carbs and I took no insulin for it.
At 3:45pm, I got in my car and drove to the Dam Hill meet up. On the drive, I ate 18 grams of carbs in the form of jelly beans. I was nervous about going low, because I had gone really low the previous two hill workouts.
At 4pm, I met Brooke, Jenny, Monica and Shelly and we did a 2 mile warm up run on the flat path along the Mississippi River. Once we finished that, we started on hill repeats. For the first one, I walked up and down it, chatting with Monica as we went. My blood sugar at this point was 214 mg/DL. Not ideal, but okay. I walked because I was worried about what was happening with my blood sugar AND I was delaying the hill torture.
For the second hill repeat, I ran most of it up and down. I did that for two more hills, running most of the way up and down. In total I did 4 ups and downs on that Dam Hill. At the end of the hills my blood sugar was 124 mg/DL.
We then did a short flat run to cool down and we slowly ran back to our cars and virtually high fived each other for making hill repeats happen!
I drove home and had dinner, making sure I ate a good amount of carbs and protein. I am happy to report that my blood sugars all night were stable. Fingers crossed this strategy will work this coming Monday when I will be back out there on that Dam Hill!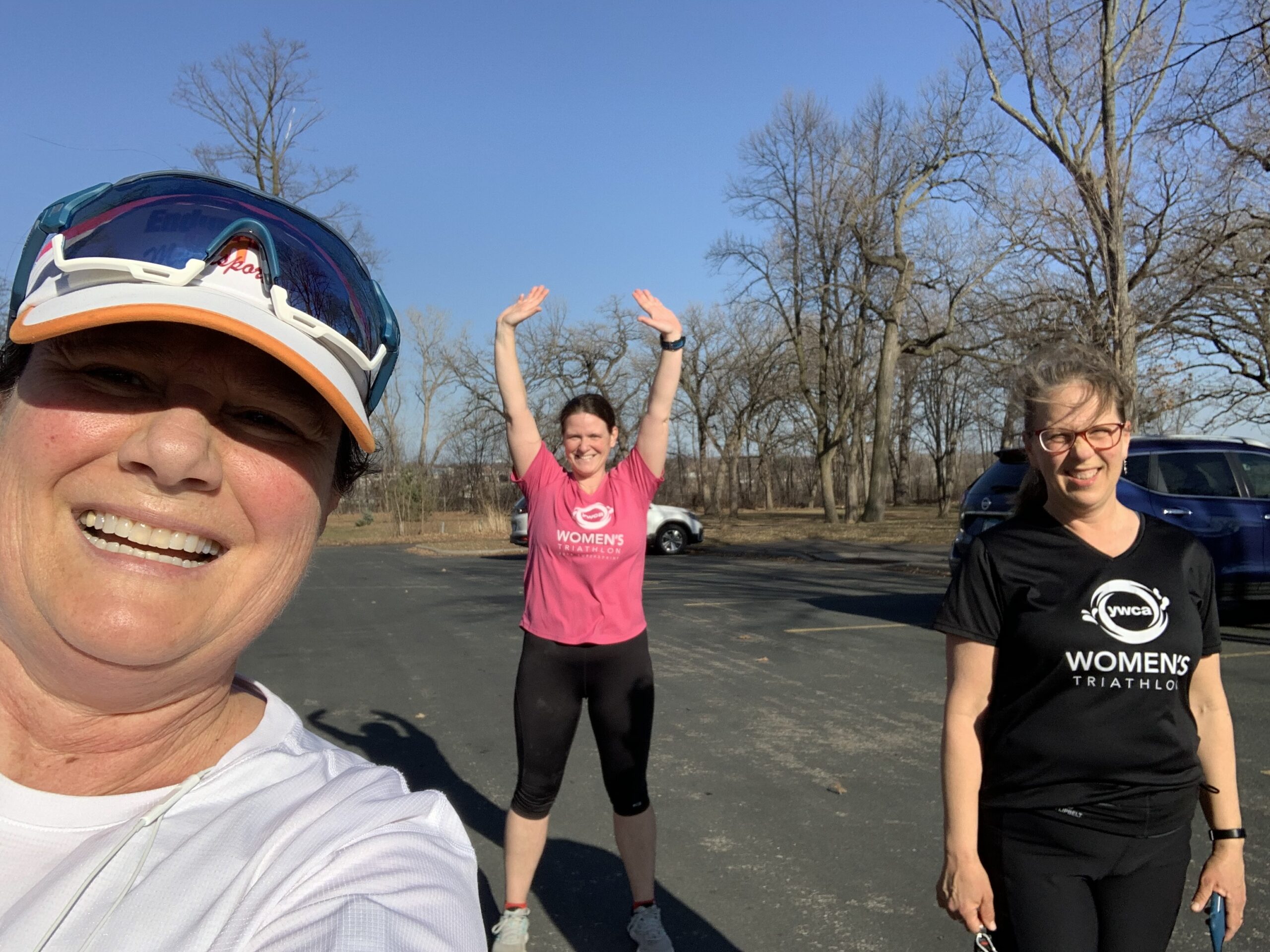 Do you do hill repeat workouts? Yes or no, please tell me more!
Are you on my email list? If not, now's your chance! Please sign up and that way we can stay connected. I won't ever sell your info, that's not cool.