I'm a big fan of having a plan in place for big events in my life. I learned from the many amazing athletic coaches I've worked with over the years, how important it is to have a plan for race day and then on race day to race your plan. This sort of logic speaks deeply to my "plan ahead, I have type 1 diabetes and I take great comfort in having a plan" self.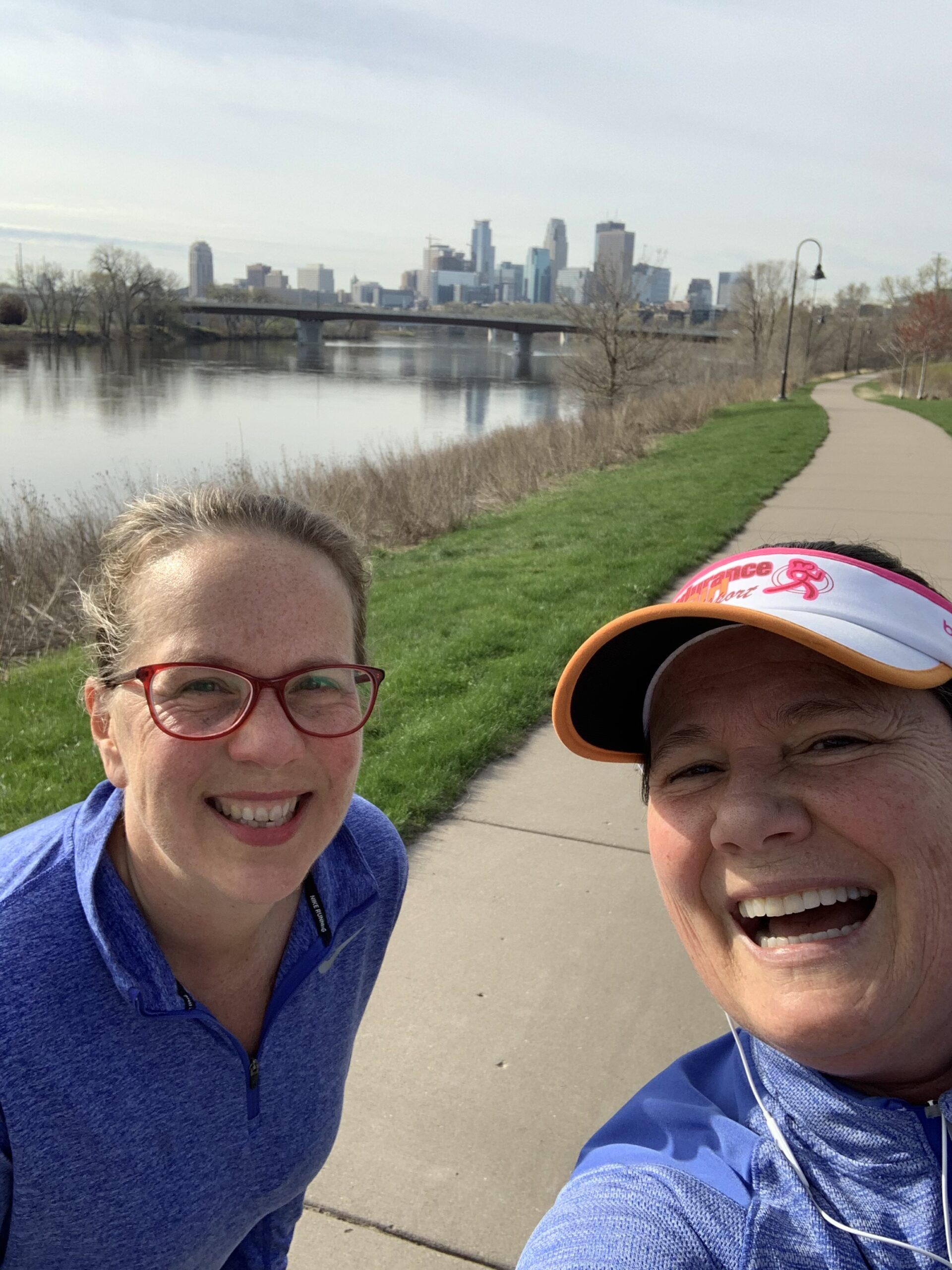 I've used this Race Plan logic for more than athletic events. In fact, this Race Plan strategy is what helped me get through my mastectomy surgery.
Triathlon Social Outside
Team Looking Sharp is having our first Triathlon Social and athletic event of 2021 on Saturday, April 24th. I'm writing this blog a week in advance, which gives me time to create my Half Marathon Race Plan for this virtual Get In Gear event.
Here is my Half Marathon Race Plan for accountability and inspiration.
My running pal, Jenny Thompson, and I ran 12 miles today (Saturday, April 17th) and after we ran those 12 miles we sat outside at the Dunn Brothers Coffee Shop on East Lake Street and we strategized about our race day plan.
Race Time Goal
Jenny and I are not fast runners, but both of us have the goal of finishing the 13.1 mile run in under 3 hours. Toward that end, we've agreed to meet at our run start spot which is along the Mississippi River in Minneapolis at 7AM with the goal of starting our run by 7:15AM. We've agreed to only snap photos at the start and finish. It's true, we love to document our athletic endeavors. The thing is snapping all those photos takes time. Time we agreed we would spend running, not taking pictures.
Week Before the Race
Food
Generally I eat well, but it's EXTRA important to eat super healthy and clean the week before a major event. The food I eat is something that I can control, especially for one week. Toward that end, this entire week I am eliminating sugar from my diet. Additionally, I'm upping my protein intake and I'm eating as many vegetables as I can.
Hydration
I will make sure I drink at least 8 to 10 glasses of water or herbal tea every day. Plus on Wednesday, Thursday and Friday I will drink at least one glass of water that has a Nuun electrolyte tablet in it. Turns out I do well when I make sure I have enough electrolytes in my system for race day. It helps my orthostatic hypotension condition.
Sleep
Every night this week, my light will be off and I will be in bed ready to fall asleep by 9PM. My goal is to get at least 8 to 9 hours of sleep every night. Feeling well rested is critical for race day. Especially important is to get a solid night of sleep two days before the race. Thursday night I will be doing some extra meditation and calming activities.
Stress
Per usual, I will meditate every morning and evening. I will pay extra attention to deep breathing and reminding myself to stay calm and centered all day every day for the whole week. I have a tendency to be "too busy" and this week, I am making an extra effort to allow myself to slow down, do less, relax. I won't be watching the news and I am going to dial down my social media time.
Diabetes
The essential thing I will do is keep close tabs on my Dexcom G6 continuous glucose monitor (cgm) with the goal of keeping my blood sugar above 80 mg/dl at all times. I don't want to stress out my glycogen stores in my muscles and liver. I need those stores to be topped off on race day.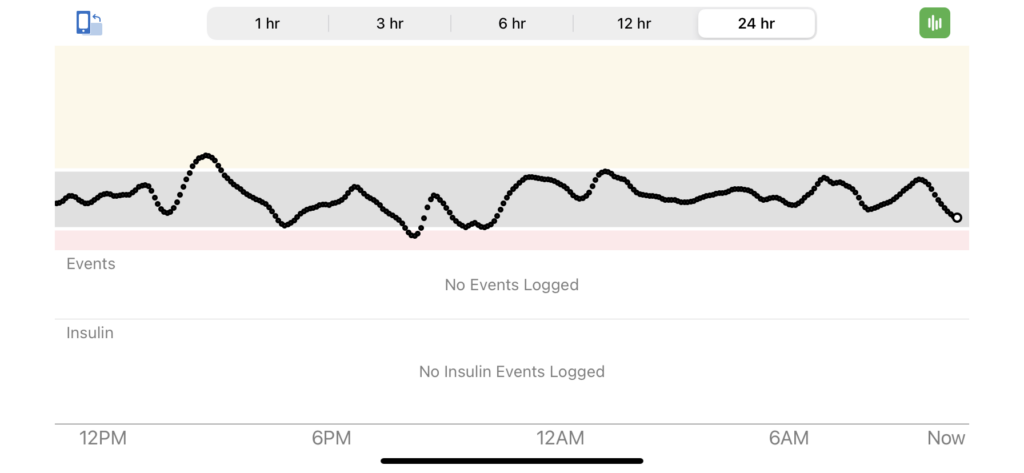 Additionally, I will make sure my insulin pump is fully charged, and I have a new pump set on before Friday with plenty of insulin. I will have a second set on my body in case the set comes loose or falls off. Of course, I will also have a good Dexcom G6 cgm on and working.
Exercise
The taper is in full effect. On Monday I will run a flat 4 miles, no hills this week. I will do the same on Thursday. On Wednesday and Friday I will go to the pool and swim 1000 yards. Plus I will walk Sam, my dog, everyday. After all gotta keep the pup happy!

Additionally, I will do the Workout for Women Daily 7 every day. That's 7 minutes of strength training.
Foam rolling
My post last week was all about the magic of foam rolling and to keep my hips, quads, glutes and calves in good running shape, I will foam roll at least once, maybe twice every day this week. That's as close as I can get to having a deep tissue massage every day before race day.
Race mantras
I have a few mantras I will use on race day and to get them solid in my brain I will practice them during the week. My mantras for this particular race are:
I run for RBG and for all my friends.
Running is good for me and my health.
Smile and enjoy this run.
Race Morning
Here's a moment by moment plan for April 24th:
5 AM Wake up and set my Tandem t:slim Control IQ to the Activity setting. This is so my target blood sugar is a bit higher for up to two hours before I start the run. Meditate.
5:15AM Get up and put on my run clothes that I set out the night before. Run clothes are based on the projected temperature, which for April 24th looks to be between 42 and 60 degrees Fahrenheit here in Minneapolis. Take my daily Victoza shot.
5:20AM Head down to the kitchen to eat my 30 grams of carb breakfast of chia pudding with berries. Drink 8 ounces of water with 2 Nuun Sports tablets to make sure my electrolyte tank is filled up. I will take no insulin for these carbs.
5:45AM Take Sam on a 20 – 30 minute walk.
6:15AM Mix up a UCAN packet with water and drink it. Take no insulin for these 30 carbs
6:30AM Review my race mantras. Make sure I have everything ready for the day.
6:45AM Get in the car and head over to the race start location.
7:00AM Meet up with Jenny and start the race
10:30AM Finish the run!!!
11:00AM Team Looking Sharp Triathlon Social Outdoor Gathering at Dunn Brothers Coffee Shop on East Lake Street in Minneapolis
There you go! As I'm getting ready to publish this post, it's Thursday evening and I am pleased to report that I've done a good job following my Race Plan week. I have slept well, eaten clean, managed my diabetes with good success and I did my two 4 mile runs and so far one 1000 yard swim. Plus Sam and I went to the dog park!
Do you create Race Plans? Either yes or no, please tell me why you do what you do before a race. I love hearing from you!
Are you on my email list yet? If not, now's your chance. I won't ever share your email and this way we can stay in touch!