Sunday, October 1st, is the Twin Cities 10-Mile Race. It's the same day at the Twin Cities Marathon, we start about an hour earlier than the marathoners, and we run the last 10 miles of the marathon route.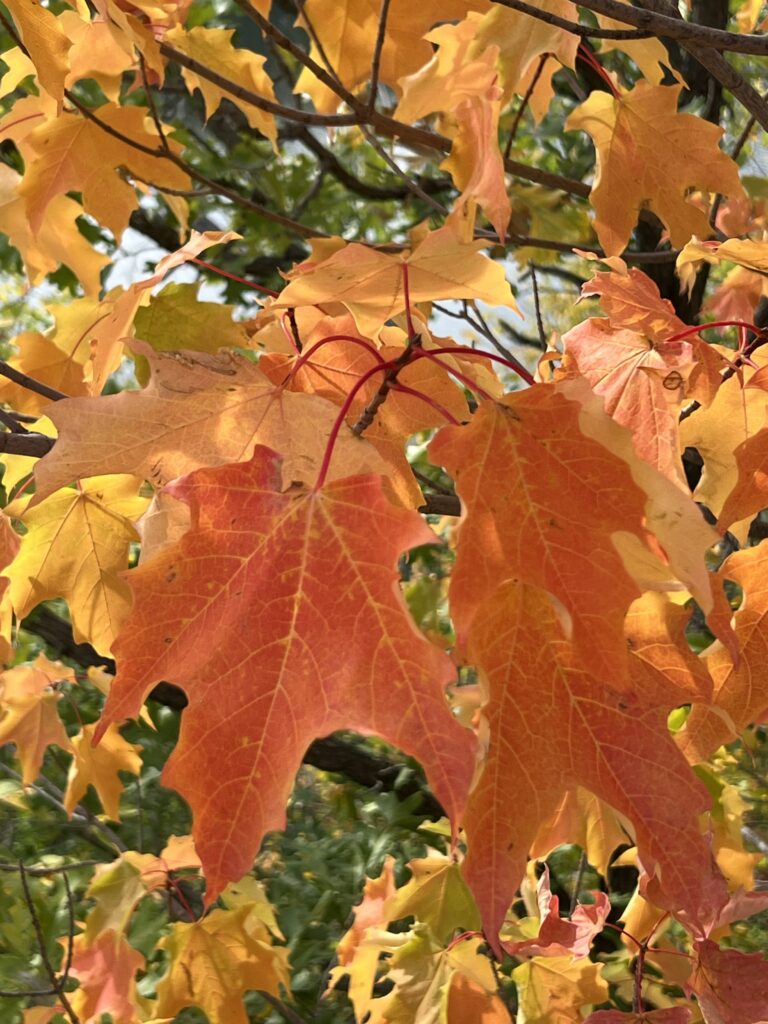 It's my last long race of the year. It hit me hard, mostly in a good way, that I've achieved and performed in all the races I put on a sticky note in January. There were 6 running races and 2 triathlons on the list. Many highlights of success this year.
Heart opens in community
I had to breathe deeply and take a moment to reflect on how far I've come in 2023 in terms of running. I feel my love of running from the top of my head to the tips of my toes. My heart opens in the presence of the community of Run Minnesota, who I run with every Tuesday and Saturday. Being a Team Lead for the Fall and Spring Running Programs offered by Run Minnesota is a blessing of the Universe.
Belonging has been something I've struggled with much of my life. I didn't have a sense of belonging in my family of origin. I kept searching to belong, to fit in, to be part of a community. I believed something must be wrong with me. I felt so out of it, so different. I was convinced I might never settle in and settle down with a feeling of connection and community.
Find your people
My first inkling of belonging awoke when I did that first 400-mile week long bike ride across the state of Colorado in 2004. The Bicycle Tour of Colorado. It was in the company of endurance athletes that I found my people.
Then I got breast cancer for the first time and as I finished treatments, I discovered triathlon. More of my people were triathletes. There's something about people who like to push themselves, pick up a challenge of a long event, train for it – alone and with friends – and then pin on the number and do the event together. Celebrating with a medal at the finish line and eating on the grass all together after completing the ride or race, pulls it all together.
Next came breast cancer for the second time, starting TeamWILD, my company that trained people with diabetes to be endurance athletes, and then financial failure and my suicide attempt, which resulted in a traumatic brain injury. 
Distance biking and triathlon to the rescue
Slowly, I found my way back to distance biking, doing several 100-mile rides. I found the Minneapolis YWCA Women's Triathlon in 2014, and Team Looking Sharp, a group of women who train together and love doing the YWCA triathlon.
I kept healing and learning to love myself, challenging work. As I looked around, it was people who care about their health and well-being that found their way into my closest circle of dear friends. I noticed that as I took good care of myself, that was who I wanted around me. After all, exercising and writing are my two favorite things to do with my time. Turns out there are lots of people who like to write and who like to exercise for health and fun.
Running community is beauty in action
When the pandemic started to wind down, my friend Jenny and my Thursday morning running coach, Laurie Ladd Goudreault, recruited me to be a Team Lead for Run Minnesota. I signed up and a new level of love bloomed.
Nothing more powerful than finding a community of people who run at the same pace to hang out two days a week for running. And then to be in community with other runners who run faster, but are kind and welcoming at the start and finish of the runs. Those consistent gatherings all over the Twin Cities on Tuesday evenings and early Saturday mornings over time build a deep sense of belonging. Of being connected.
From that belonging, the desire to participate in races arises.
Set goals, make plans
I love setting goals and making plans. Having races on my calendar makes me happy! This year I did one marathon, two 10-mile races, two half marathons, a sprint distance triathlon, and an Olympic distance triathlon. My last long race of the year will be the TC 10-miler.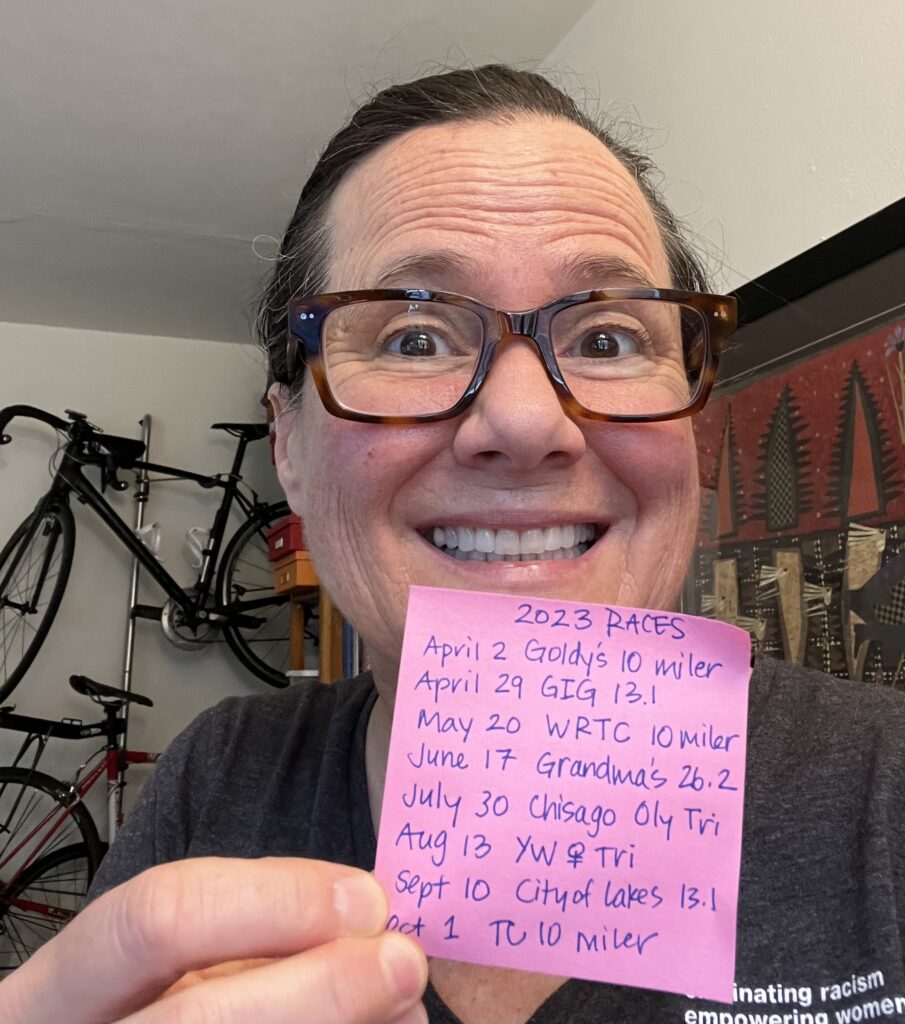 Life keeps happening
Then I will go in for that biopsy on the odd little bump on my right chest under my third rib that they found on the PET scan I had in August. The oncologist agreed that I could wait until after the TC 10-miler. Whew. Please cross your fingers and send up a wish to all the higher powers that I don't have breast cancer for a third time.
And wouldn't you know, I just remembered that I signed up for another 10-miler that will happen on November 11th. I love it!!
How is your athletic year going? Let me know! I love hearing from you. Comments are super good!
Are you on my email list yet? Sign up right here, let's stay in touch!