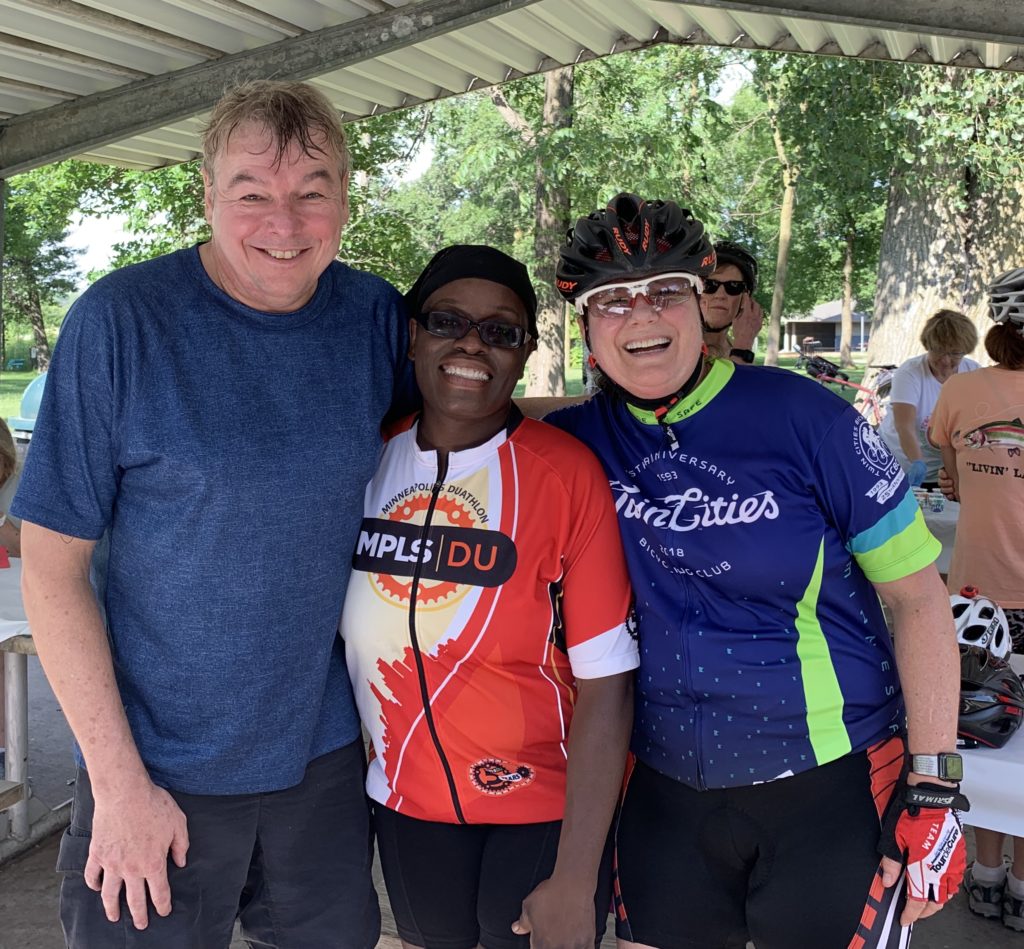 Last week, on Thursday, July 4th, my dear friend Tammy and I joined up and participated in the Twin Cities Bicycle Club TCBC Watermelon Bike Ride event. We decided to be brave and go for it, and do the 52 mile route. I had done 49 miles at the Hope in Motion ride just a few weeks earlier, so I was hoping I had it in me to do 52 miles.
The day was very sunny and HOT!!! The humidity was over 70% and the dew point was also super high. I brought my little cooler in my car so that I would have cold water after the ride. Plus, I always like to keep a fresh bottle of insulin, just in case. I had plenty of snacks with me and I had two full bottles of liquid – one of Skratch Labs nutrition and one of water with a Nuun tablet, for extra sodium. I figured since it was an organized ride, there would be stops along the route for more water.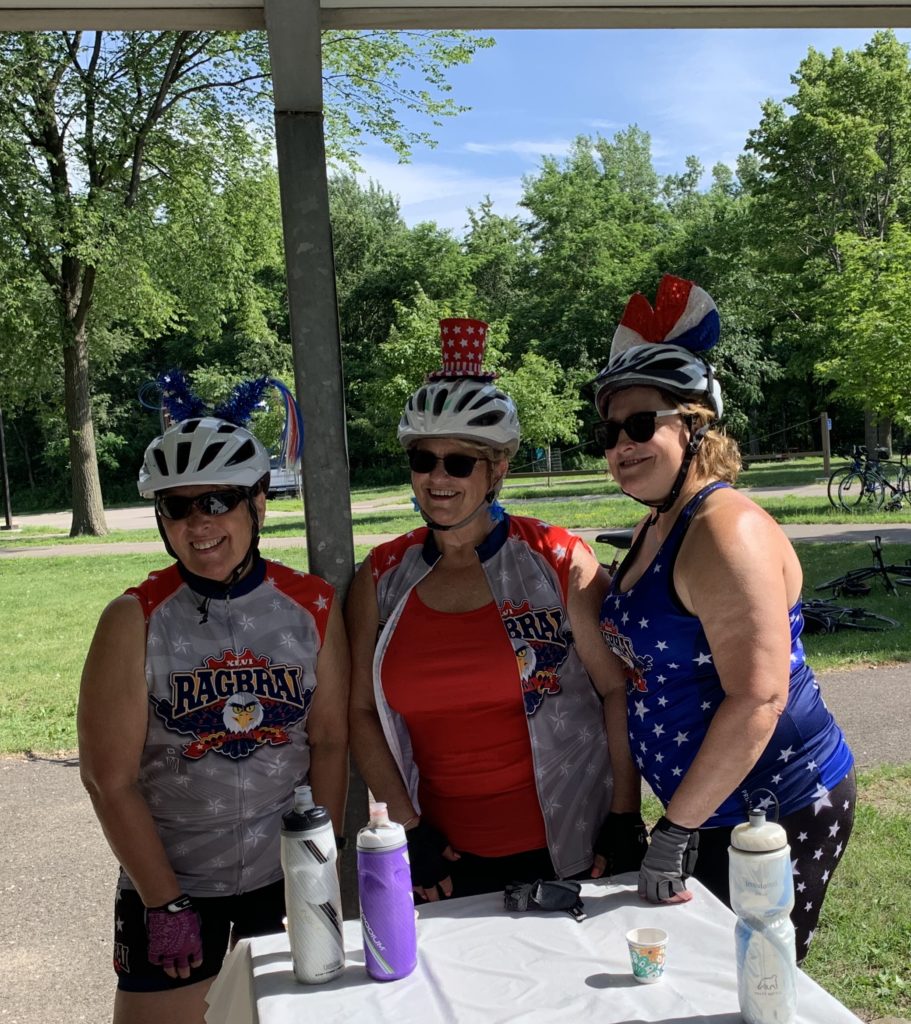 Tammy, Mike and I set out at about 8:30AM, ready to do both loops of the route, which would take us around a few beautiful lakes and result in 52 miles. Mike was going to do the first loop and meet us for lunch and lots of watermelon at the end of the ride. The three of us had a wonderful first 16 or so miles, when we arrived at the first (and only) rest stop. We refilled our empty water bottles, had a few snacks and socialized with the other riders.
We got back on our bikes and Tammy and I headed off on the second loop. After about 8 miles we realized there wouldn't be another rest stop until we made it all the way around the second loop, which would be 27 miles in all. We were both feeling good, so we weren't worried.
What snuck up on us as we kept peddling and laughing, was that we weren't paying close attention to how much we were eating and drinking. At about mile 37, it hit Tammy that she hadn't eaten anything since the rest stop. I had just started noticing that I was feeling slightly dizzy. The few times I've gotten dizzy on my bike have all been related to heat exhaustion. Apparently my body doesn't manage heat all that well, especially if I don't pay close, close attention to my hydration, which on this ride, I had not been doing.
Tammy wisely insisted we pull over at a corner and eat and assess. As soon as I got off my bike, the dizziness got so bad I was certain I might pass out. I quickly sat down and put my head between my legs. Luckily that immediately helped. After about ten minutes, I felt ready to stand up again. Our water bottles were super close to empty, so not enough extra water to pour over my head. I used my bit of water to drink, and increase my hydration. I actually felt thirsty, which is a dead give-away to being too far behind in the hydration plan. Thankfully, my blood sugar was stable.
When I stood up, I again got really dizzy. So down I sat again. We were on a rural corner, near a highway and a frontage road. By this point, Tammy had rescued a duck mama and her five or so babies from being run over, and she had prevented a motorcyclist from being hit by a huge truck. Additionally, she decided it was time to call the SAG vehicle to come get us. That was a good call. It wasn't until I'd been in the air conditioned car with the cool air blasting on me for about ten minutes that I started to feel better.
The SAG driver happened to be the Watermelon Ride main organizer, and he agreed to take us directly to the after-ride lunch. Tammy and I were hungry and looking forward to some cold watermelon! We met up with Mike again and after we ate a yummy lunch, we had it in us to ride the two miles back to our cars.
Tammy and I didn't ride 52 miles, but the 40 miles we did ride were a success, despite the nutrition and hydration challenges we faced.
My key learnings from this heat exhaustion ride are:
When the humidity and heat are high, carry 3 water bottles, just in case
When the humidity and heat are high, bring extra Nuun tablets
Set timers and be SURE to drink a full water bottle every hour
Pay attention to dizziness – it's a warning!
Review the nutrition plan BEFORE every ride, and plan to eat as I ride!
I've got a few more long rides planned this summer and I will be ready, heat and humidity and all! A big shout out of appreciation to Tammy for your wisdom and help!
What about you? Do you have heat challenges?
Please tell me what you do!! Thanks!