I love vision boards!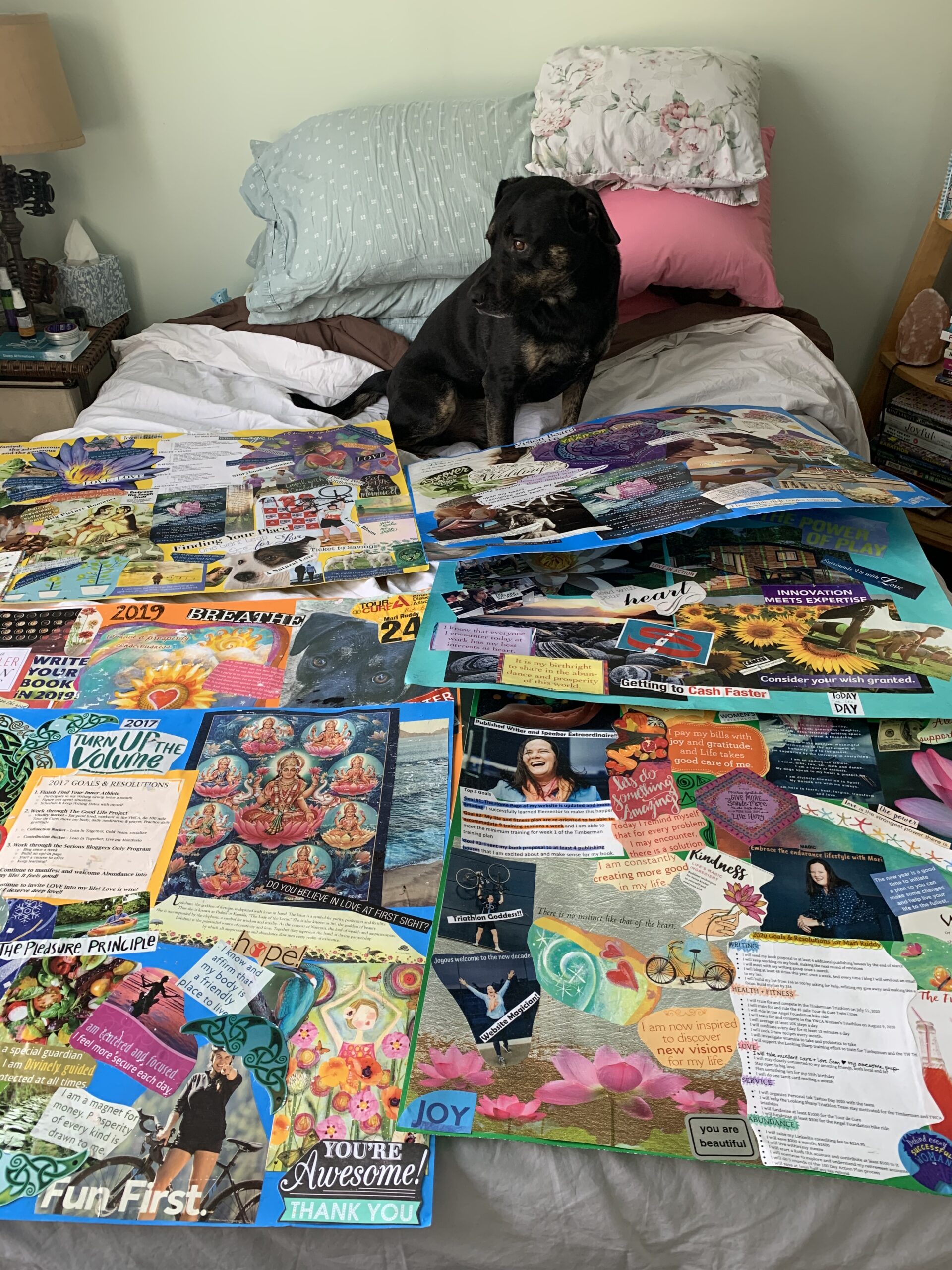 Part of why I love them is I love words and I love colors and I love collages, so vision boards are a beautiful conglomeration of things I love. Plus I'm a huge fan of setting annual goals and reflecting on my accomplishments from the year that is closing. I combine all these loves into my annual vision board art project.
My friend Linda Brandt forwarded an EventBrite invite to join a complimentary Vision Board Zoom gathering on December 27th hosted by life coach Jasna Burza. I've made a vision board every year at this time of year since 2015, so I jumped at the opportunity. I like to organize and invite people. I invited Brenda, Jenny, Nadine and Marie to join in the fun. Brenda invited her daughter Becca. Turns out about 300 people joined the event!!
Jasna created a magical two hour afternoon experience! I had done my goal setting for 2021 and I had done my reflection on 2020, plus I had gathered images I thought I might want to use on the vision board. I was ready!
Life Coaches guide vision boarding
There were 4 life coaches who each did a section of the Vision Board gathering. The coaches were Tami Allenson, Bonnie O'Hara Graff, Nicole Fredricks Jackson and Danielle Jokinen. All of the coaches had insightful things to share with us. Especially helpful was Nicole Fredricks Jackson who encouraged us to create an audacious goal or three for the year. She had two handouts for us, which I did after the gathering. One of the handouts had us really dig deep into the WHY we want to accomplish the audacious goal.
My Audacious Goal for 2021 is to to 100% finish writing a full complete draft of my book. Emphasis on "finish" and "complete." I'm close, but I haven't reached the finish line. 2021 is the year of the finish line!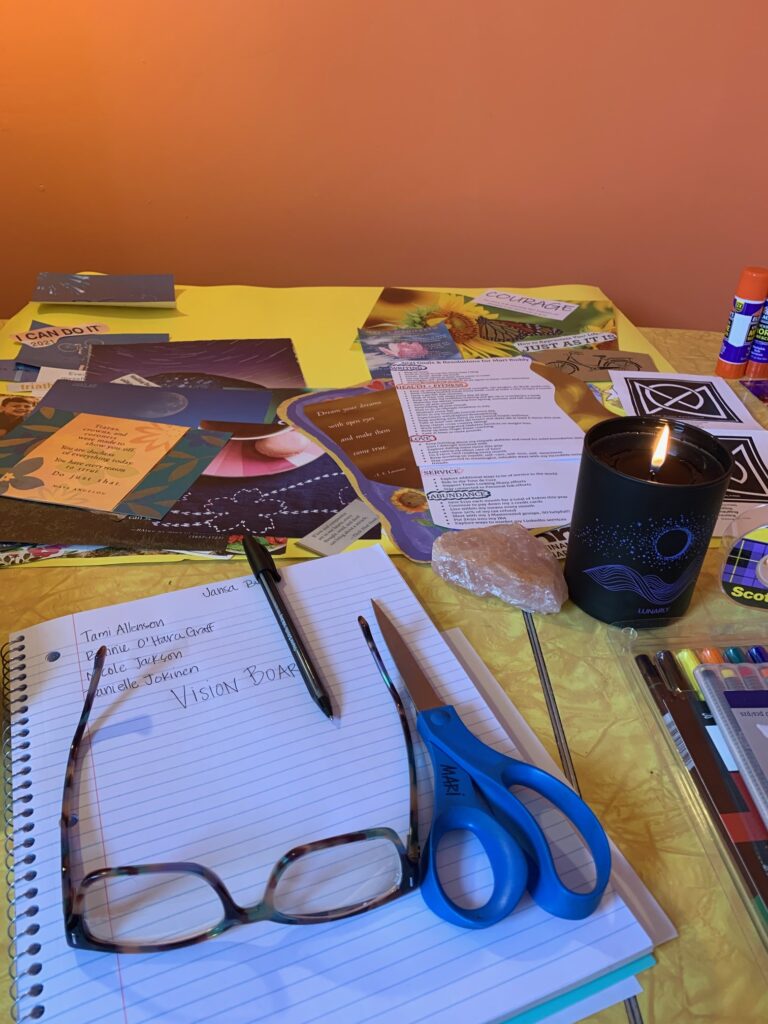 5 Levels of Why
Doing the "5 Levels of Why" that Nicole created for us pushed me to go beyond the surface why. To help me as this year progresses, I've got my 5 levels of why handwritten on post it notes next to my computer. This will help as I push to complete this audacious goal!!
Word of the Year
My 2021 Word of the Year is Courage. I brainstormed words for this coming year and I've had to confront lots of fear that I have around finishing my book. Thus, when the word courage came to me, I felt it in my heart. Thus I knew that was my word! The definition of courage is "the ability to do something that frightens you. And, "strength in the face of pain or grief." I am going to need inner courage as I finish this book!!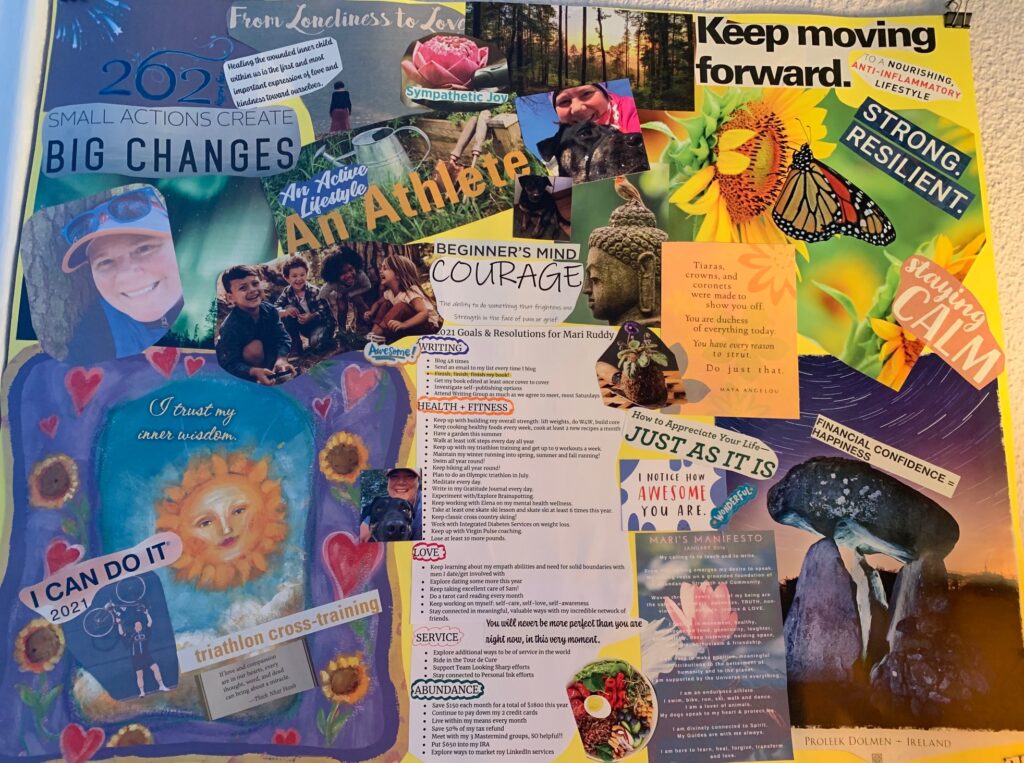 I wish for all of us a healing, healthy, active New Year. May we all continue to mask up, wash our hands, keep our social distance and stay calm as we navigate through the rest of this devastating pandemic and continue to maintain our wellness, our mental health wellness and our sense of connection and hope.
Blessings! And thank you SO much for continuing to read my weekly blogs and be an amazing person in the world. I am grateful that we are connected.
Are you on my email list? If not, please sign up! I love staying connected. You'll get a free self-care guide when you sign up!