The Women Run the Cities 10 mile race was my second of five "A Race" running events that I'm doing in 2022. An "A Race" is a race of top priority. In preparation for doing the race, I sat myself down on Friday, the day before the race, closed my eyes and felt the wind on my face, my feet hitting the ground and my energy strong and sure.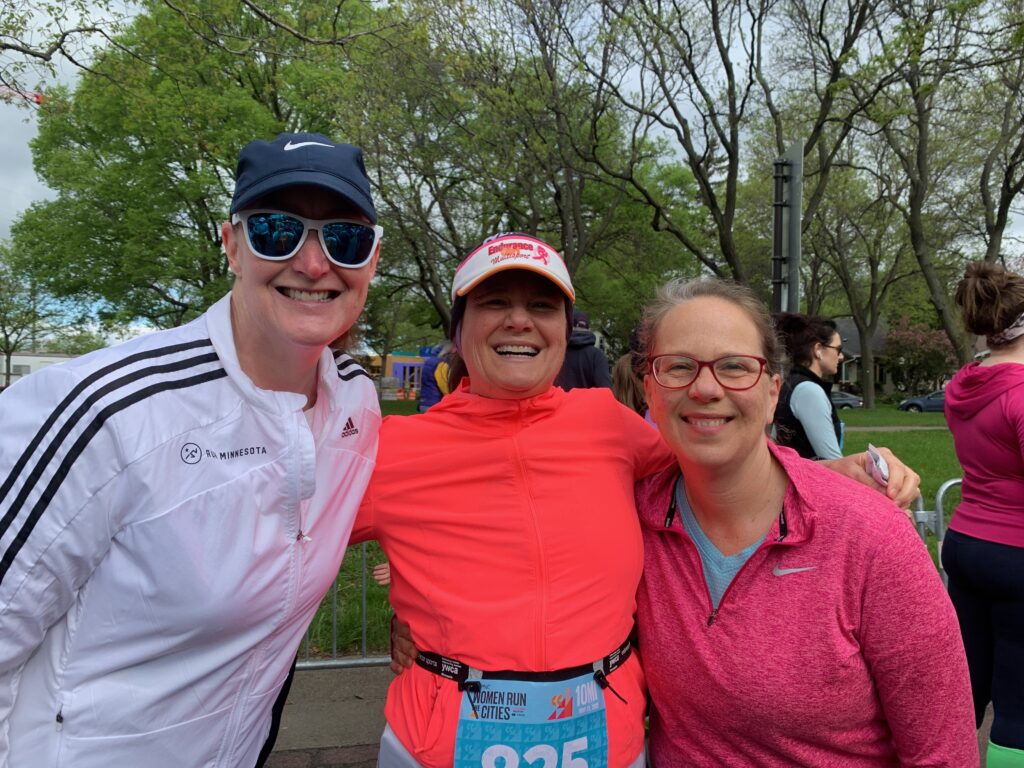 I let the images and what was in my subconscious come to the surface. In moments like this, my 22+ year daily meditation practice comes in handy.
Race plan
I grabbed a pen and paper and wrote down my Race Plan for the race, including the goals that had surfaced. It was a bit of a stretch goal for me and my doubting, not-lover-of-running part of me frowned and scrunched up my face.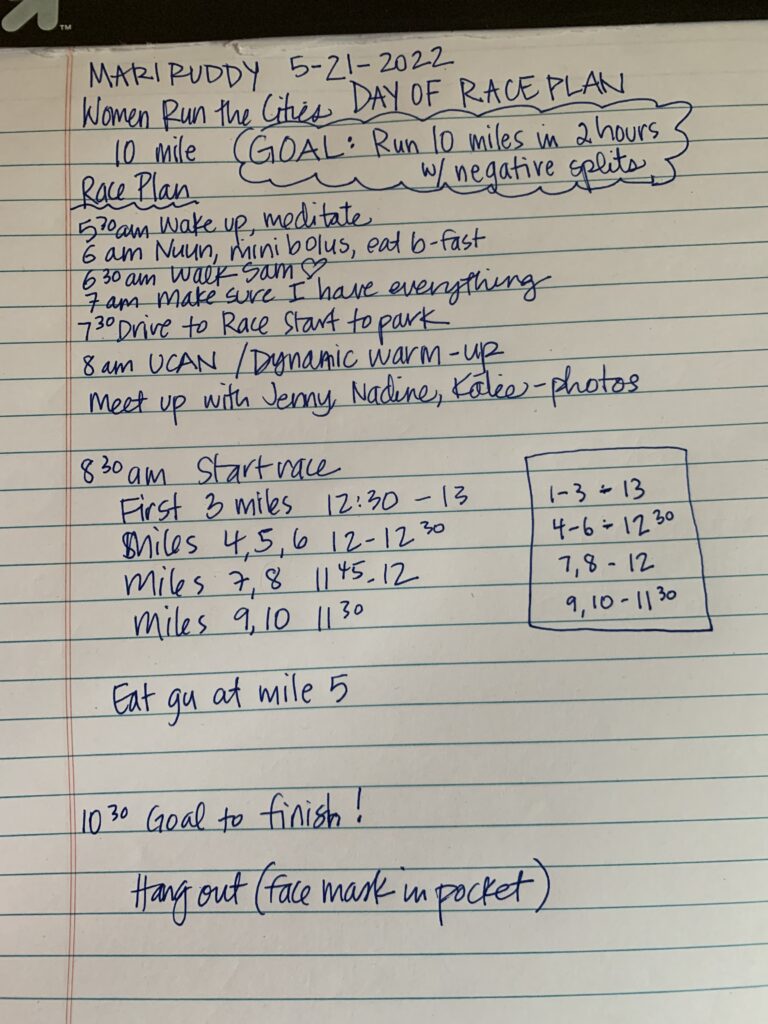 Goals
My goals were to run the 10 miles in 2 hours and to successfully have negative splits. Negative splits are when you run the first miles slower than the last miles. Meaning, you intentionally make sure that your body has energy and power left so that you can go faster at the end of the race.
Many runners start out strong and fast at the start of the race, often going faster than is ideal for their normal run pace. This happens because people get carried away by the energy and enthusiasm of being with other athletes at the exciting start of the race. As a result, many lose steam and energy as they near the finish, ending with a bit of pain, frustration and total exhaustion.
Does the training pay off
I wanted to see if all the interval training, hill training, tempo training and long, long runs I've done this season could help me meet my desired outcome of having negative splits and finishing stronger than I started.
Details written down
Being a somewhat detailed person, I knew I had to have a clear plan for the race. I had to start SLOW, which is difficult to do. I mapped out paces for each mile. In fact, knowing I might easily forget my plan or get confused about it, I wrote my plan on my hand in a Sharpie marker. I checked my Garmin watch frequently to make sure I stayed in my pace range.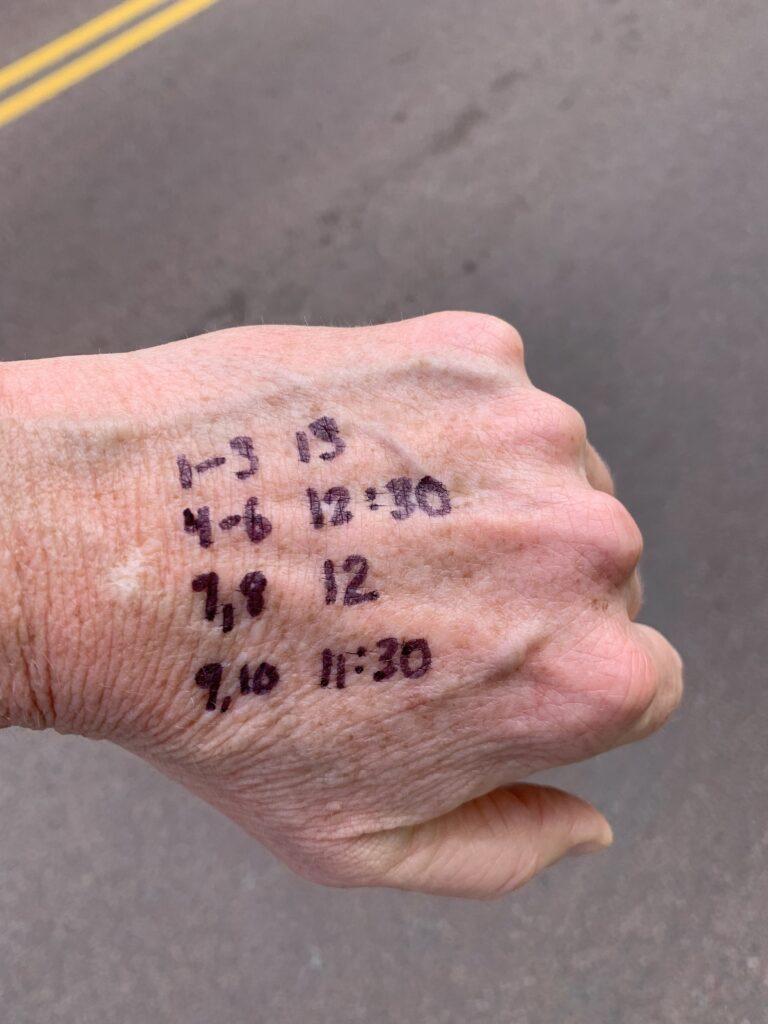 Running alone with the trees
At about mile 5, I needed to say goodbye to my dear running friend Jenny, as I was ready to pick up my pace. In my visualization I saw that I might end up running alone for some of the race, as my intention was to tune in to my body and what I had set out to do.
I took off with confidence in my step. Running along, the trees reached out to me in their green strength, reminding me that each step I took was sure and strong. The air moved into my lungs with depth and focus, in and out, over and over. "You are strong. Running feels good. This body enjoys running."
Wonders never cease
The plan worked. Energy coursed through my legs, hips, glutes. I sent a blessing of appreciation to Sarah Gannett, my massage therapist, for digging into my hips, my feet, and my calves a few days before this race. Her hands and the needles Sara Erdman, my acupuncturist, stuck in me on the Monday before the race combined to gift my body with zero pain and sufficient relaxation to allow a burst of power the last few miles of the race. All my training paid off!
My strides lengthened and my smile widened as I came down the last hill and my arms swung clean as I crossed the finish line in 2 hours 2 minutes and 24 seconds.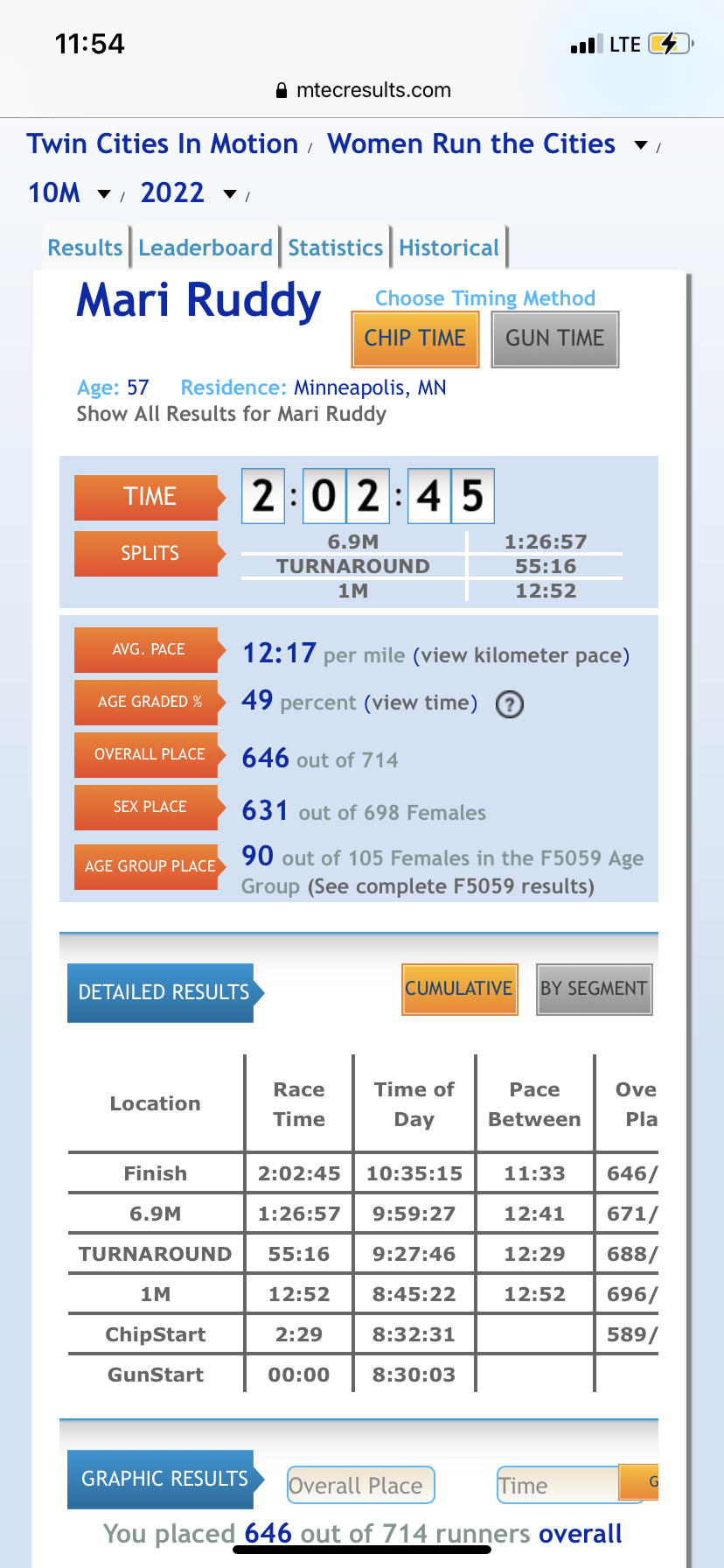 Celebratory delight with running friends
This was a race for all women and we gals like an after celebration. Flowers and standing tables welcomed us as we picked up a breakfast burrito and a champagne mimosa. We chatted about our run and celebrated our accomplishments.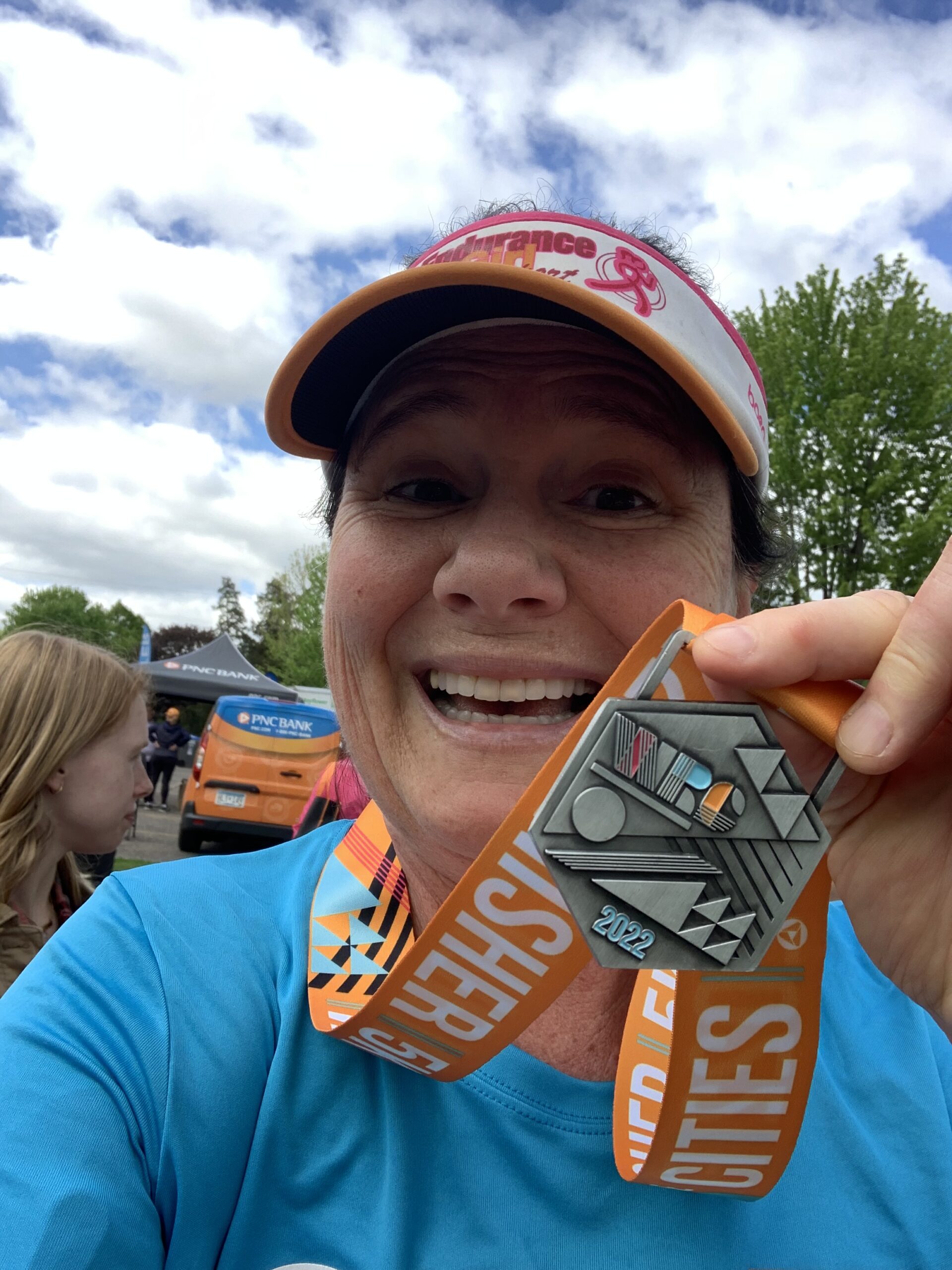 Diabetes happiness
I ate a UCAN gel thirty minutes before the race started and as I ran I consumed two gels and a few Smarties. Low blood sugars stayed at bay and high blood sugars didn't creep up to haunt me. I enjoyed that breakfast burrito and that mimosa!
I'm already looking forward to my next "A Race": the Garry Bjorklund Half Marathon in Duluth on June 18th. Let's see what I can pull out of the hat for that one!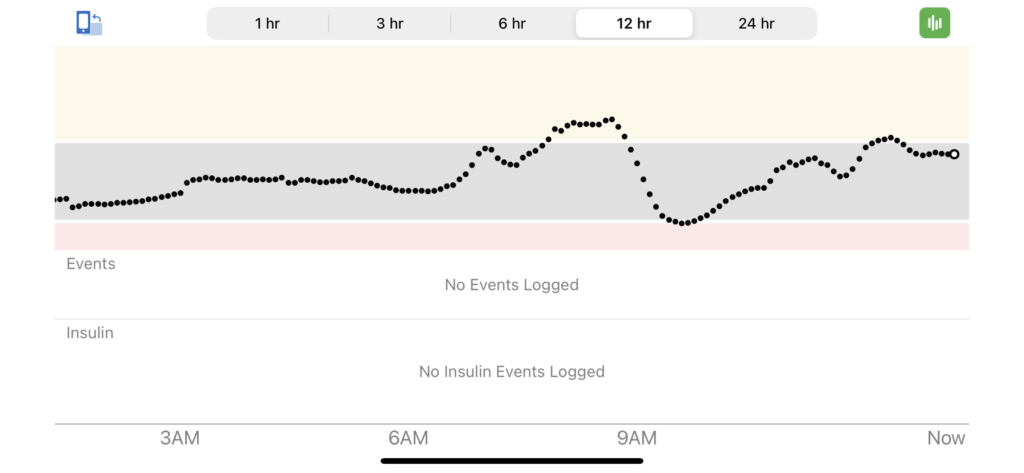 Thanks for being on the journey with me!
Let me know what you've got on your summer agenda for an "A" athletic event! I love hearing from you. Do you too draw energy from the trees as you run, walk or bike? They are willing to support us at every step. In return, send them love and appreciation when you have a spare moment.
Are you on my email list yet? If not, sign up right here.