This past Saturday, June 2nd, was a cloudy, cooler, rainy day in the Twin Cities (in MN). Ironically, it was a perfect day for the Tour de Cure Twin Cities! The Tour is a walk, run, bike event for the American Diabetes Association. It's a fundraising event. It's also a celebration of wellness and fitness.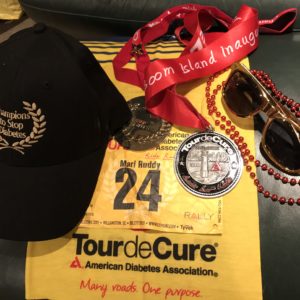 This year the event was held at a new location, a few miles further from my house than in previous years. Due to my recent broken ankle and foot, I knew it wasn't wise to ride much longer than the 26 miles I signed up for, thus, I drove myself and my bike to Boom Island, where we started. Thanks to my generous donors: Heather, Molly, Francesca, Alex & Rita, Liz, Eric, Rich, Debra, Joe and Aunt Mudge, I made Champion Status. Champions are participants who raise more than $1000. I raised $1386!!! SO COOL!! It meant I got to park in the Gold Champion parking lot! That was wonderful and very convenient.
I have been riding in the Tour de Cure since it started. I was at one of the very first Tours in California held more than 25 years ago. Then, since I created the Red Riders and Team Red more than 11 years ago, I've ridden in at least one, often more, Tours all over the United States. As a result, I've witnessed the amazingness of the Tour first hand.
Here are three reasons the Tour is such an awesome, powerful event!
Reason 1: The event is well organized by a collaboration of dedicated volunteers and ADA staff
One of the most incredible things about how this event gets coordinated is the way the many, many, many volunteers (meaning ZERO pay for doing LOTS of good work!) work alongside the (underpaid) ADA staff to make the event go from a dream to reality. The volunteer committee works at minimum 9 months of the year to make the day come alive. Often there are more than 30 people on the volunteer committee. After all, many hands make light work! And producing a Tour de Cure event is a LOT of heavy lifting and organizing!!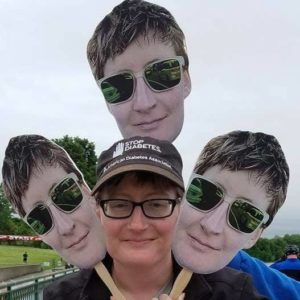 The Tour Director is a paid ADA staff person. In the case of the Twin Cities Tour de Cure that person is Janeece Oatman, who this year it was her 10th Tour de Cure! The volunteers got together and surprised Janeece with several fun gifts that they gave her the night of the Champions Dinner. One fun gift, that captured Janeece's silliness was they took a photo of Janeece's face and made cut outs and mounted them on large flat sticks. They handed them out to lots of people and we gave her a huge round of applause that included putting her face over our faces as we applauded. This all symbolized the love and connection so, so, so many of us have for Janeece and her passion to find a way to STOP DIABETES!
Reason 2: It is a wellness celebration
No two ways about it, the Tour de Cure in every city is a wellness celebration. After all, everyone who shows up is there to do some sort of physical movement, whether walking, running or biking!! Since I am a BIG FAN of movement for a good life, I love this aspect of Tour!
Reason 3: It's a chance for those who live with diabetes to feel loved and feel normal
Diabetes is a fast growing epidemic. That makes me sad. It breaks my heart to see so many kids at the Tour wearing the Red Rider/Red Strider jerseys/shirts. That said, diabetes is an invisible disease. You can not tell just by looking who has diabetes. That's why I created the Red Riders/Red Striders more than 11 years ago. I wanted a day where having diabetes was obvious, so we can connect with each other and yell, "Go Red Rider!" and "Go Red Strider" to each other and feel the love. And for one day, be the positive center of attention. That happens on Tour day. It's beautiful and deeply healing for those of us who live day in and day out with the struggle that is diabetes.
There you have it!
My call to action for everyone reading this blog is: SIGN UP FOR A TOUR de CURE EVENT NEAR YOU! You can walk, run or bike!!!
With wellness love,
Mari