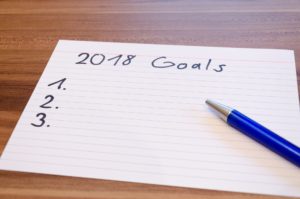 I love the turn of the year. As a holiday, January 1st is my favorite. I love new beginnings. I love the opportunity to reflect on the successes of the past year and the goal, aspirations and hopes I have for the coming year.
I've always been a goal oriented person, so the fact that it's normal to talk about goals and resolutions this time of year, feels fantastic. Fitting in and belonging are basic human needs, and to not be weird for once is a great feeling.
My dear friend Linda Brandt, who is a Public Health person, she loves this time of year because 365 days a year she thinks about health and wellness, and in January to do that is NORMAL!!! I agree with Linda, I too am pretty obsessed with health and wellness, and to be fully in sync with the general population does indeed feel really good!!
I am going to be BRAVE and share my list of Goals and Resolutions with all of you here today. Breathe in and breathe out. Telling you all helps hold myself accountable. I created five main areas on which I am going to focus. They are in all caps! Then in each Goal area, I listed action plans and action steps I intend to take. The two really big areas for me are in the Love and Writing areas. I am guessing that when you read this list you will figure out which ones are the BIG ones!!!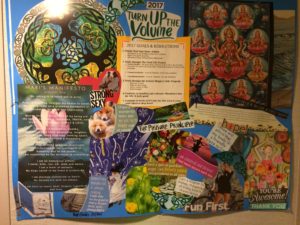 Thanks for taking a look. And for sure let me know what you're going to work on for 2018!!! I always love to hear from you. Later in January 2018, I'm hosting my third time Vision Board party. At that party, I will create a vision board that artistically puts these goals out into the Universe. I do believe the Universe does support us! Our job is to set the intention and put out the invitation. Here is my invitation.
2018 Goals & Resolutions for Mari Ruddy
LOVE
Start dating! Go on at least one fun date per month
Dare myself to go to events where date-able men will be
Update my OKC profile, explore other possible dating platforms
Tell my friends I am available for dating
Get another dog
Keep up with old friends + make new friends
HEALTH + FITNESS
Get my weight to 150 lbs by working with the dietitian
Train and do the YWCA Minneapolis triathlon with Brooke and friends
Train and ride 45 – 60 mile Tour de Cure Twin Cities + Raise $1000
Train and ride 310 miles St Paul to Canada with Shirlene and friends
Plant + grow kale and other yummy veggies
Keep cooking and eating clean and healthy
WRITING
Send edited book to my PBOD
Find a great editor & get the book edited
Send book to Sheryl
Blog 1 – 3 times a month on my website
Have a clear publishing plan in action
SERVICE
Continue organizing P.ink Day MSP
Continue leading Lean In Together MSP

CORE Work Group
Social Media/Website Work Group
Peer Coaching Circle at UMN

Propose trip to Panama
ABUNDANCE
Keep learning about and organizing my retirement accounts
Save $3600. That's $300 per month
Get strategic and intentional about marketing LinkedIn Profile Magic
Relaunch my speaking business
Please follow and like us: