Finding a cardiologist who values running means I won't have to give up running any time soon. It's the end of October and I've completed the last of five long runs that I set as my goal to do in 2022.
I declared this year as my year of running and I selected three half marathons and two 10 mile races to do. I signed up to be a Team Lead for my run team, Run Minnesota. That meant I created a running routine of group runs on Tuesday afternoons and Saturday mornings for the spring and fall run season. Additionally, I do a track workout with the YWCA of Minneapolis every Thursday morning at 7am. Having people to run with three times a week created accountability and consistent social interactions, which kept me going all year long.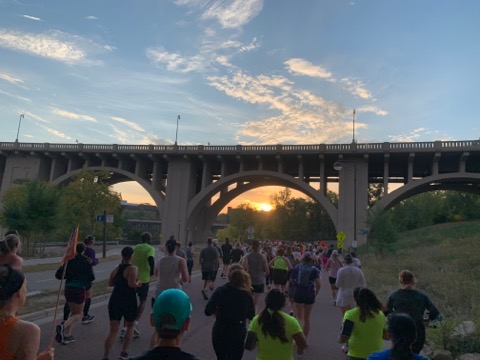 Glory of goals
I love setting goals. Goals create hope and expectation for me. They give me something concrete to work towards and something valuable to celebrate upon completion. Tangible goals also create a sense of control in my life, since with type 1 diabetes and the chaos of life in general these days, feeling some control is reassuring.
I wrote race reports for all except my last race. That last race was the Twin Cities 10 mile race that was held on Sunday, October 2, 2022 alongside the 40th Twin Cities Marathon. The 10 mile race is known as the "short-cut to the capitol" since the marathon takes the winding, colorful tree lined route by both lakes and the Mississippi River from Minneapolis to Saint Paul. The 10 mile race skips the lakes and goes along just the river.
Race recap
Discovering the short run-walk-run ratio of 45 seconds running/15 seconds walking completely changes running for the better for me. I am pleased to report that in the 10 mile race I only experienced two short dizzy spells and both were alleviated with slightly longer walking sessions.
Additionally, I met my goal of doing the 10 mile race in under two hours. My official race time was 1 hour 56 minutes and 23 seconds, which was an average pace of 11:39 per mile. Hanging out with Brooke, Tanya, Nadine and Jenny after the race on the front lawn of the Minnesota State Capitol in the glorious October sunshine capped a near perfect day. As did cheering on my Run Minnesota friends who did the whole marathon.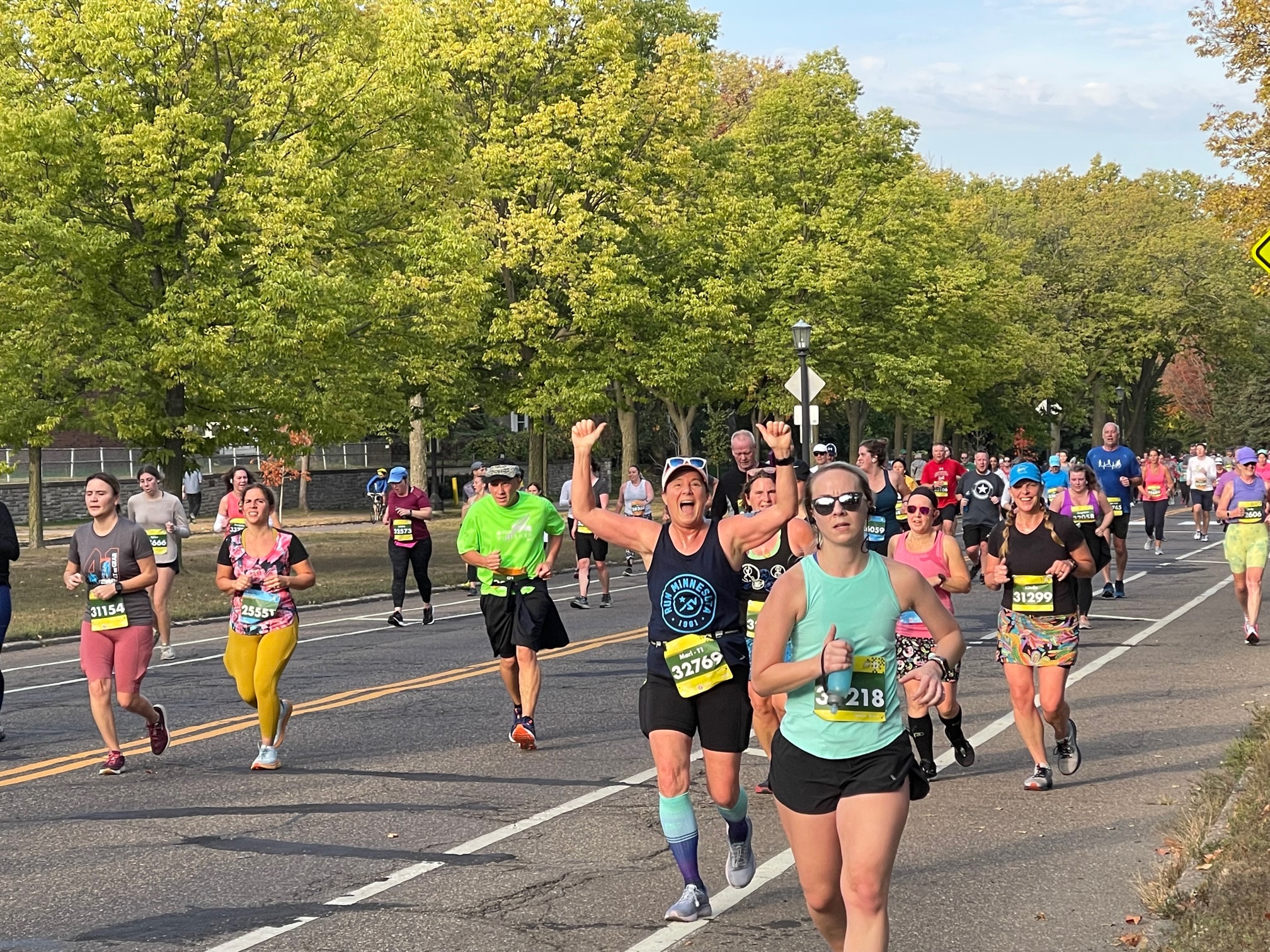 Cardiologist visit
A few days after the 10 mile race, I went to see my new cardiologist, Dr. Charles X. Kim. Turns out he's the husband of my oncologist Dr. Jocelin Huang, who I really like. Means he understands the way chemo and cancer can impact the heart.
Reading the doctor notes is eye opening. Seeing my symptoms put into "doctor speak" makes near fainting on long runs or bike rides seem more serious. They call it "episodic lightheadedness."
I appreciate that Dr. Kim approaches my case with a collaborative mindset. We discussed the fit people who collapse and die on a marathon race route. They often had under the radar heart issues. He agreed that it was wise for us to figure out if because of having type 1 diabetes for nearly 42 years and having survived two rounds of breast cancer, I have anything underlying before I officially enter marathon training.
One thing that could be happening that we need to figure out is known as "demand ischemia and/or ventricular arrhythmia." The investigation continues.
More tests
I then went in for an echocardiogram stress test, which I did on a treadmill. From what I can read on the online medical chart, nothing spectacular or unusual was discovered with that test. Thus this coming Monday, I'm getting a ZIO heart rate monitor that I will wear for a week. I'm doing a 10K running race on Saturday and then a 5K running race the next day – hopefully with these two races while I'm wearing the ZIO device, I will experience some dizziness that arises due to exercise effort, which is when the dizziness happens. I will be able to log the dizzy and see what's happening with my heart as the dizzy occurs.
Once I get an all-clear on the condition of my heart, I will officially sign up for Grandma's Marathon. It will be my second ever running marathon. I'm excited and very nervous. Funny how a 100 mile bike ride feels easier than running 26.2 miles. I keep breathing deeply and remind myself that I'm up for the challenge!
Thanks everyone for being here on the journey with me!
Kickstarter update
I'm happy to report that as of today, Friday, October 28th, I've made it to 86% of my Kickstarter goal! We have 18 more days to arrive at our goal. I confess, I sure hope we hit 100% sooner than 18 days, as the tension is INTENSE!!
If you're so moved, please leave a comment telling me your next athletic goal or why you became a backer of Extreme Healing: Finding Your Inner Endurance Athlete. I love hearing from you. Let's all stay connected.
Are you on my email list yet? If not, here's your chance to sign up!